'Tis the Season for Best Gifts to Tripawds!
Everypawdy loves watching their three legged dogs and cats opening presents during the holiday season. Right? Here are some great ideas for gifts your Tripawds are sure to enjoy.
Best Harnesses for Tripawds
A harness is recommended to help your three legged pups up and down stairs, in and out of cars. Choose from the best selection for front and rear leg canine amputees in the Tripawds Gear Shop!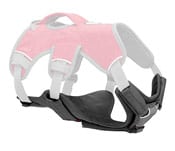 Already have a Web Master harness?
Give your pup the gift of added comfort and extra support with the Brush Guard attachment from Ruffwear!
Best Tri-Kitty Harness
We found the best harness for three legged cats too! See why front-leg amputee Tripawd Purrkins loves the Kitty Holster Harness for exploring outside.
Purrfect Ear-Scratcher for Tri-kitties
Check out this review for the Purrfect Arch from a Tripawds fan to see how it helps amputee cats scratch those spots they can't reach.
Fun Fitness Gear for Tripawds
Check out the Fitness Gear page for a wide selection of helpful products to keep your Tripawds fit and strong! Consider seeing a certified canine rehab vet/tech for an orthopedic physical evaluation to learn the benefits of weight bearing and balance exercises to help improve proprioception. Visit a CCRT or CCRP and the Tripawds Foundation can even pay for your first visit from the Maggie Moo Fund for Tripawd Rehab!

Best Dog Beds for Tripawds
Pamper your pups with a new bed. Learn my big fluffy beds and lots of blankets are not the best bedding for amputee dogs, and choose from a wide selection of orthopedic, thermoregulating and plush dog beds on the Best Beds for Tripawds page.

Help Tripawds Get Out and About!
Just because they're missing a leg, doean't mean they can't enjoy long hikes, bike rides, and trips in the car. Check out these handy solutions – especially helpful for mutli-dog packs.

And who doesn't love spoiling their pups and tri-kitties this time of year? Don't miss this round up favorite homemade treat recipes from the Tripawds Nutrition blog:
More Fun Gifts for People with Tripawds
Don't forget human gear for the Tripawd lovers in your life!
Browse the Tripawds Gift Shop for all favorite three legged dog and cat designs available on t-shirts, apparel, cards, stickers, journals, and more fun gifts!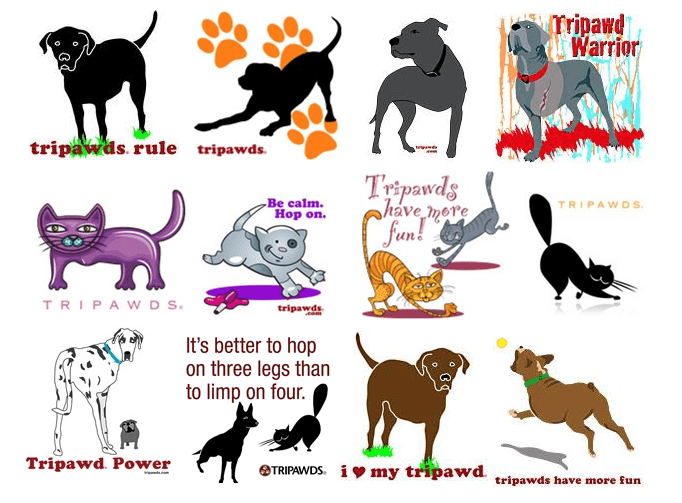 Still looking for that perfect gift?