NOTE: This was published in 2017 and a new information is available!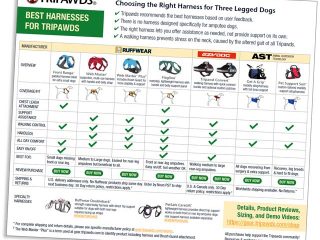 Dogs come in all sizes and shapes. Long, short, narrow, wide. Get the best harness for your Tripawd by considering your dog's body type before choosing any clothing or harnesses. Here's how to match your dog breed to Tripawd harness for a winning combo.
Matching a Dog Breed to Tripawd Harness is Easy!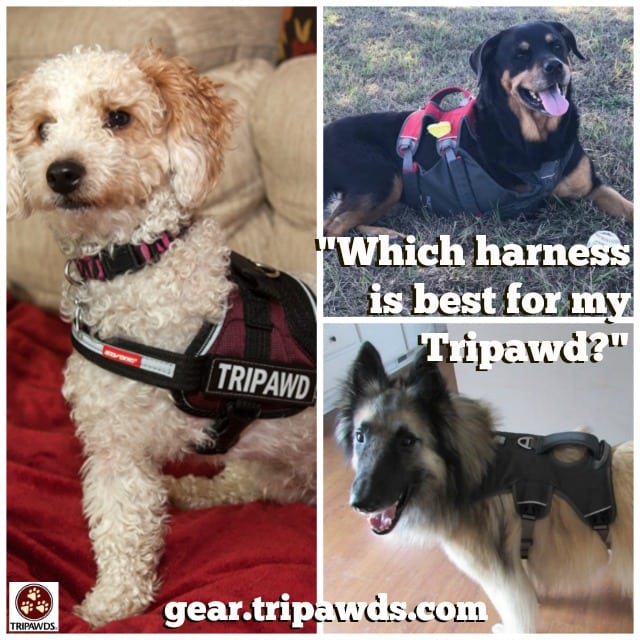 Most Breeds Can Wear the Webmaster Plus
The Webmaster Plus is our #1 Tripawd dog harness for a reason: it doesn't matter if a dog is missing a front OR rear leg.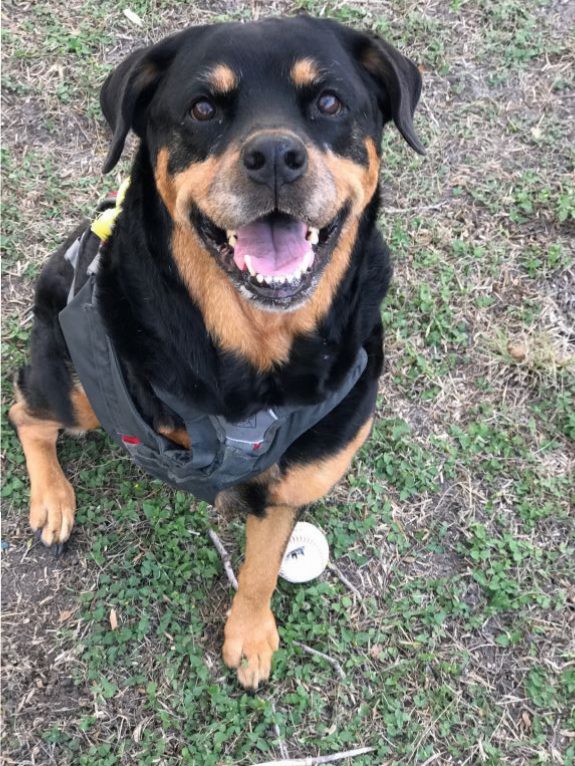 No matter what the breed type, the vast majority of Tripawds can wear it and enjoy all the benefits such as:
A handle that's in the perfect spot. Not too far forward or too far back, it allows us to assist and lift our dogs with ease.
Super strong d-ring for attaching a leash. No more throwing your Tripawd off balance by connecting to a collar.
Breathable, durable fabric that's comfy year-round, no matter the temperature.
The Webmaster has just two challenges for Tripawds:
Front-leg Tripawds have an extra challenge with any harness. That's because all harnesses slip just a little without two front legs to keep it in place. But the Webmaster slips the least.
If your dog is long-bodied you may find that even after properly sizing and fitting the Webmaster harness, the handle isn't far back enough to help you assist. Or if you dog needs rear end lifting, this harness is

not

designed for that purpose like the Doubleback or Custom Pet Support Suit.
The Tripawd Convert Harness Works Great — for it's Intended Purpose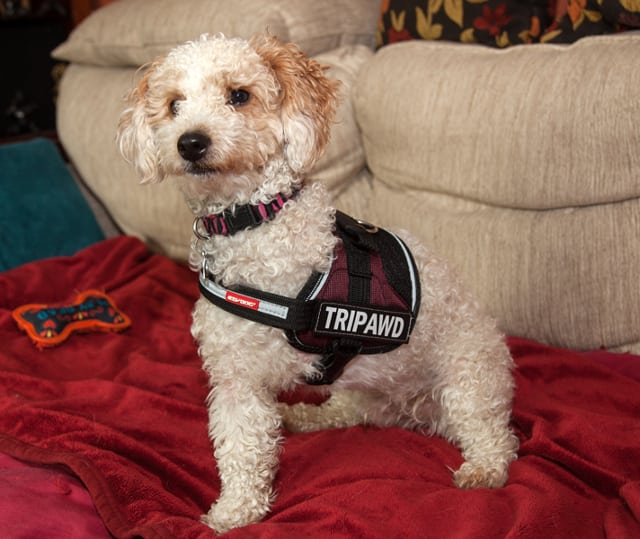 The Tripawd Convert Harness looks great and is a perfect walking harness for all breed types. Short or long, narrow or wide, this harness serves it's purpose: walking. But if you want to use it for lifting, a Webmaster Plus may be a better choice for your dog.
We love the Tripawd Convert Harness for reasons like:
Easy dressing. With one strap to buckle, it's a breeze to put on any front or rear leg Tripawd.
Walking. It has a handy ring for your dog's leash. Put it on and go!
And of course the nifty "TRIPAWD" badges it comes with.
The Tripawd Convert Harness is NOT great for: Hoisting, lifting and assisting. The handle is too far forward for anything more than occasional assistance on stairs, or holding your dog back from chasing squirrels.
If your dog has a long body, like a Basset Hound, you will find it hard to lift with this harness. Essentially you're lifting just the front end of your dog's body, instead of closer to the middle like the Webmaster Plus does.
The Ideal Tripawd Harness Solution? Get Both!
Here's a "best of both worlds" solution: The Lovely Lab Shelby Lynn's people did a great harness mod to their Webmaster after buying a Convert harness too. We love how it looks, don't you?!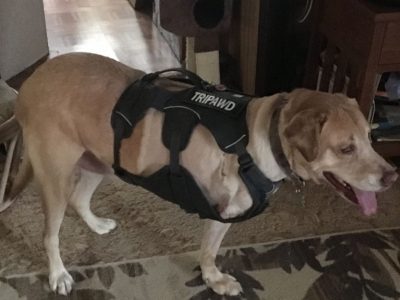 I will say, everyone in the docs office, raves about her harness!!! The doc, the techs, they couldn't say enough great things about it. They like how easy she is to help and how much easier it is to handle her with it on, they even comment about how much added support there is with the "skidplate" as I call it, lol! They always take the pets on leashes and with her, they didn't even bother, they were that comfortable and happy with the harness to just use it!Kudos to Tripawds for such a remarkable addition for these lovely furbabies <3 <3

I chose to add the emblems, because I am a little bit of an overprotective furmomma and don't want anyone bumping into her and knocking her off balance, so I figure, they can see the warning just in case they don't notice her beautiful uniqueness. — Shelby the Lovely Lab
Recommended Reading:
The Best Tripawd Dog Harness has a New Look
EzyDog Convert Harness Great for Tripawds
Best Gear Gifts for Tripawd Fitness, Safety and Fun