Floor traction for Tripawds is always an issue. Old or young, athletic or not, slippery floors are a Tripawd's worst enemy. Carpet runners are the best indoor solution for this problem, but a new product called PawFriction makes floor traction for Tripawds easier than ever.
We met PawFriction's founder earlier this year at the Western Veterinary Conference. Dr. Stacey Bone, DVM developed PawFriction because he's seen how slippery floors can damage a dog's confidence, body and diminish quality of life. PawFriction is an ingenius paw pad coating system especially made for senior dogs and those with orthopedic and neurologic conditions.
PawFriction Adds Floor Traction for Tripawds
Paw traction products are nothing new. But until PawFriction came along, everything else, seemed too impractical for regular use. Word's out that PawFriction is different, so when Dr. Bone knew we wanted to examine the product, he gave us a complimentary kit to test on Tripawds Spokesdog Wyatt Ray. Here's what we discovered:
PawFriction is one of the best dog traction solutions.
The kit comes with a generous amount of non-toxic granules to apply to your dog's paws with medical-grade surgical glue. The granules help keep your dog from sliding on slippery surfaces. It's that simple.
Dr. Bone told us he applies PawFriction to amputation patients during surgery, while they are under anesthesia. That way the pup can wake up and instantly feel better about walking with their new gait. We think that's ingenious!
PawFriction application is easier when tackled in two steps.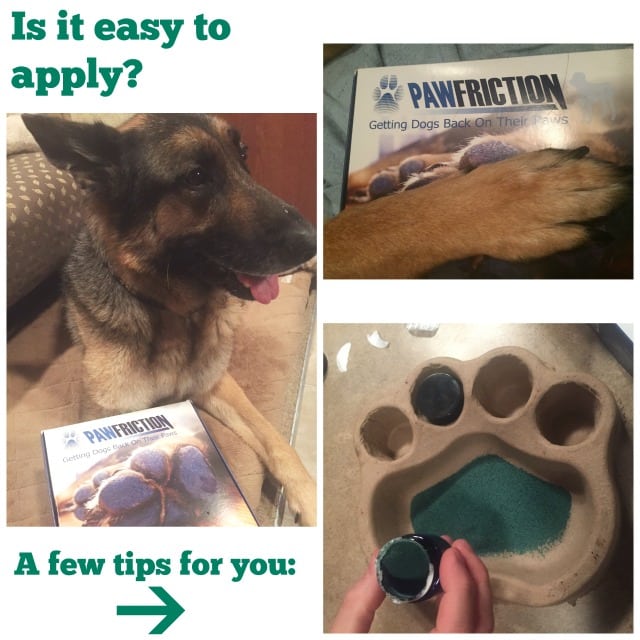 As PawFriction Amazon reviews show, it does take practice to apply PawFriction efficiently. Both human and dog need to get used to the procedure but we know it's possible to do so.
Our Wyatt's foot phobia made things extra challenging. We followed application directions precisely, but we made the mistake of giving Wyatt a pawdicure and applying the product at the same time. This was not a good idea. By the time it was over we had more of it stuck to our hands than his paws. We should have groomed one day and applied PawFriction the next.
Pet parents of smaller dogs may find it easier to apply PawFriction. One tube of the surgical adhesive wasn't enough to cover all of Wyatt's gigantic paws. We had to use 1.5 tubes. The kit comes with four of adhesive tubes and you can order more online.
PawFriction didn't bother his paws.
After our application session ended, Wyatt never once tried to lick or bother his colorful new paw pad coating. Clearly it wasn't interfering with his paw sensitivity.
Slippery floors are easier.
We chose the shiniest floors we could find to test PawFriction. Wyatt toured the local Ace Hardware and never had a hard time walking, as you can see. The granules stuck and he seemed more confident. It's a great product to use when you're traveling to other places with slick floors.
PawFriction lives up to its claims.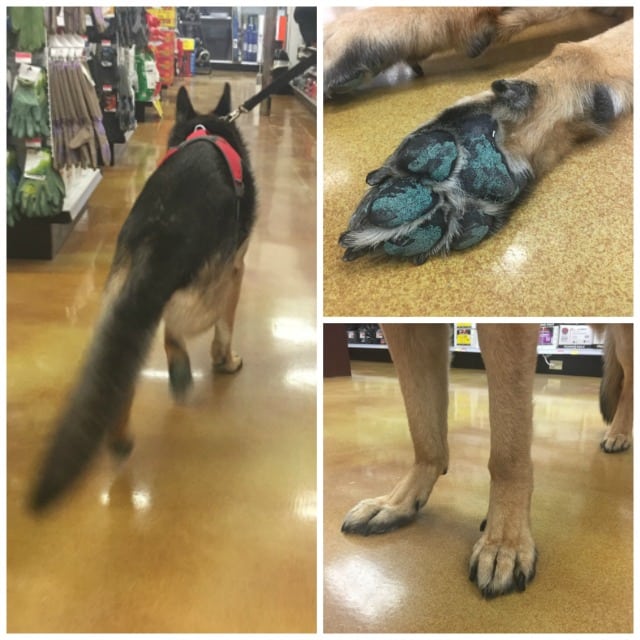 When our test was over we rewarded Wyatt with a trip to the beach. Of course after our hike, the PawFriction granules were almost gone. This product is not designed to be used on feet that spend a lot of time outdoors or get wet.
On the packaging you'll see that PawFriction clearly states "designed to improve quality of life for senior dogs and dogs with orthopedic and neurologic conditions." The adhesive is strong, but it won't stand up to the impact of wet, muddy or rocky surfaces where active dogs play. It does work great to protect from hot asphalt surfaces. In a nutshell, this product is clearly for senior dogs with far less mobility. What a gift it brings to those pooches!
Thanks for shopping with Amazon links found within the Tripawds.com featured blogs. Every purchase of any Amazon product you make will go toward helping to offset the costs of maintaining our community.