Customers requested it and Ruffwear responded. The best Tripawd dog harness is ready for your three-legged hero with an all-new look.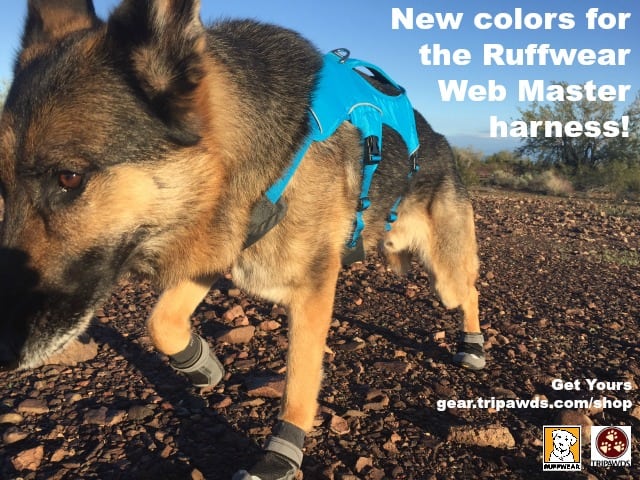 Splashy Colors, Same Great Support
Any time the Ruffwear Webmaster harness changes, it's for the better. Our favorite Tripawd dog harness has come a long way from the days when we discovered how much it helped our founder Spirit Jerry get around. Almost ten years later, the Webmaster is better than ever and now comes in an all new look!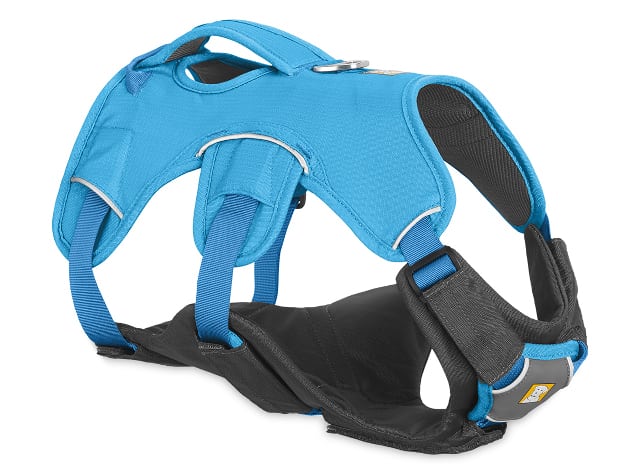 To begin with, the Webmaster harness now comes in a pretty "Dusk Blue" (pictured here with the Webmaster Plus Brush Guard attachment).
And whether you order the other traditional colors in Red Currant or Twilight Gray, you'll see how the nylon webbing now matches the harness color. Talk about nice looking!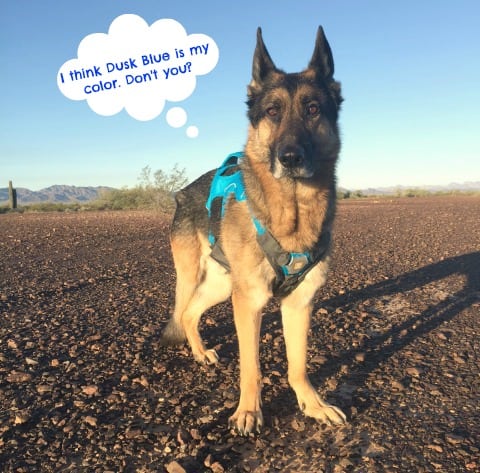 Tripawds Spokesdog Wyatt Ray is excited to show you how cool this harness looks. Watch him take off down the runway in his new gear.
Of course the Webmaster is still available in Red Currant and Twilight Gray. Why not get all three? You'll never get bored with just one color.

Purchase Web Master Harness Here!
The Best Tripawd Dog Harness has Extra Support
The new Ruffwear Webmaster harness looks a bit different, but it works as well as ever for Tripawds. Whether you buy the Webmaster alone or with the "Webmaster Plus" Brush Guard attachment.
Why choose the Webmaster Plus? Because if your older, overweight or just less mobile Tripawd hero needs extra assistance and support, like when getting into cars and going up stairs, the Brush Guard is even more helpful. It provides extra protection, load dispersion and stability when a dog is hoisted and assisted up.

When you get your Brush Guard attachment, it might look a bit confusing at first. You wouldn't be the first to wonder "How do I attach this thing?"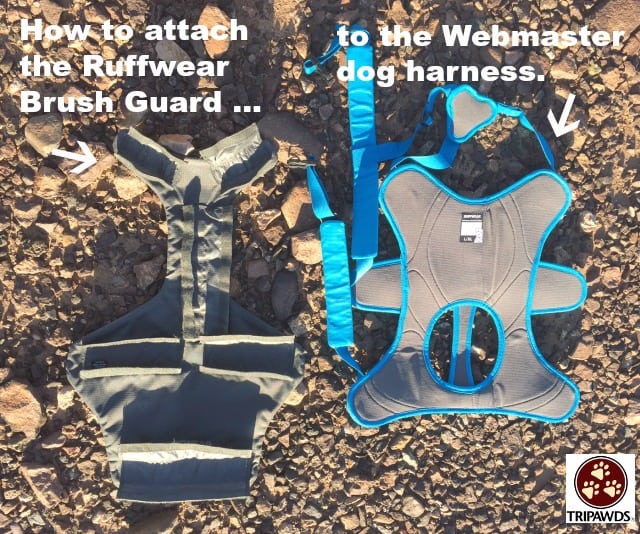 But it really is easy to attach the Brush Guard. Just lay them side by side like this, and watch how to attach them together in less than one minute:
The Web Master Plus Brush Guard attachment is available in the Tripawds Gear Shop and the price includes shipping! If you already have the harness, you will save money on the Brush Guard at Amazon.
Purchase Web Master Harness Here!
More Reasons Why We Love this Tripawd Dog Harness
Web Master Plus Brush Guard Make Best Support Harness for Tripawds
Wow! Wyatt's Webmaster Tripawd Harness is Still Going Strong
Web Master is a Front Leg Tripawd Harness Too