When your Tripawd needs a rest from hard play, learn how to Twist!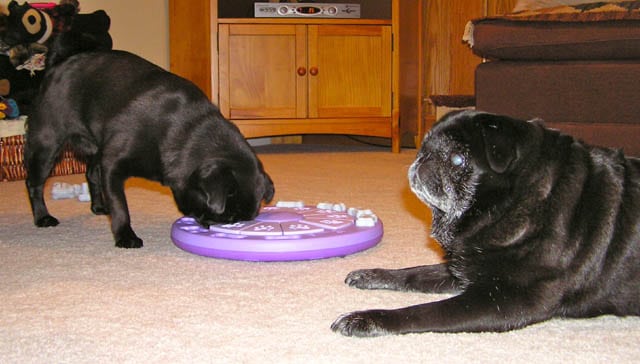 Tripawd ModPawd Karen and her Pug-a-Palooza can vouch that the Twister by Nina Ottoson sharpens a dog's mind and strengthens your bond long after the recovery period has ended.
We wrote about this interactive activity in this December Gear blog post and Karen recently wrote to share how her Pug-a-Palooza did with it.
The Dog Twister game encourages dogs to look for treats hidden underneath movable blocks arranged in a circular pattern.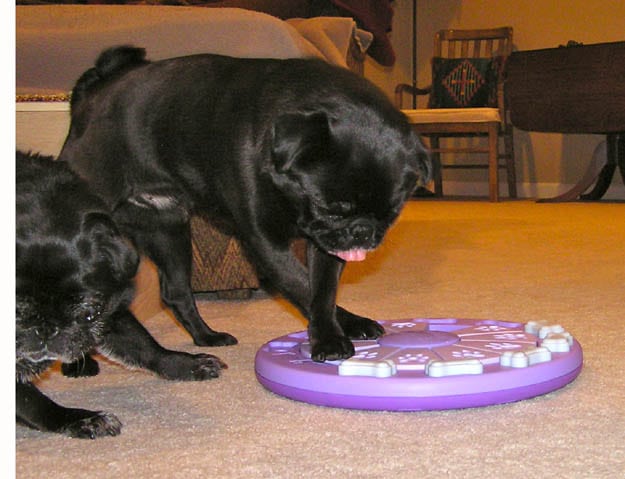 Bone-shaped pegs on top lock the blocks in place, making the activity even more challenging by requiring your dog to remove a peg in order to move the brick and reveal the treat!
Twisting with the Pug-a-Palooza
Tripawd ModPawd Karen's Pug-a-Palooza consists of two pups, Tani (the mature gal with lots of silver in her fur) and Obie (her younger brother). Now these kids might be small in stature but their persistence with the Twister is mighty!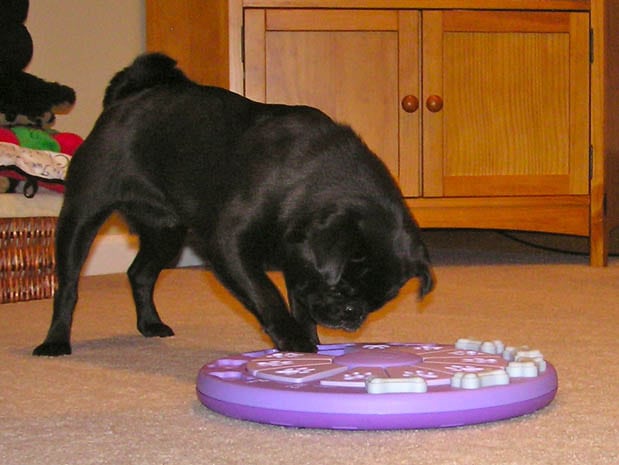 Obie has demonstrated steady progress with the Twister. Karen showed him how to play the game by first removing all of the bones, then adding treats to every other cubby. That's when something in him clicked, and he nabbed the treats. "Obie got them all out twice!" says Karen.
"We are up to 4 bones and 4 or 5 compartments at a time. We will keep working on it and relate it to moving the covers." After an exciting game, Karen can count on Obie taking a long snooze on the couch.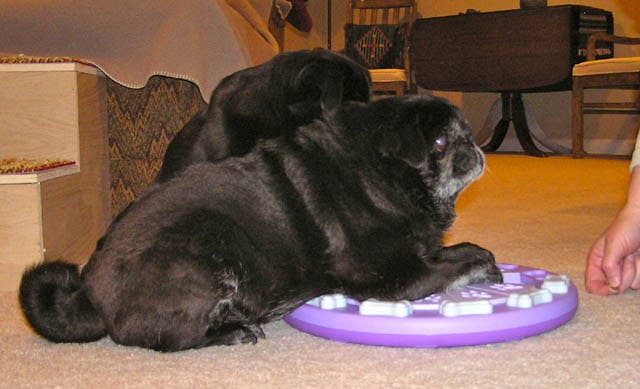 Tani, on the other hand, isn't fooled. "The reason she just lays by and lets Obie play is that she is does not consider the Twister a treat dispenser," says Karen.
Tani's arthritis along with her small size may have something to do with this. "She is a little limited physically by her arthritis," says Karen, "It's hard for her to move enough to manipulate the covers.
She probably would do it (if she got the idea) but then would be really sore. Also her up close vision is not good, so she can't see small kibbles."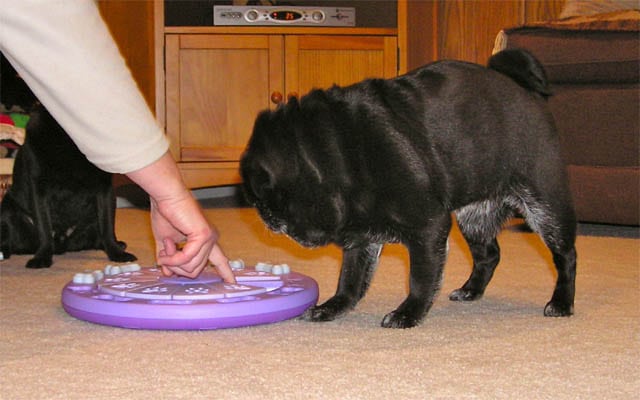 I tried putting kibbles on the top (which is why she is laying on it I think) but when I put the food in the cubby she couldn't find it. Even with me pointing at it!"
See more Pug-a-Palooza Twister Fun here!
We're always hoppy to hear how pawrents and their Tripawds are utilizing the gear and toys they purchase through our Gear and Amazon blogs, so if you have a report you'd like to share with us, drop us a line!
Read more about the Dog Twister Game by Nina Ottoson, here.