We wish all Tripawds and their people have a hoppy, healthy new year! If your resolutions include keeping your three legged dog comfortable and safe, consider these top products from the Tripawds Gear Shop in 2011.
Best Dog Support Harnesses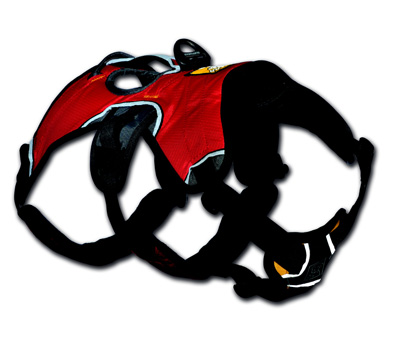 The Ruff Wear Webmaster harness continues to be the most popular harness for canine amputees. Ideal for helping dogs in and out of cars or up and down stairs, the Webmaster comes in handy for providing assistance when needed. Watch our demonstration video and read Jerry's product review for complete details.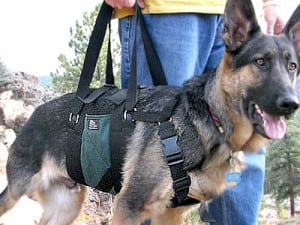 For larger dogs and those requiring more full body support, the Get A Grip Harness from AST has proven to be helpful for many new members. The Get A Grip provides superior under-belly support, and is especially helpful for lifting heavier dogs.
See Wyatt's demo video for an example of use on a rear leg amputee, or Jerry's front-legger review of the original AST Pet Support Suit.
Best Dog Sweater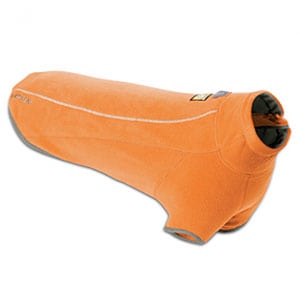 This time of year, The Ruff Wear Climate Changer remains the most popular choice for keeping dogs warm in winter. This zippered fleece dog sweater is especially nice for new Tripawds while their fur grows back.
With quick-drying, breathable, machine washable fabric the Climate Changer is ideal for new Tripawds during recovery.
Best Traction Solutions for Dogs on Slippery Floors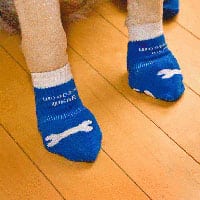 Many members have found that Power Paws Traction Socks for Dogs help provide traction for three legged and mobility challenged dogs on hardwood floors and other slippery surfaces. These affordable and comfortable dog booties are fun and functional with many sizes and styles to choose from.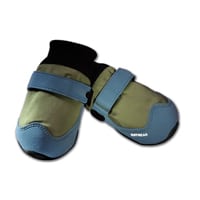 For dogs used to wearing booties, Ruff Wear Bark'n Boots have always the preferred solution for protecting paws and providing traction indoors and out.
Skyliner dog boots provide everyday traction for slippery floors and paw protection from heat, cold, abrasive surfaces, road chemicals/salt, and unseen hazards; while Grip Trex dog boots have a high performance Vibram® sole for active Tripawds needing extra traction in rain, snow, ice or on the trail.
See all our recommended traction solutions for three legged dogs in Jerry's list of the Best Traction for Tripawds!
Best Dog Beds for Surgery Recovery
This year we updated our list of the best recommended orthopedic dog beds for amputation recovery. Choose from this wide selection of orthopedic dog beds for comfortable rest during recovery and for years to come. These plush yet firm beds are recommended since they will not bunch up, making it easy for recovering dogs to get comfortable without stumbling on unstable bedding.
Best Canine Conditioning Gear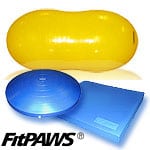 This year we've also expanded our line of FitPAWS Canine Conditioning Equipment to include more fun tools for keeping Tripawds fit and strong. From Balance Pads and Discs for beginning unstable surface work, to the Peanut and Paw Pods, the Tripawds Fitness Shop now offers a wide variety of equipment for rehabilitation and core strengthening.
What is your favorite Tripawds gear? Leave a comment or write a review for us to share with others!