The post-surgery confinement phase is critical for a good recovery after a dog's amputation procedure. Since you can't go on a walk, exercise your dog with brain games that prevent boredom, sharpen the mind and strengthen your bond.
During this time, you'll need to find new activities for your new Tripawd, like the confinement games we've previously discussed here. Today we want to add one more cognitive dog game to the list: Nina Ottosson DogTwister Interactive game.
Dog Brain Games Tire Your Dog's Mind
Did you know that you can tire a dog out with mental games, just as much as you can by taking a long walk? Activities like the the DogTwister Interactive game can do this, while working your dog's natural hunting instinct.
The DogTwister game encourages dogs to look for treats hidden underneath movable blocks arranged in a circular pattern. The game features bone-shaped pegs on top that can lock the blocks in place, making the activity even more challenging by requiring your dog to remove a peg in order to move the brick and reveal the treat!
Watch how it works:
Tripawds Spokesdawg Wyatt Ray recently won The DogTwister game thanks to Modern Dog Magazine's recent Nina Ottoson dog toy giveaway. He tried his out on Christmas day.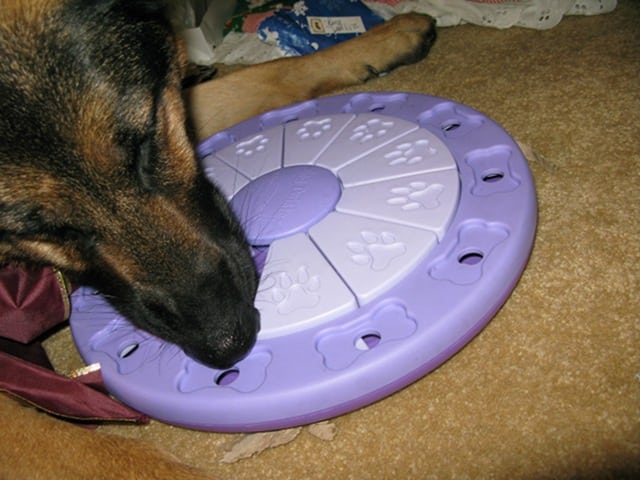 After teaching him that the object wasn't to pry the blocks off with his teeth, he quickly learned how to slide the blocks around to find the treats. After a few minutes of play, he was literally exhausted from the game!
Watching him use his tracking instinct was fascinating and a lot of fun. We played, we laughed and we praised him whenever he found one. As he grew more confident, we made it increasingly more difficult by using the plastic bone-shaped pieces to lock some blocks in place, then placing fewer treats within the entire circle. To make it even harder, we'll try teaching asking him to "wait" "find it" and "sit" before he's allowed to enjoy his treat.
Be aware that this game requires you to sit and play with your dog; it's not a game like the StarMark Everlasting Treat Ball, which dogs can use alone. Although Wyatt spit out the pegs because he knew something better was waiting underneath the blocks, these pieces can be swallowed whole by unsupervised dogs, so keep an eye on your pal when you're playing.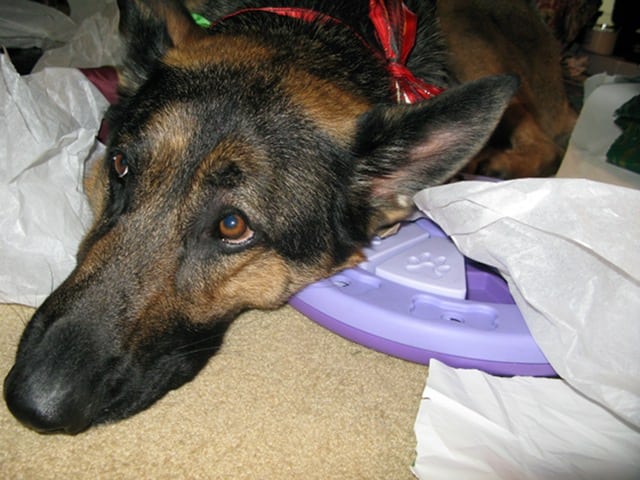 We can't think of a better way to help your new Tripawd feel better during the amputation recovery phase and keep both of your minds off of the surgery. The best part is, The DogTwister game isn't the only one made by Nina Ottoson. The company has dozens of awesome games like this (available in both plastic and wood) that can help the post-surgery recuperation time pass quickly.
See all interactive dog brain games by Nina Ottosson
Paws up to Modern Dog Magazine for allowing us the opportunity to try this activity! Try it yourself and let us know what you think.
Recommended Reading
Tripawds Gear Blog: Keep Recovering Dogs Entertained for Hours
PetFinder: Cognitive Dysfunction Syndrome in Pets
The Dog Guide: Mental Exercises for Dogs