The Ruff Wear Webmaster dog harness continues to be the number one selling padded mobility harness for canine amputees. Pawrents whose Tripawd already wears the Webmaster can spend all day telling you why it's so helpful, but if you only have a few minutes, here's why we've found it's the best post-surgery aid for three legged dogs.
(See Spirit Jerry's original Webmaster review here)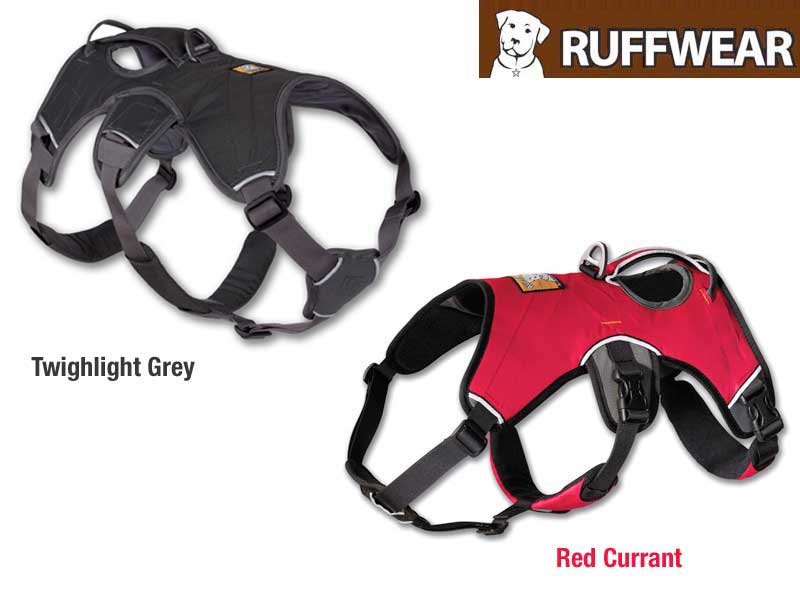 The Webmaster:
Helps you help your dog navigate tricky surfaces. From the day your new Tripawd dog hops out of the hospital, to your routine playtime in the park, the Webmaster's sturdy top handle gives you a way to aid your dog up, over or around obstacles when it appears they may present too much of a challenge.
Allows you to aid your dog on stairs. When a dog loses a leg, stairs can seem like an insurmountable obstacle at first, but they eventually figure them out with a little guidance. Front leg Tripawds will have a harder time going down stairs, while rear leg amputees will find ascending more challenging. We've found the Webmaster is the best solution for helping your three-legged friend learn to use stairs without putting extra force on remaining limbs. The Webmaster's handle lets you gently guide your dog up or down staircases of every type. Check out this video of Tripawds' founder Jerry learning how to use stairs with the help of a Webmaster.
Lets you lift your dog up into and out of vehicles. Whether you have a family sedan or a monster truck, if your Tripawd is wearing the Webmaster, you have an instant opportunity to help your dog get in and out of the vehicle when traveling. Since canine rehabilitation veterinarians warn against allowing your dog to jump from a vehicle, the Webmaster also helps you preserve your dog's joints by giving you the ability to aid your dog in and out of the vehicle. We find that it's even better than owning a car ramp, since this harness doesn't require setting up a heavy object.
Is there when you think you won't need it. If you get into the habit of putting the Webmaster on your dog every day, you'll always be ready for the unexpected. For example, a senior dog might not always need help getting up off the floor, but the moment he does, you'll be ready to help lift him and build confidence. The harness is also a valuable tool when visiting new places, since even the most benign surfaces may cause a new Tripawd to panic in unfamiliar environments. The Webmaster harness' top handle gives you a way to rapidly aid your dog in potentially distressing situations.
Gives you more control while providing better balance. the Webmaster no pull harness is your best alternative to a collar, allowing better distribution of pulling force to prevent choking. With your leash attached to the centered aluminum V-ring, you have ultimate control over Tripawds who tend lunge, without pulling them off balance. For example, we've found that when sometimes overly-aggressive Tripawds Spokesdog Wyatt Ray meets new dogs, the Webmaster's handle gives us an instant way to gently lift and extract him from an escalating situation.
Works on front and rear leg Tripawds. We have used the Webmaster on both front and rear leg Tripawds on a daily basis with Spirit Jerry (missing a front left leg) and Wyatt Ray (missing a right rear leg), and found that the harnesses' effectiveness is equally the same on both types of canine amputees. The only difference is that on front leg tripawds, the harness will gradually slip down the missing limb side as the day goes on. However this rotation is purely aesthetic, since it is easily adjusted at the moment of use, and still perfectly functional.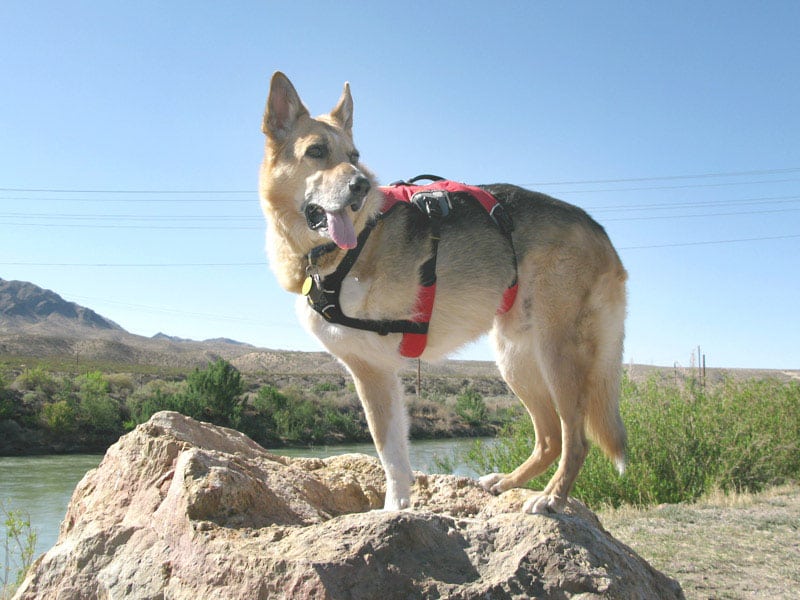 Provides comfortable, all-day support. the Webmaster's breatheable padded straps and durable vest construction doesn't interfere with a dog's movement and is comfortable enough to be worn all day long, even during hot weather. And in winter, your dog can wear a sweater the Ruff Wear Climate Changer underneath, just by loosening the straps at five different adjustment points..
These are just a few reasons why we believe the Ruff Wear Webmaster is so perfect for canine amputees. Did we miss any?
Tell us why you love your Webmaster in the comments field below!
Why buy from Tripawds? Purchases made on this site help support our continuing efforts to raise awareness about canine cancer and amputation as a viable treatment option. Because we believe it is better to hop on three legs than to limp on four.