The Ruffwear Flagline harness is our all-time favorite front leg Tripawd harness. It works great for dogs missing a leg. This is one of the few harnesses that doesn't rotate on dogs missing a front leg. And it's easy to put on over your dog's head, too! The Flagline works for dogs of all sizes, ages, and abilities.
Recently, Tripawd Penny gave it a try (with her prosthetic, too!). Here is the full Flagline review her mom Lindsey wrote for us after volunteering to be a Tripawd model.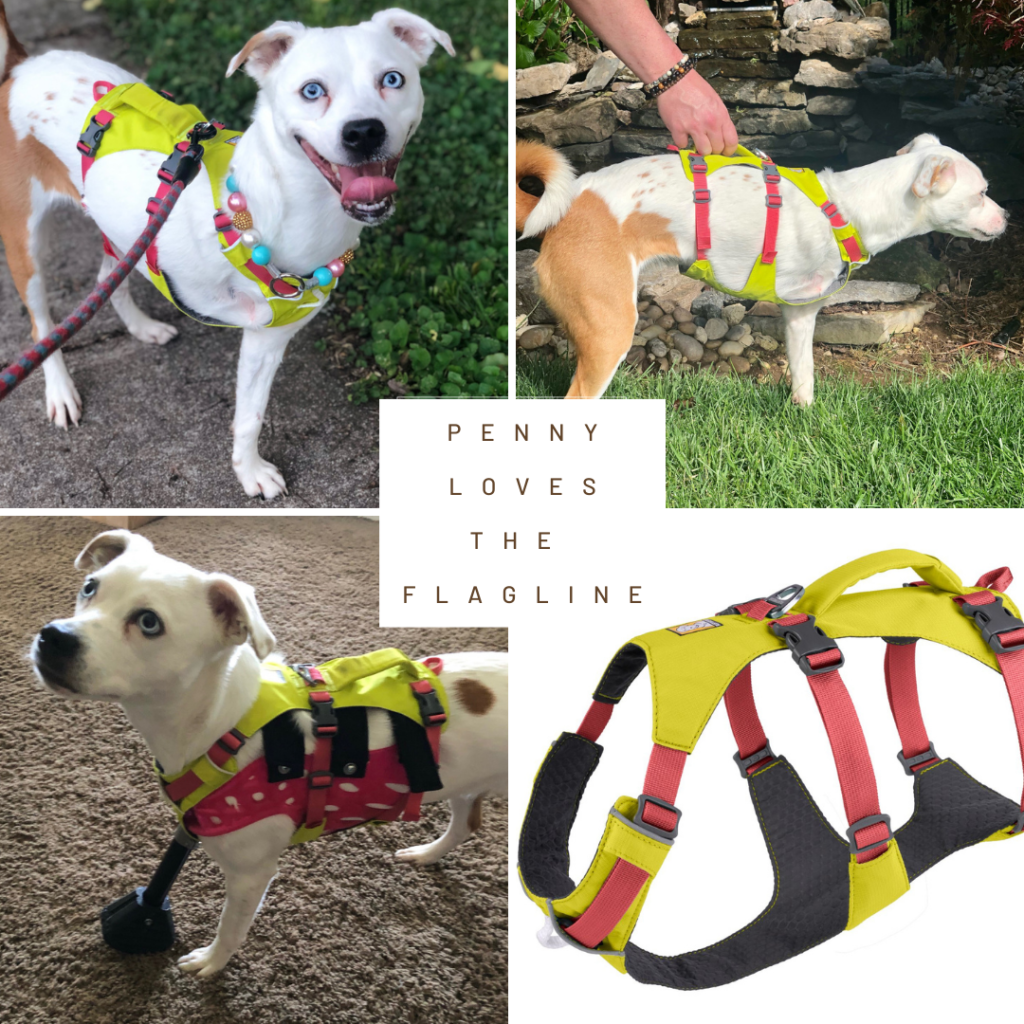 The Fun, Secure, Tripawd Harness (great for front leg amputee dogs, too!)
From the moment we adopted Penny we struggled finding a harness that would be supportive and safe for a front leg tripod pup. Her amputation took her leg all the way to the scapula. With no remaining limb she could easily slip out of all the harnesses that we tried when she was walking or excited to see a neighbor or squirrel!
There were a few times that we found ourselves chasing her down the street, which was terrifying. Our worries about Penny slipping her harness came to an end as soon as we tried the Ruffwear Flagline Harness on her. This harness must have been made with front leg tripods in mind because of how safe and secure it keeps her.
The design and structure extends further down her body, has double straps that go around her remaining leg but also her waist. There is no possible way she could slip out of it. This has been tested with her desire to chase all the squirrels and birds on our walks!
With a Top Harness Handle to Help our Tripawd
Another feature that we absolutely love is that we can easily "suitcase" her when she gets tired or needs to be redirected.
It is easy to lift her up by the handle on the back to give her a break but it is also comfortable for her. She doesn't mind being carried like this and it gives her legs a rest during our walks. The handle on the back is strong and durable and has sustained her weight of 30 lbs.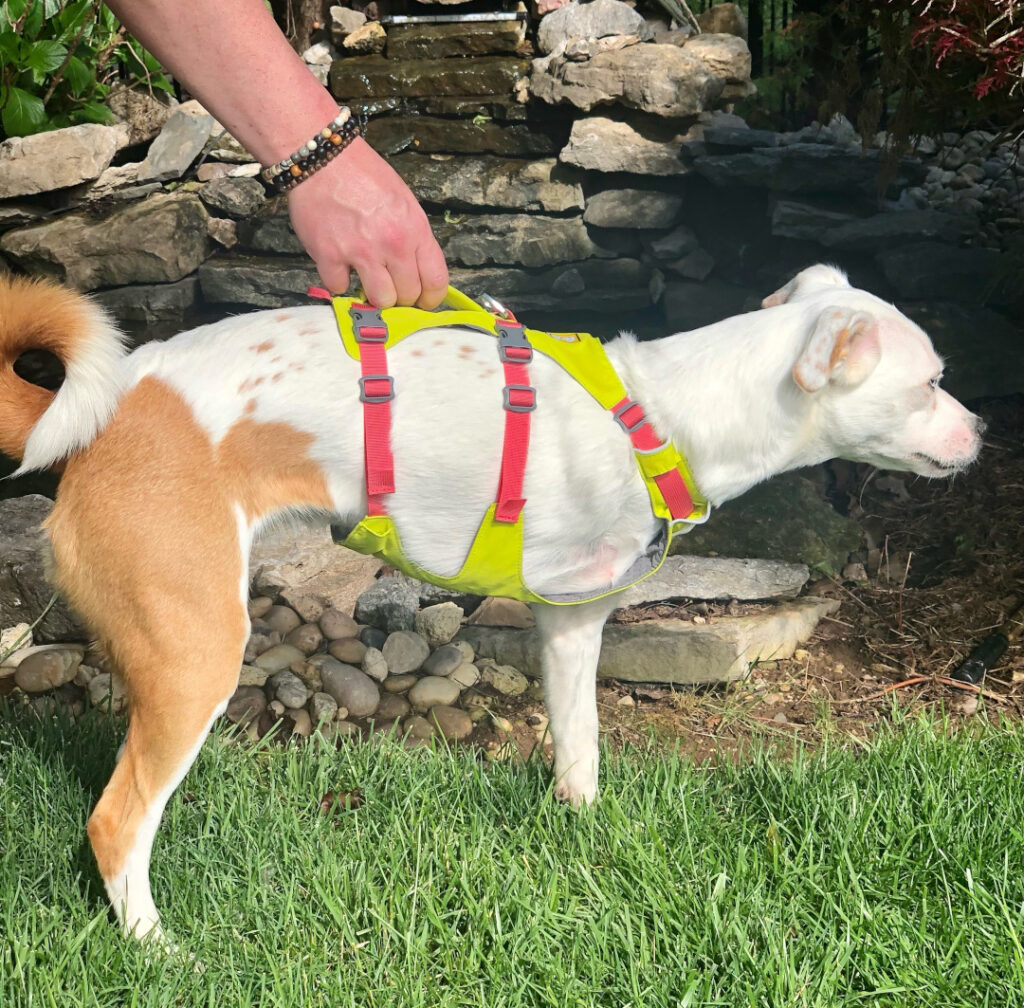 Fits Perfectly Over Penny's Prosthetic Leg
We recently purchased and received a 3D printed prosthetic harness and front leg attachment designed and created by 3D Pets. We were concerned at first that the harness did not have a leash attachment included in the design.
The Ruffwear Flagline Harness fits perfectly over her prosthesis. It does not impede her ability to move freely and walk on 4 again!
The Ruffwear Flagline Harness is beautiful.
The color Penny is wearing is like a strawberry lemonade with an 80s retro vibe! She stands out in this color combo which is a great thing because she can easily be seen on our walks and hikes. It has reflective accents that are perfect at night.
The harness is also light weight which is absolutely necessary so that she doesn't carry excess weight in her movements that can result in extra pressure on her joints.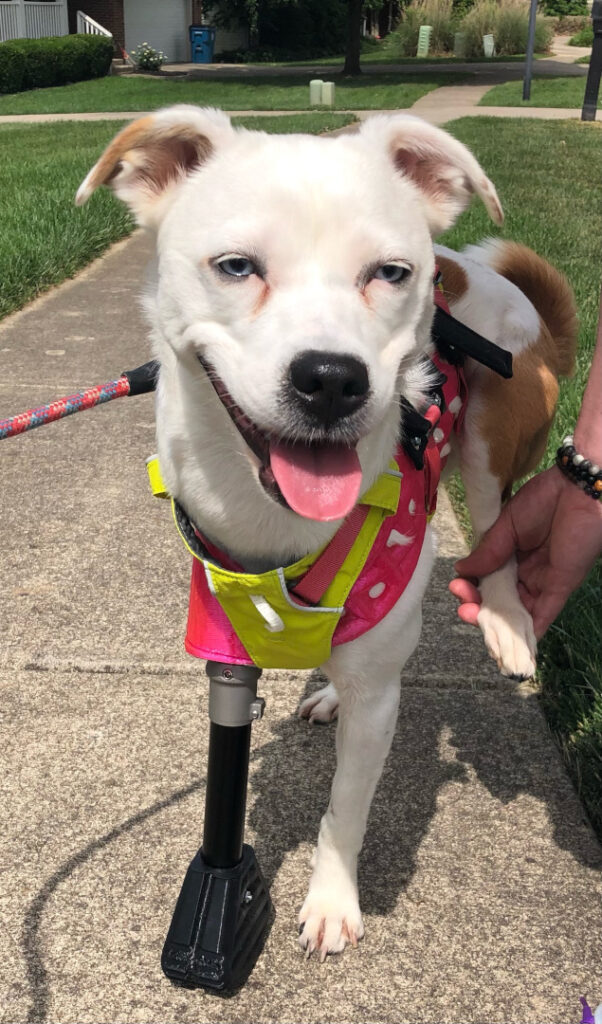 The All Occasion Front Leg Tripawd Harness
We have spent the last couple weeks taking Penny on walks, playing with her outside, and even took her to a high school powderpuff game. It has stood up to:
her pulling toward squirrels
adapting to walking on 4 with her prosthesis
being carried when she is tired
and playing ball in the yard.
This has been a beautiful, durable, safe and secure harness.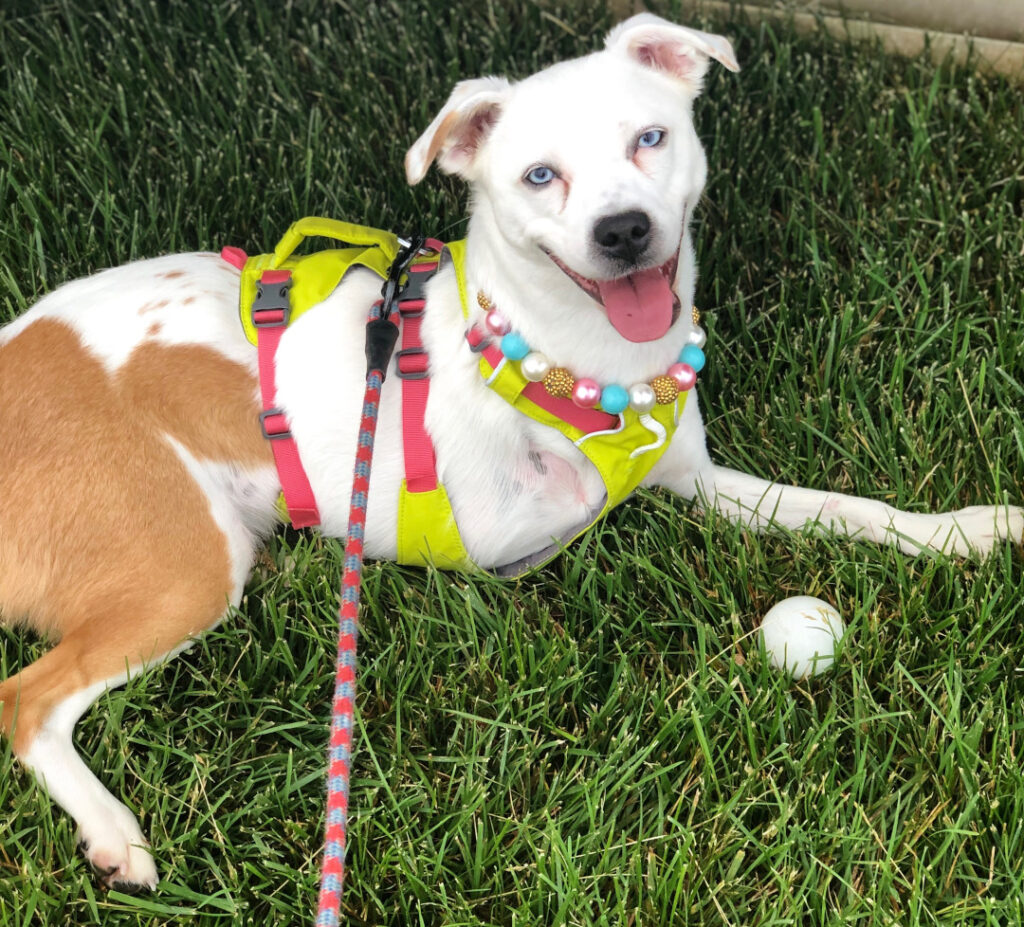 The Flagline is everything we were looking for when first rescued her.
We spent a lot of money and time on harnesses that were not suitable for front leg tripod pups. We would absolutely purchase the Ruffwear Flagline Harness for the comfort, ease of use, and peace of mind.