Summer takes a toll on active three-legged dogs. That's why Ruffwear's new Swamp Cooler Zip™ Vest for Tripawd dogs and quadpawds is must-have summer gear.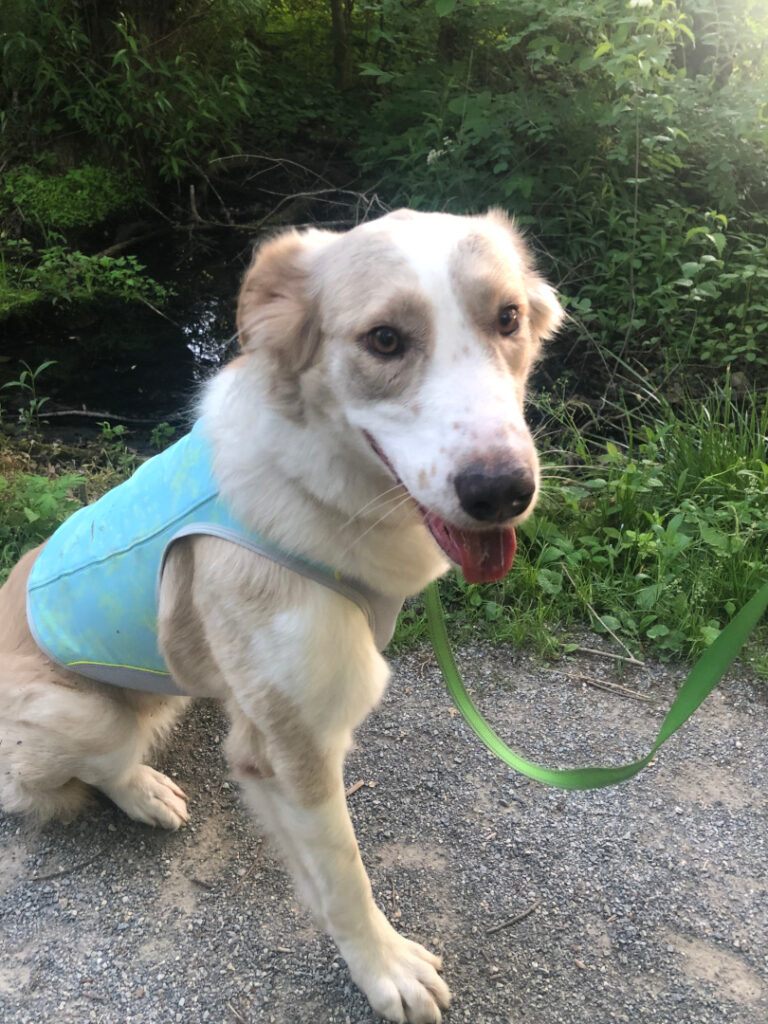 We asked for Tripawd Gear Testers earlier this year. Eileen and her mom enthusiastically applied and were picked to test the new Swamp Cooler Zip™ Vest by Ruffwear. We had a gut feeling this cooling vest can work on a front-leg amputee, but wanted to be sure. Now we know, and it's a winner!
Why the Ruffwear Swamp Cooler Zip™ Vest is Must-Have Summer Dog Gear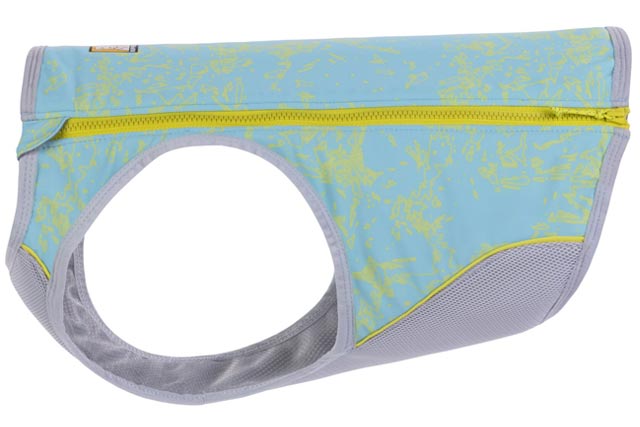 This form-fitting cooling vest for Tripawds and other dogs keeps active fur kids cool during warm weather adventures. How? With special fabric shading and evaporative cooling technology.
Three-layer construction in chest panel cools your dog's core when it gets wet. To activate, soak the vest in water, zip on your dog, and go!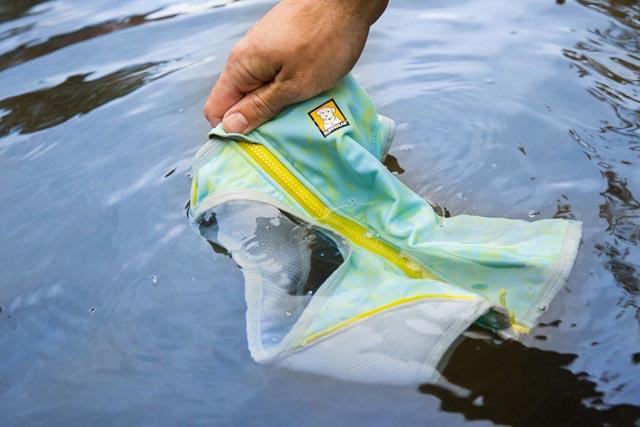 The lightweight spandex fabric is sunscreen for your dog! It's Ultraviolet Protection Factor (UPF) rated to 50+. And the formfitting design is perfect for fast and light athletic endeavors.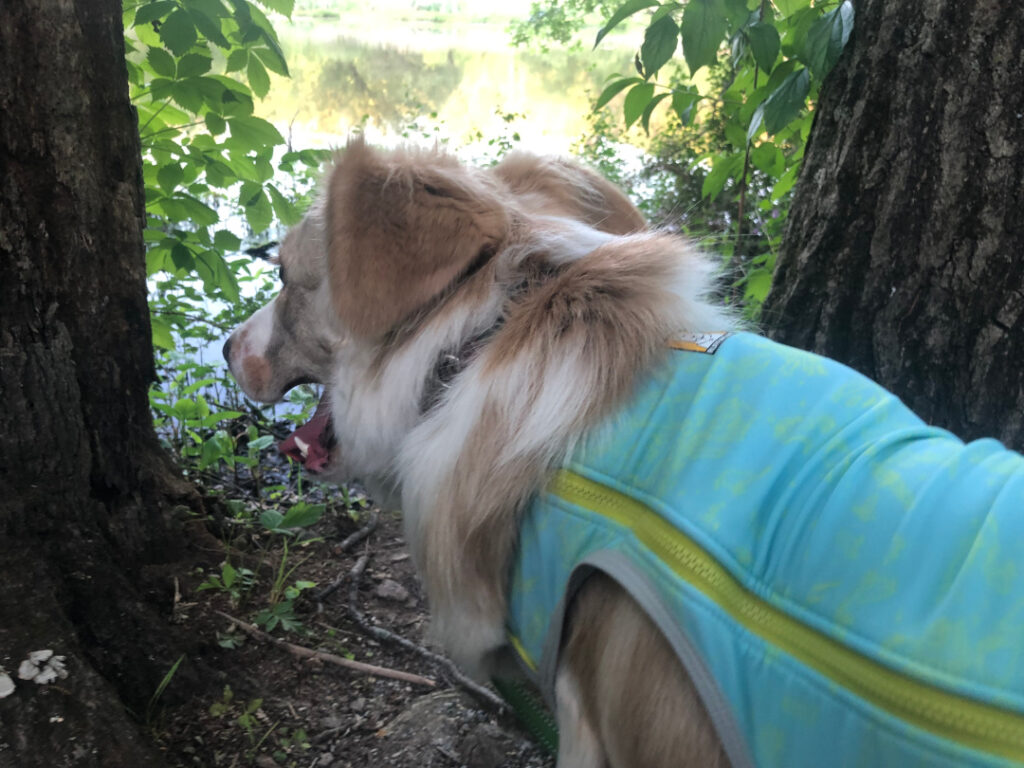 This Cooling Vest for Tripawd Eileen is a Winner!
Eileen is a front-leg amputee. We wondered: would the vest shift on her when it got wet? How easy is it for a Tripawd to step into the vest? After a few weeks of trying it out, here's what Eileen and her mom reported:
The Swamp Cooler Vest was a treat to test out.
I just had her wear it around the yard today to test it (especially since there are scattered thunderstorms today). It was easy to put on and it doesn't seem to move much at all. She seemed to be very comfy in it. She is a little fluffy so I had to be careful to attach the zipper together.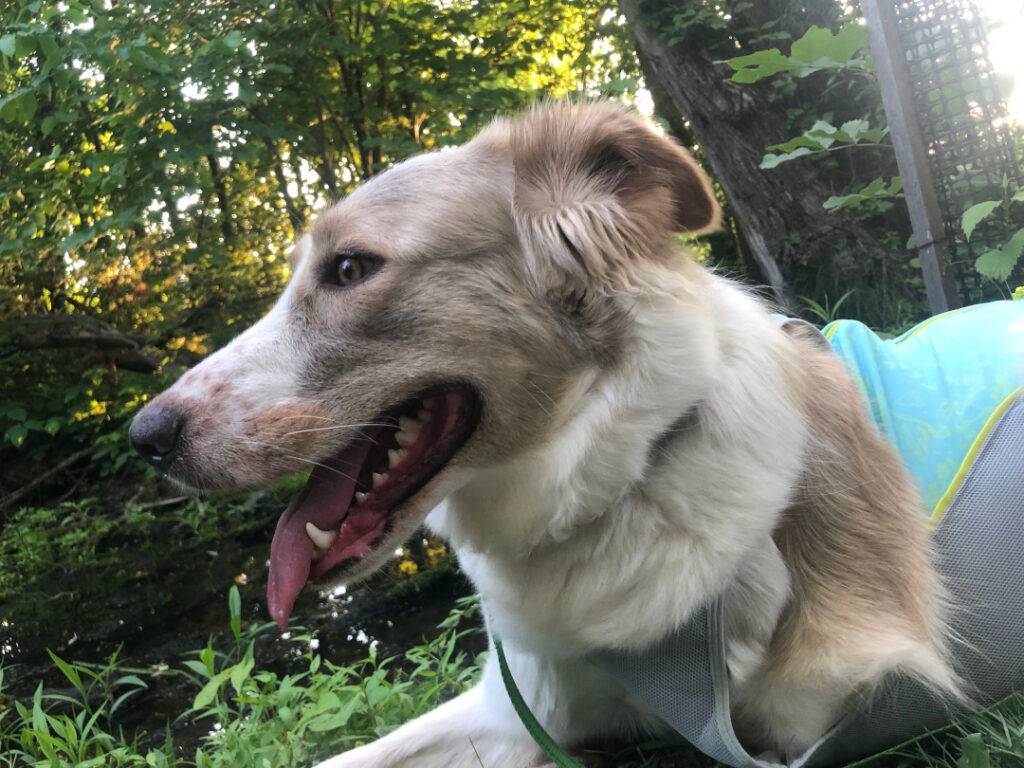 The vest stayed wet for a long time, I'd say at least 2-3 hours. I used it last night for our dog training. It was still wet when we got home.
Getting Eileen to step into it was pretty easy.
For Eileen being a front leg amputee, you do have to get your dog to step in the leg hole or maneuver your dog somehow to get the vest on. The leg hole is rather large. From there you just slide it up and zipper it. The zipper starts towards the head and you close it going down the back.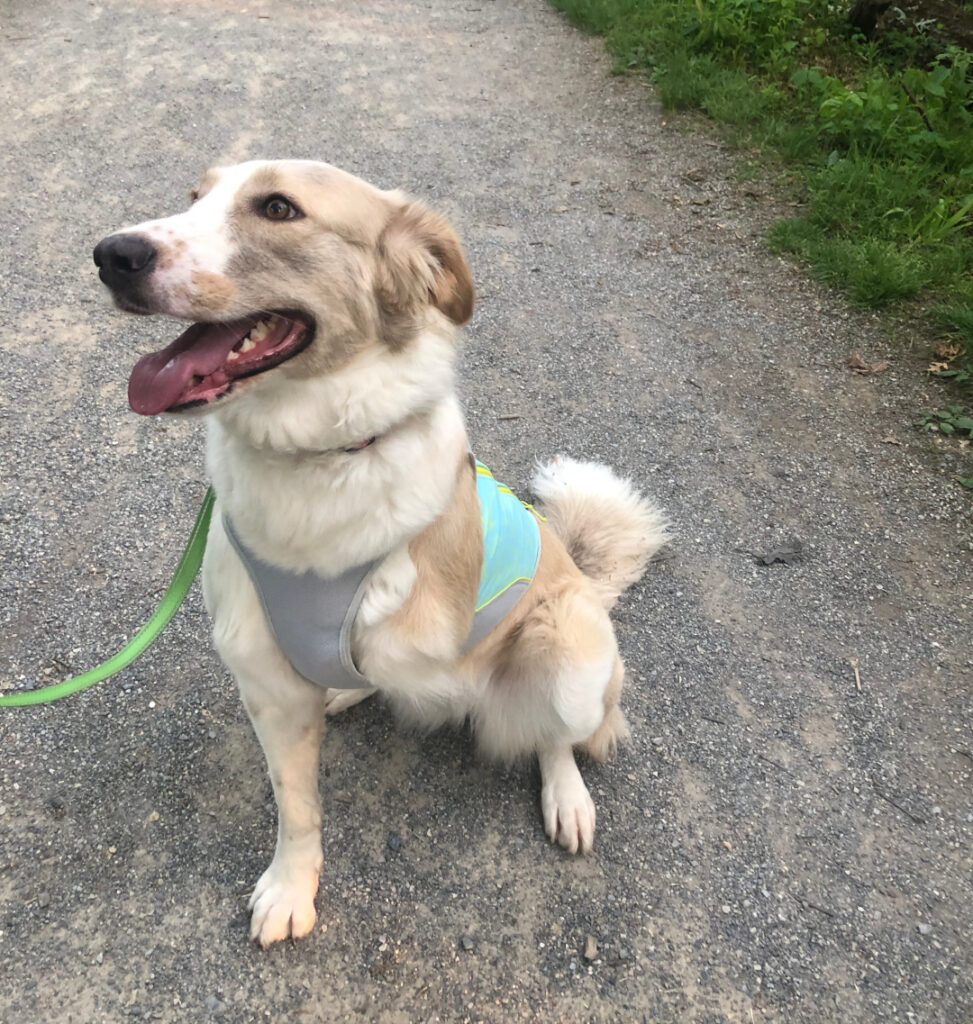 The vest is stretchy making it easy to put on and close using the zipper. Eileen felt comfortable in the vest and didn't fidget with it.
Wetting the vest was easy.
I even used a spray bottle to test out different possibilities. The color of the vest did not change when it got wet so it remained vibrant. I kept checking to see if it was wet however because I couldn't tell. It stayed wet for a considerable amount of time.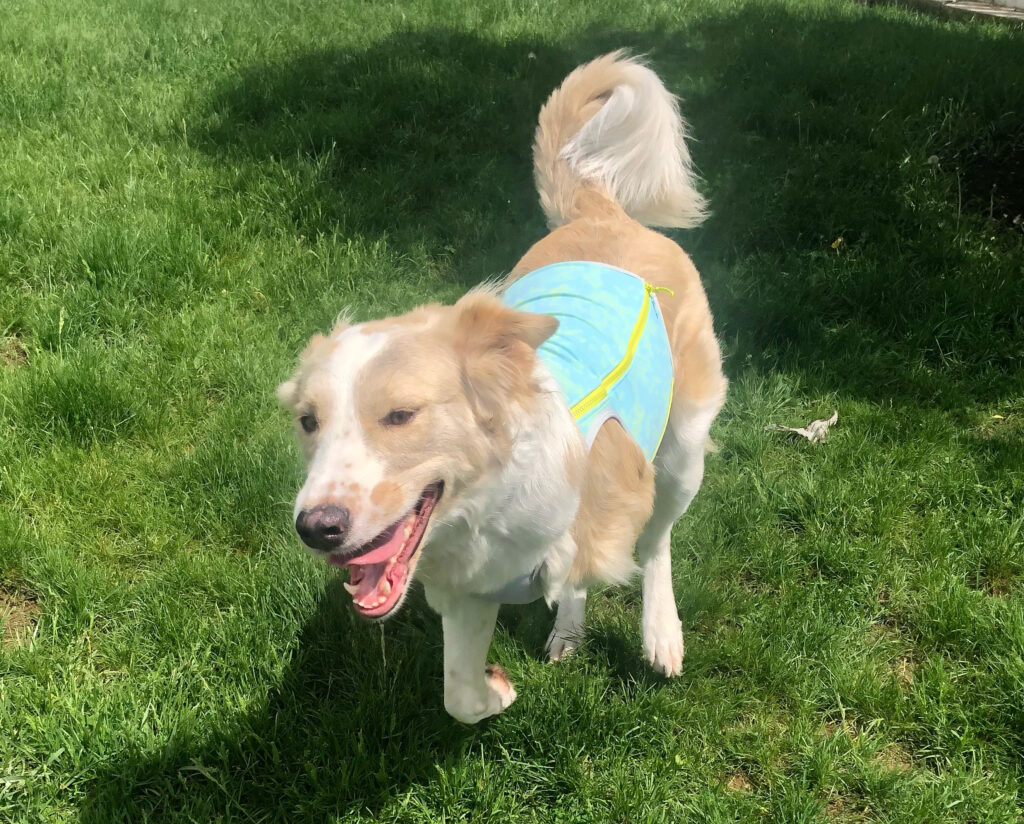 It did slide somewhat but stayed functional the entire time even while laying down or running.
The fabric did bunch up a little at some points (the zipper) making it maybe not the most esthetically pleasing. But again stayed functional while hiking which is the most important part.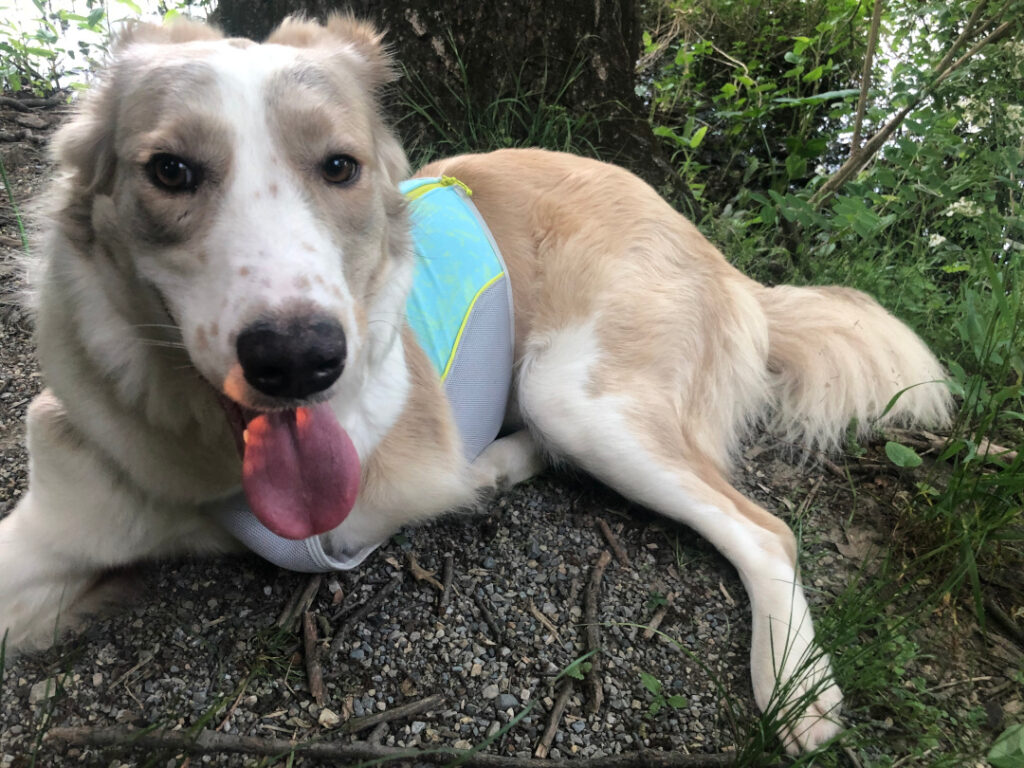 Keep Your Three Legged Dog Cool in Summer
Ruffwear's new Swamp Cooler Zip™ Vest for Tripawd dogs and four-legged friends is now shipping from the Tripawds Gear Shop. Order yours today. Proceeds support the community. Thank you!