A life jacket for dogs is a smart choice for water safety. It's especially wise for swimming Tripawd dogs. And now, Ruffwear's new and improved Float Coat™ is better than ever for water loving fun in any conditions.
Why Your Tripawd Needs Ruffwear's Best Life Jacket for Dogs
Yes, a Tripawd can swim. But they can swim better, safer, and longer with the help of a rugged life jacket. Of every dog flotation vest and life jacket for dogs available, only Ruffwear's Float Coat™ gets the Tripawds Seal of Approval. Here's why:
KEY FEATURES:
Strong, low-profile handle is optimally positioned to help dogs out of water
Telescoping neck closure adjusts for a range of dog sizes and is permanently attached and secure
Strategically placed foam panels support a natural swimming position
Earth-friendly, PVC-free Gaia™ foam for a soft, comfortable fit
Easy-to-clip, sheltered buckles keep straps firmly in place over time
Water-compatible webbing remains stable in wet environments
Tonal reflective accents for visibility in low-light conditions and light loop for attaching The Beacon™
Get Your Float Coat in the Tripawds Gear Shop!
Ruffwear's Float Coat dog life jacket is the best in canine flotation and water safety.
Years ago we could see that Tripawds Chief Fun Officer Jerry swam much better in Ruffwear's Float Coat. Later, we tried other models when Tripawds Spokesdog Wyatt Ray went swimming. But no other life jacket for dogs could compare. They lacked the amount of lift and steadiness that the Ruffwear Float Coat offers.

For dogs that love to join their humans rafting, kayaking, boating, surfing and paddle boarding.
Generous shoulder area and tapered cut to the rear won't let it roll or twist, even on three-legged dogs.
Allows free range of motion while kicking and turning in the water.
A premium, fully-featured dog life jacket with important features like a strong handle. This makes it easy to lift dogs out of the water.
Reflective trim makes it easy to see your dog, in or out of the water.
Includes leash attachment ring under the handle.
Multiple sizes for dogs of all shapes, sizes, and limb counts.
To get the right fit, use a cloth tape measure or a string to get your dog's"girth" or chest measurement. Make sure to pull the tape measure snug, but not too tight. If you find the measurement is between sizes, choose the smaller size for the best fit and function.

Get Your Float Coat in the Tripawds Gear Shop!
Float Coat™ from Ruffwear on Vimeo.
Ruffwear Float Coat FAQs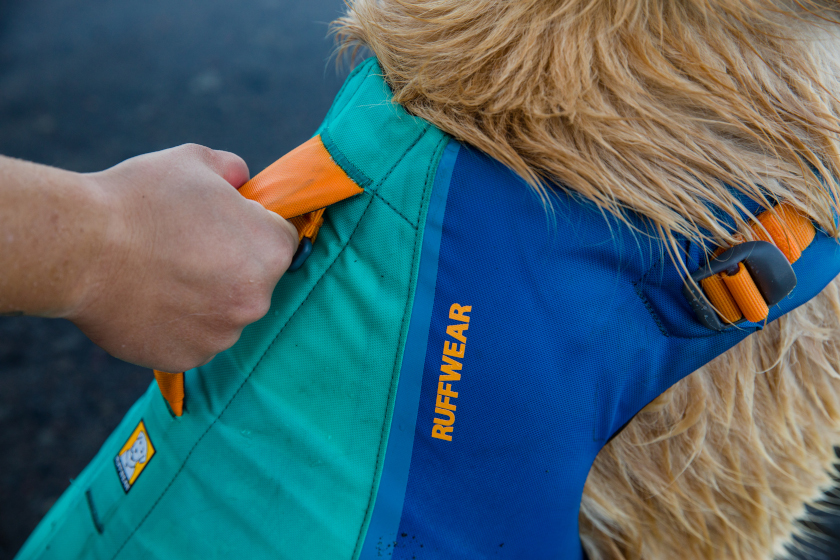 Q: Is there a weight limit for each size?
A: No. According to Ruffwear, "There is an average weight range that dogs have based off their girth measurement. It can vary by a few pounds, so we don't post a 'weight limit' but rather use the dog's girth measurement to ensure proper sizing. We have a saying here that 'if it fits, it floats!'"
Q: Is a bigger Float Coat better for my Tripawd?
Ruffwear says "No!" An oversized life vest for dogs can allow a dog to slip out while being lifted. Ruffwear adds that: "It's important to not try and oversize a Float Coat for more length on the body. Because dog's do have that natural ability to swim, adding too much flotation on their body can cause them to become awkward or uncomfortable in the water."
Q: How do I wash my Float Coat?
A: Always rinse after use to remove salt from seawater or debris from lakes/rivers. For a deeper clean: secure fasteners, wash in cold water/gentle cycle, use mild detergent. Line dry, no bleaching or ironing! Avoid drying in direct sunlight.
Warning: Ruffwear's Float Coat life jacket for dogs is a recreational swimming aide. It is the best flotation vest on the market, but it is not a life-saving device. Never over-exercise your dog in water, and always provide plenty of rest time.
Help your Tripawd swim farther and safer!