Worried about the coming cold weather season? Our new winter Tripawd dog jackets by Ruffwear are ready to keep your pup warm and protected. Today we're sharing some cool features of the Overcoat™ and Climate Changer winter apparel.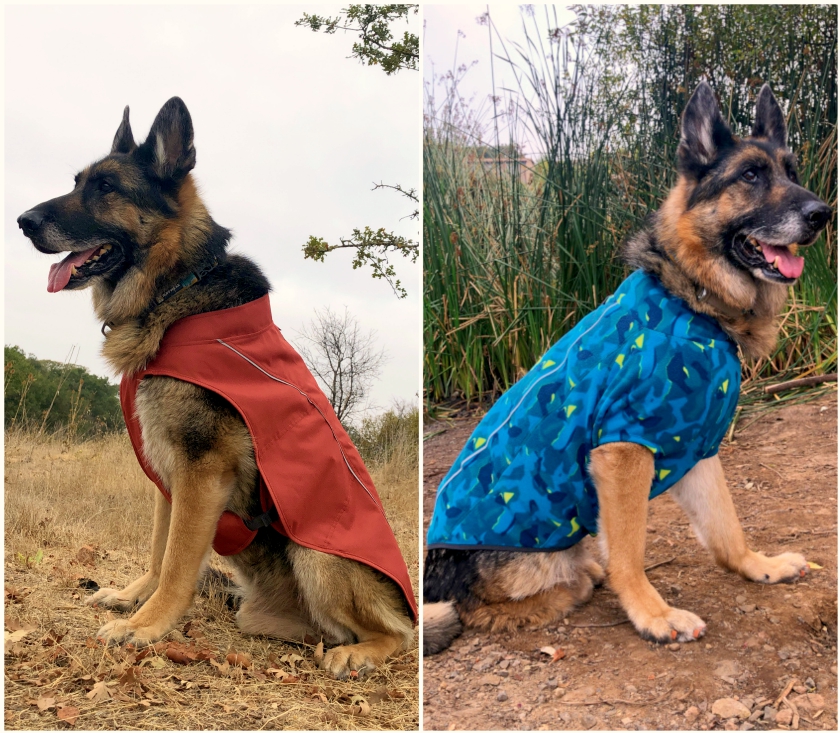 Browse all Ruffwear dog jackets here in the Tripawds Gear Shop, and read on for details about the latest additions and updates.
Ruffwear Dog Jackets Keep Tripawd Dogs Winter Ready!
The Overcoat Winter Jacket is one of Ruffwear's most popular, classic cold-weather utility jacket for dogs. Now with improved features and in fun Red Clay or Slate Blue colors. It can be worn over a Ruffwear Flagline Harness or Webmaster Plus Tripawd harness, with a convenient flap for grabbing the harness handle.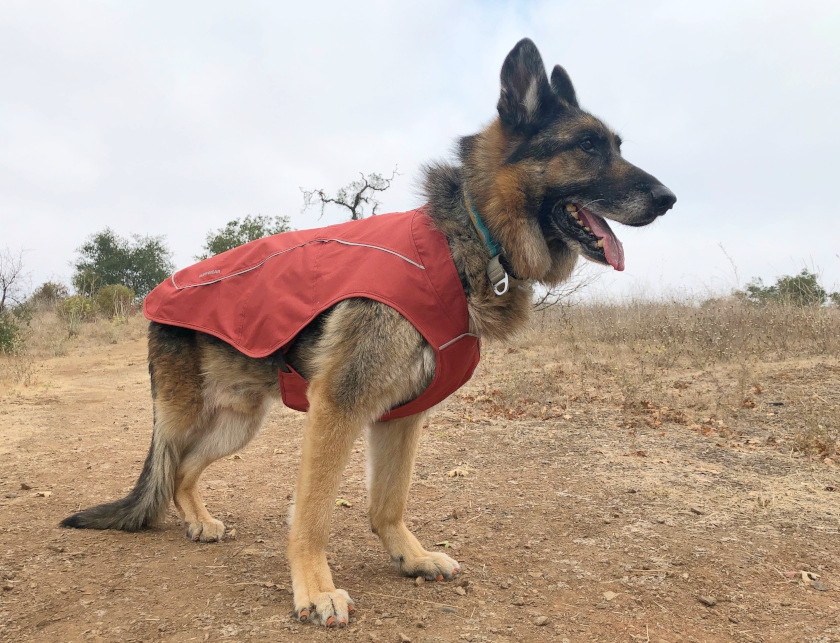 The wind and water-resistant outer fabric protects against harsh elements. The interior recycled polyester fleece lining keeps body heat in.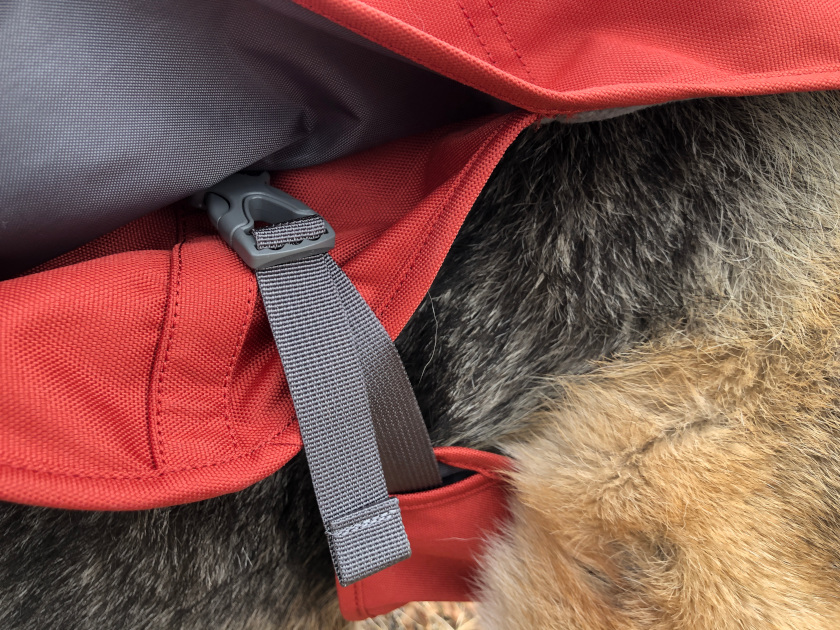 We especially love the length of the Overcoat. Wyatt has a long torso, and the jacket protects it all the way to his tail.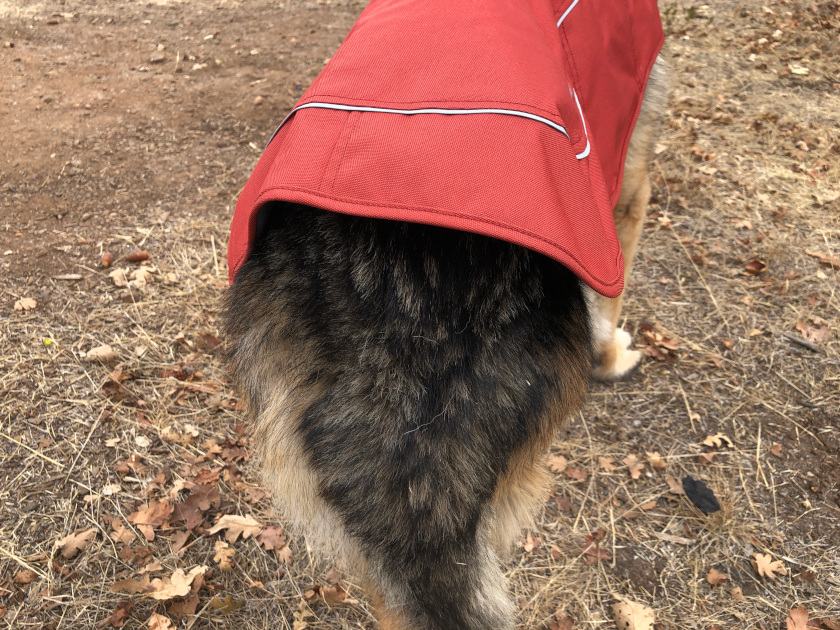 The Overcoat is also fleece-lined for extra warmth. It does a great job keeping mud away from a dog's belly. And the reflective trim with light loop keeps dogs safe at night.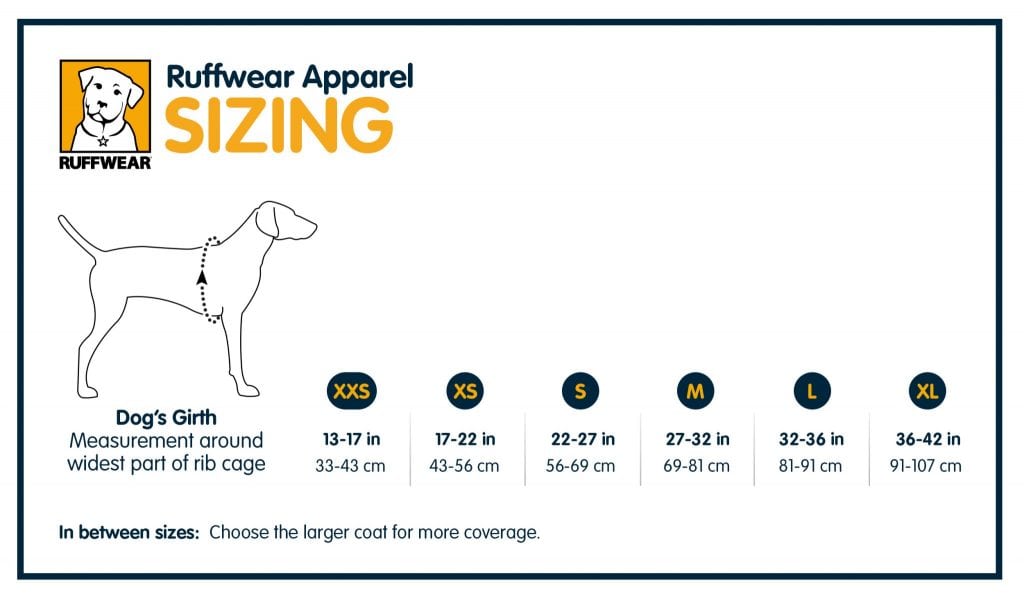 The Ruffwear Climate Changer Fleece Dog Jacket Keeps Tripawds Warm
Ruffwear makes the most durable and practical fleece dog jackets. The Climate Changer Fleece Jacket is all-day apparel that protects your pup from wintery weather.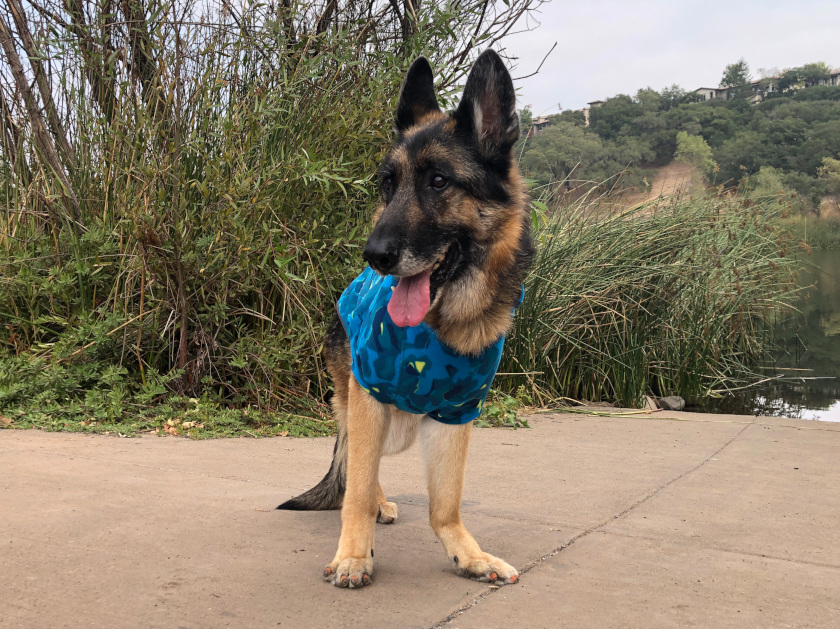 It's updated for Winter 2020 with the new Glacier pattern, a bold reminder about the fragile nature of our planet. But this winter Tripawd dog jacket is so much more than a pretty piece of apparel!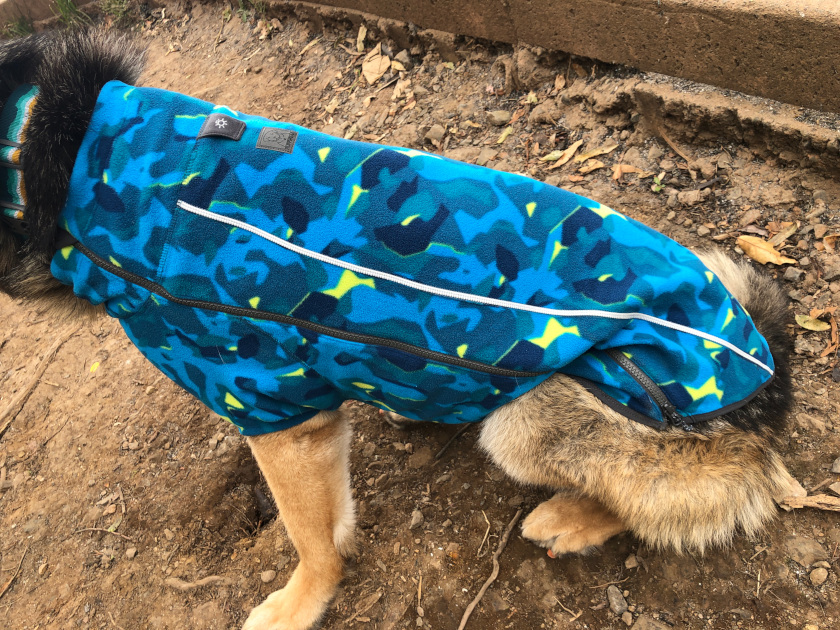 The Climate Changer is made with an environmentally friendly fabric: Polartec® Classic 200 recycled fleece. About 87 percent of it is made from recycled material, saving the energy equivalent of 7.2 pounds of carbon dioxide per jacket compared to virgin polyester!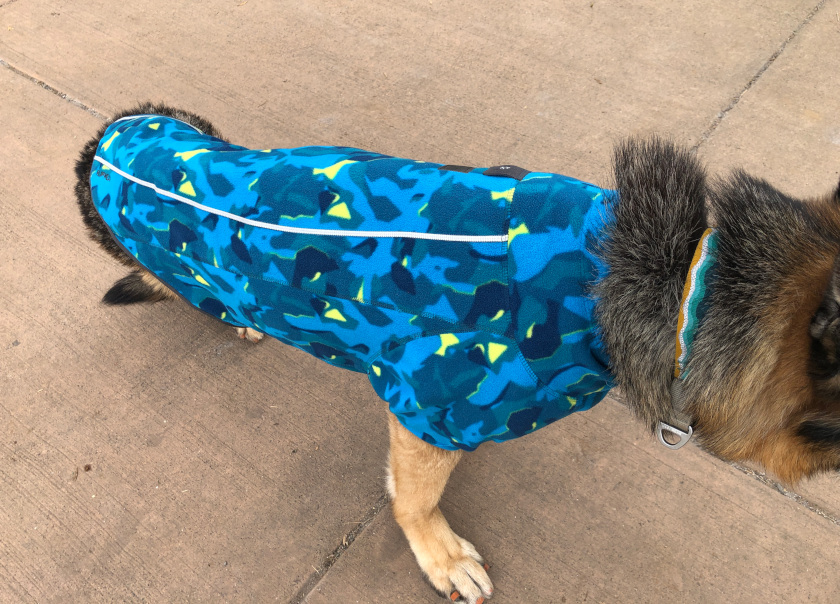 The Polartec fabric stays warm inside even when wet outside. Polyester fleece is quick drying and provides warmth without bulk. It's made from recycled materials, and is durable and machine washable.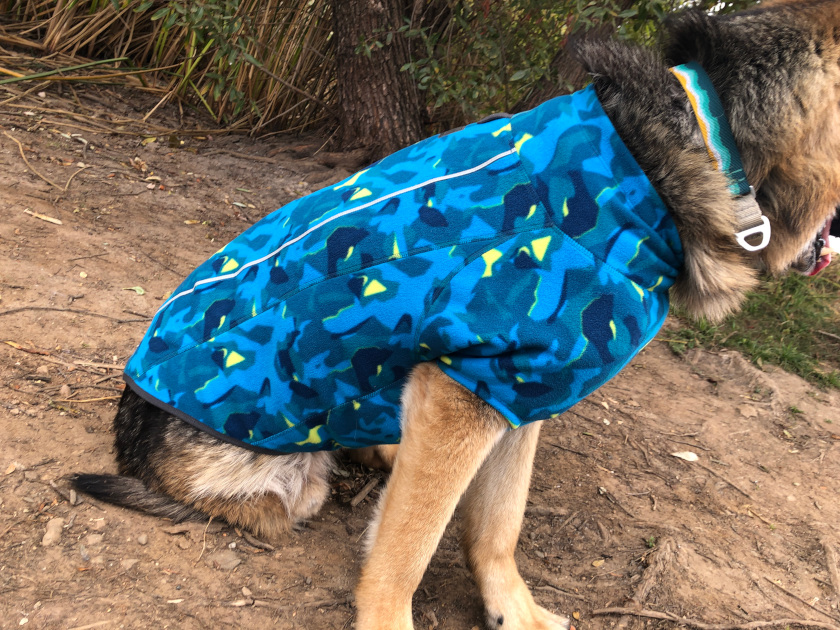 We love how the Climate Changer now has a more tailored, shorter length and an improved sleeve fit for extra comfort and mobility. The sleeved style has a zippered closure for core heat retention.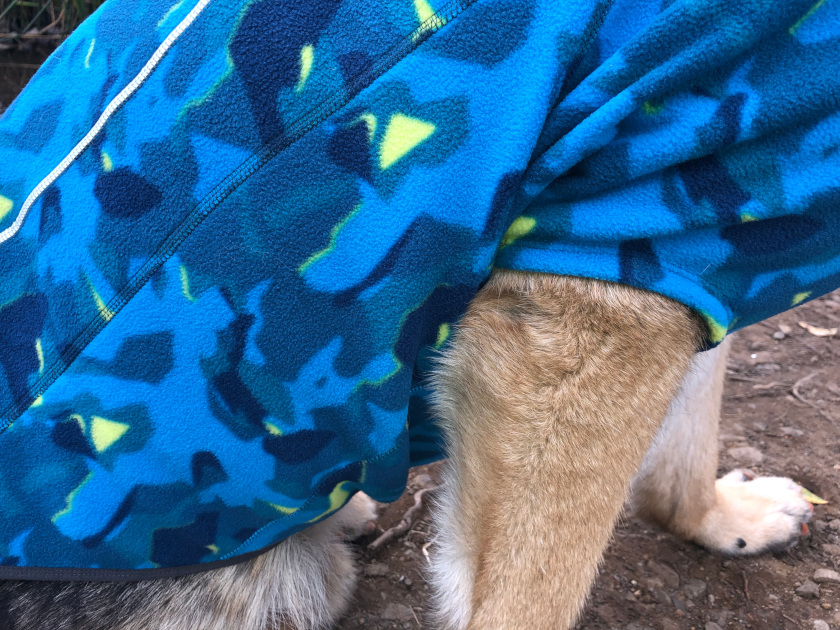 If you have a front-leg amputee dog, just sew up the appropriate leg hole once you are certain the item fits. This will keep your Tripawd warmer than leaving the missing leg side open.
The Climate Changer has a perfect all-day fit. Wyatt seemed comfortable and didn't mind wearing it on the first chilly afternoon of the season.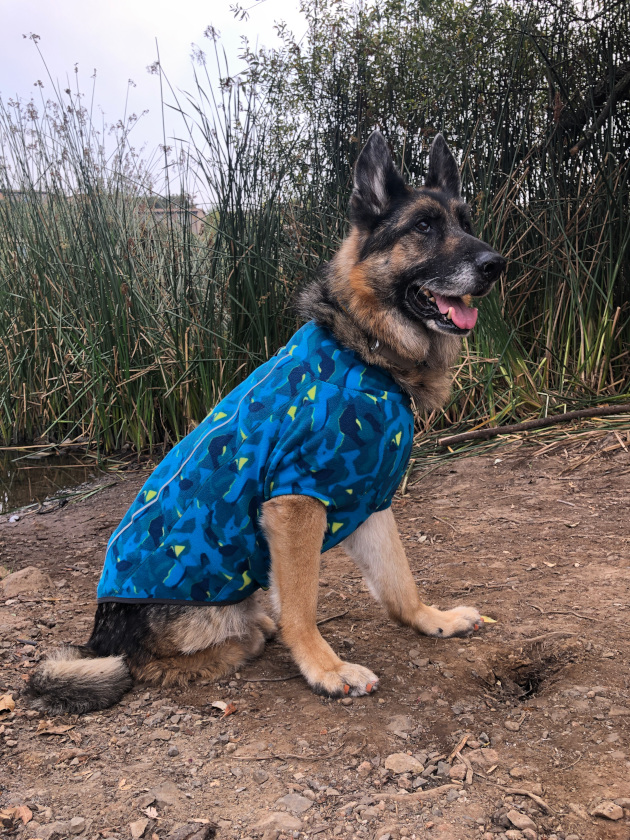 Made with the most durable dog jacket materials on the planet, the Overcoat and Climate Changer are the kind of Tripawd dog gear that will last a lifetime. Give them a try, we know you and your pup will love them!