Paying for amputation surgery and recovery costs is no easy task. This is why we are so happy to announce that the Farabloc Phantom Pain Relief Blanket sale is on for another three months!
Three More Months of Phantom Pain Relief Blanket Sale
Three's the lucky number in the Tripawds Nation. For three extra months, that's today through midnight on June 14, 2019, the Farabloc Phantom Pain Relief Blanket Sale continues. The savings look like this: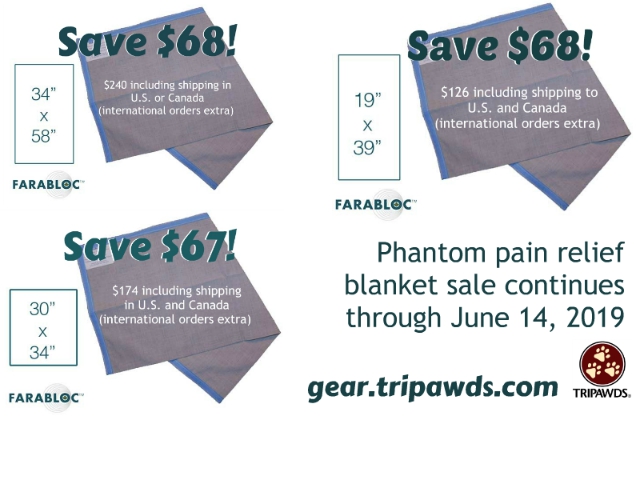 These Farabloc blankets are one part of the amputation recovery puzzle. Along with pain medications, heat and ice therapy and rehabilitation techniques like acupuncture and massage, a Farabloc blanket placed at the amputation site can help reduce post-operative and phantom leg pain in new animal amputees. Just ask any Tripawd pet parent who has tried them.
Act Now: Farabloc Sale Ends June 14, 2019
What Tripawd Parents Say About Farabloc
The fabric used in Farabloc blankets are based on the Faraday cage concept. By blocking our environment's Electro Magnetic Frequencies from penetrating the body's tissues, pain is reduced and healing happens. Numerous peer-reviewed studies have been published about the powerful healing Farabloc offers, so if you're skeptical, check out our in-depth articles about Farabloc phantom pain relief:
Can Our Smart Devices Interfere with Our Tripawd's Pain Relief?
Farabloc Gives Drug-Free Phantom Leg Pain Help for Amputees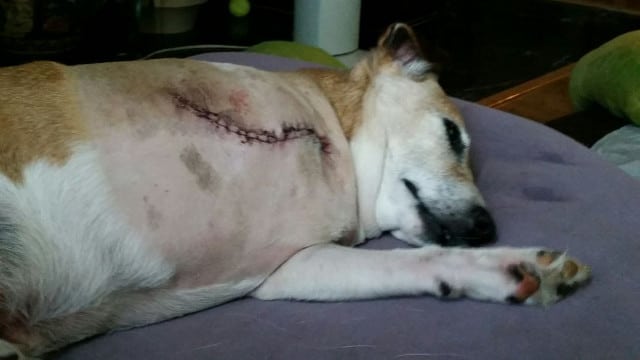 Curious to find out how Farabloc blankets may help your Tripawd heal better? Here's what others say about how Farabloc helped theirs:
By evening he was laying with his stump buried into it and sleeping so soundly it was difficult to rouse him for dinner and medications. — Rascal's human

Farabloc gave him new life. He can go on his beloved daily walks and sniffs again. — Marianne

"Purrkins was drawn to the blanket right out of the envelope. He took right to it." — Holly, Purrkins' mom
Get even more details in an interview with Purrkins' mom Holly, and Dr. Don Nixdorf, DC, 2018 TEDx Speaker and advisor for Farabloc Development Corporation:
Healing by Removing High EMFs for Animal Amputees
Farabloc was developed to reduce pain in human amputees many years ago and it's been successful in the human pain relief world for years. It's also known for providing non-pharmaceutical pain relief for other chronic and acute conditions like wound healing, fibromyalgia, migraines and osteoarthritis.
The research on Farabloc's products is documented in the U.S. National Institute of Health online database PubMed as well as dozens of reputable health journals such as Canadian Journal of Rehabilitation, the Clinical Journal of Sports Medicine and the Clinical Journal of Pain.
Just keep in mind that like any self-care treatment, everyone responds differently to it. While no returns are allowed because we can't make crazy claims that it's guaranteed to work on everybody, 99% of customers report that they and their Tripawd have experienced pain relief from it.
Of course even on sale, the cost to buy a Farabloc blanket isn't inexpensive, so we encourage you to email any of your burning questions to Dr. Nixdorf and the Farabloc company before you buy.
$149.00 – $308.00Select & Buy