When your dog loses a leg, you must rethink what exercise means to the pack. Instead of throwing a ball, try core-strengthening games with a fun Tripawd exercise "Donut." This FitPAWS® exercise gear is a great way to spend time together and build muscles that help avoid injuries.
Wyatt Stays Strong with His Tripawd Exercise Donut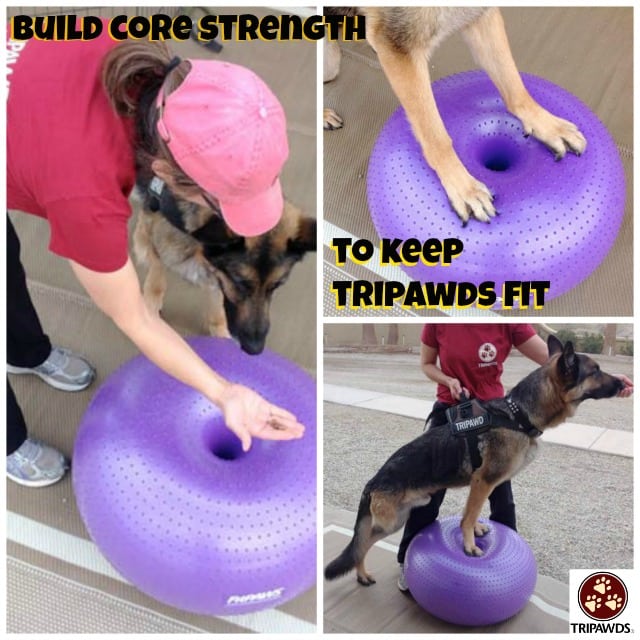 We've always loved the FitPAWS Donut and now it's better than ever. This little piece of inflatable equipment helps your dog:
Get stronger core-muscles
Build confidence on uneven surfaces.
Feel a better connection with you as you learn to balance and play in a challenging and ever-changing situation.
Strong core muscles are key for all dogs, but especially for three-legged canines. A strong core is the powerhouse between front and rear body movement. If you are a dog, core-strength helps you when you sit up, stand up, run, turn, twist, jump and play. For Tripawds missing that spare leg, strong core-muscles are key to preventing common injuries to remaining limbs.
Please don't start any exercise program
until you talk with your vet. 
Tripawd Wyatt Tests the New FitPAWS Donut with Traction
NOTE: The FitPAWS Donut is for advanced exercises. Just getting started? Consider the Balance Disc or build your own Homemade Buja Board!
The FitPAWS Donut has been around for years. But the company only recently released the new Donut with a no-slip, textured "Trax™" surface. What makes the new Trax surface so awesome is:
It prevents slipping and provides n

eurosensory

 stimulation
It's a burst-resistant design that provides a safer balance platform for conditioning and rehabilitation exercises.
When we tried the Donut with Wyatt, he knew exactly what to do.
Wait until we bribed him with yummy treats.
Put both feet on top of the Donut.
Stand and stuff him with treats for a few minutes.
It's that easy!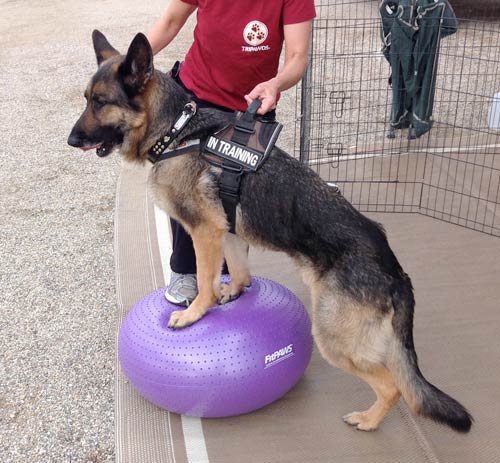 We noticed that even without the FitPAWS Donut Holder, if you just place your legs in front of the Donut you'll keep it steady enough for your dog to safely balance on. See how we did that in the video?
Wyatt's nails were a bit long. But did he punch a hole in the Trax Donut? Nope. That material is so tough that a 300-pound dog can sit on it without a problem.
The flat surface of the Donut makes it safe for smaller Tripawds to stand on. Big Tripawds like Wyatt should only sit on it or place their front limbs on the Donut. Both positions help build critical rear-end muscles to help avoid injury.
You'll learn all this and more with the free exercise guide and DVD that come with your purchase.
NOTE: Wyatt is wearing the Tripawd Convert harness by EzyDog in these photos. A harness is recommend to help stabilize your dog and prevent injury from falls.
FitPAWS® TRAX™ Donut Basics
The Donut is an intermediate piece of equipment that's a bit more challenging than the beginner-level FitPAWS Balance Pad, but not as tough as the more advanced FitPAWS Peanut. It's one piece of equipment you'll want to add to your canine Tripawd gym.
Special TRAX™ Design Provides Superior Grip and Stability
Features TRAX™ Neuro Stimulation Bumps
Burst Resistant to 300 lbs. – Designed to Deflate Slowly If Punctured

13" height x 22"width (33 cm x 55 cm)
Inflation Pump and Guidelines Included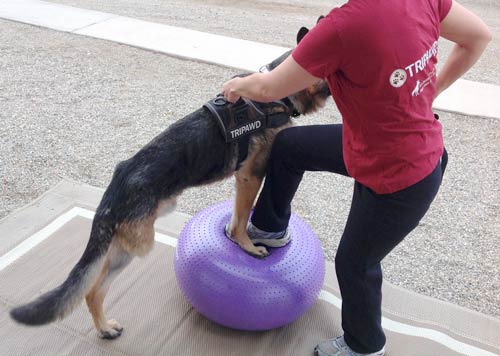 Technically Designed for Your Canine
The FitPAWS® TRAX™ Donut is uniquely-shaped inflatable fitness ball designed specifically for dogs. Its flattened base offers more stability than other inflatables. With your assistance, your dog can learn to stand, sit, lay, side step and perform other beneficial exercises.
Real-Time Results
Subtle movement of the Donut under your dog's weight causes a shift in your dog's center of gravity. Your dog will naturally try and maintain balance, causing the muscles to engage and strengthen. It's that simple.