Can three-legged cats climb? Of course! These Tripawd cat tree ideas show how to choose good ones for safe, happy, vertical adventures.
Try These Ideas for Tripawd Cat Trees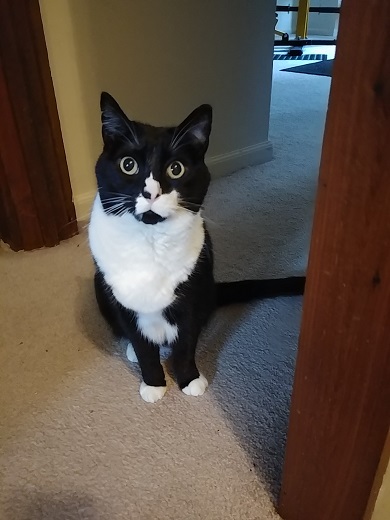 Dogs and cats have all of their jumping power in the rear legs. When one leg gets amputated, they lose half of their ability to jump and climb. But that doesn't mean they won't try. Tripawd cats are especially determined to get back to vertical fun. It's up to their hoomans to make it as safe as possible.
"I got Jet a few months after his amp, so he was already used to life on three legs . . . once he felt confident that he could jump up somewhere, then he'd do it. I don't recall him wiping out. But it did make me nervous." Jet's dad
Once your Tripawd cat's stitches are healed, you can start to encourage safer climbing adventures. Just be mindful about where you put the tree.
I butted up the tall tree to my couch so the highest part is where the couch is. If we were to have a mishap, he would have a softer landing. — Huckleberry's mom
Caring for a Tripawd means preparing their environment the same way you would for an older cat. You don't have to get rid of the cat tree, your cat can still climb. Just be mindful of the designs for your senior amputee cat.
Three Must Have Features for Tripawd Cat Trees
Young and older amputee cats need extra help climbing. When shopping for Tripawd cat trees and other Trikitty furniture, look for features that include:
Ramps, ladder or stairs for easier climbing
Plush fabric that's kind to their fur
Play areas with wide open spaces to snooze and stretch
Here are some great cat trees for older cats that you might want to try.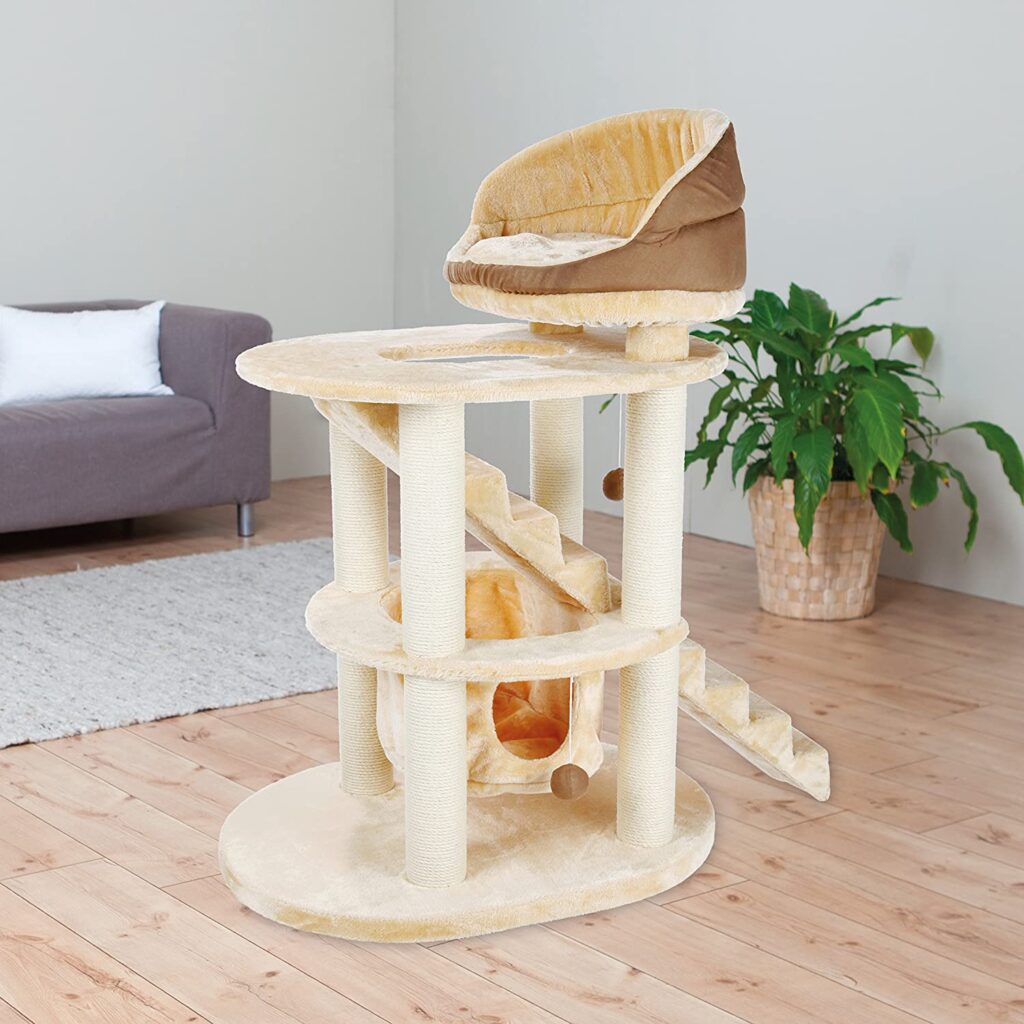 Trixie's Elsa senior cat playground provides endless opportunities for cats to climb to new heights with the plush wrapped ladder, or relax in the extra-deep hammock or cuddly top platform with removable bed. There is even a large plush platform for spunky felines to Jump, climb or Perch atop for a View of their kingdom.
Posts wrapped in jute/plush (3.5 inches in diameter). Plush stairs (9.25 x 43 inches). Ring-shaped platform (23 x 20.25 inches). Top ring-shaped platform (28.25 x 22.75 inches). Top platform with removable bed that can be machine washed, gentle cycle (19.25 x 14 inches). Extra-deep hammock with side opening (14 x 14 x 10 inches). Toys on strings. All hardware included. Dimensions: 30.5 x 26.75 x 43.5 inches.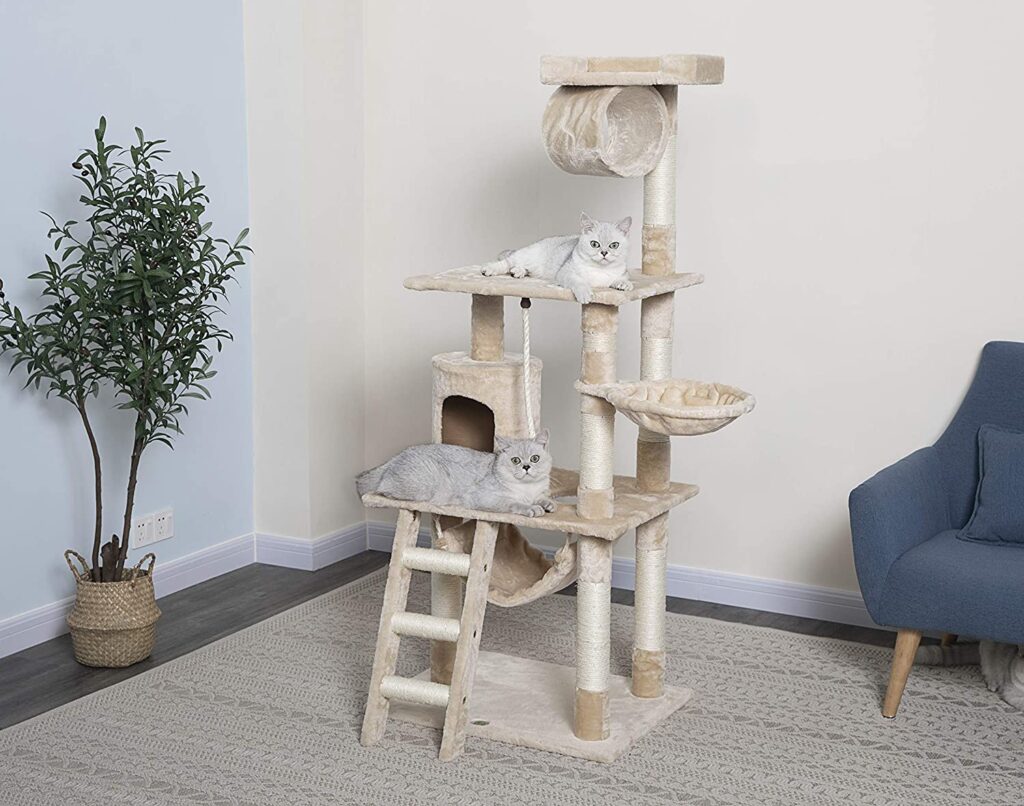 BEAUTIFUL AND DURABLE This Cat Tree is made from highly durable compressed wood, wrapped with high quality Faux Fur finish to keep your cats warmed and cozy. Multiple scratching posts are covered by natural sisal ropes which is perfect for your cats to scratch, climb, play and become active. Easy to assemble with included tools and instructions.
COMFORT AND ENTERTAINMENT FOR YOUR CAT: Your cat needs a space of their own to rest and play. They can take a nap or play around as much as they want; this cat tree lets your cat be more active. The Go Pet Club cat tree is durable enough for endless amount of playtime for your cat.
FUN PLAYHOUSE: The quiet and roomy condo allows for your cat to nap without any disruptions; perches with raised edge allow more safety and support for your cat. Covering Material : Faux Fur
SISAL- POSTS: sisal-covered posts adds more fun for playtime. Reinforced posts wrapped with natural sisal rope keeps your cat from scratching your furniture and allows your cat to have a fun way to exercise.
DIMENSIONS : Overall Size : 38″"W x 27″"L x 62″"H * Base Board Size : 26″"W x 19″"L * Size of Condo : 10. 5″" Día x 12. 5″"H * Size of Top Perch : 13. 25″"W x 13. 25″"L x 2. 75″"H". Number of Rope : 1, Number of Basket : 1, Number of Ladder : 1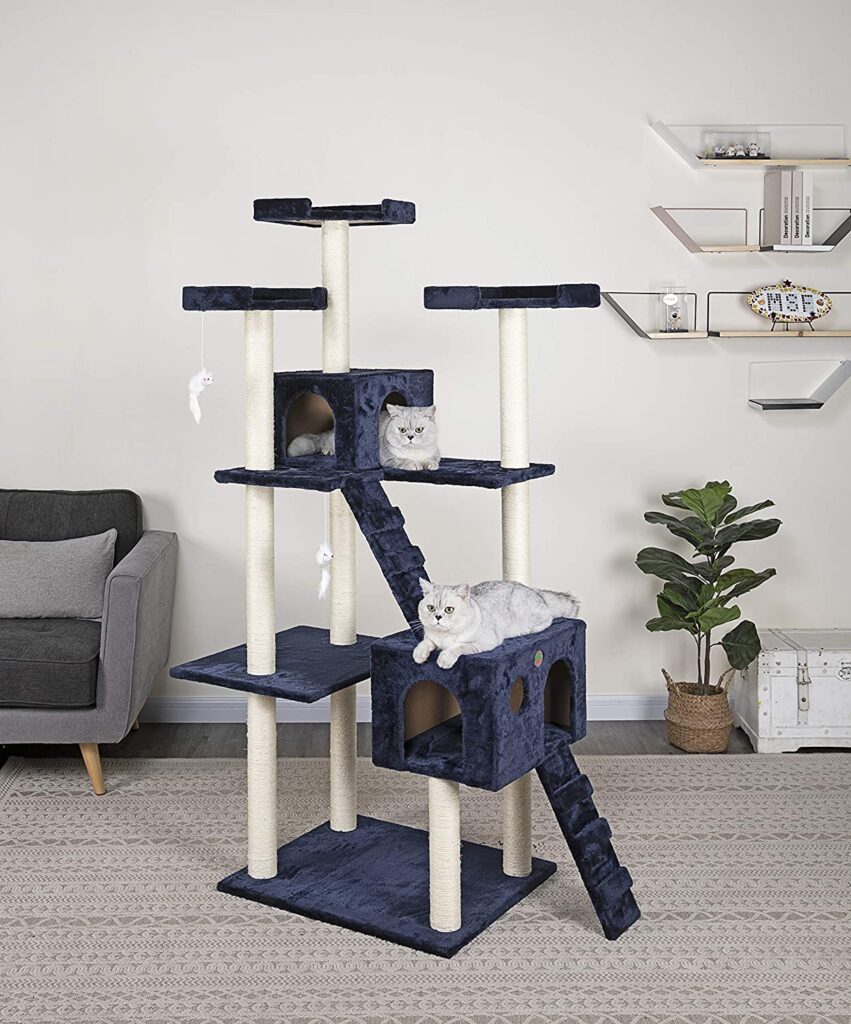 All cats need a healthy balance of play and rest. With it's many fun holes, ropes, and jumps, this cat tree will be sure to enable your cat to play while also ensuring your cat's rest because of the numerous comfortable nests along the tree. This cat tree is made from highly durable compressed wood and wrapped with high quality faux fur finish to keep your cats warm and cozy. Multiple scratching posts that are covered by natural sisal ropes and posts are also perfect for your cats to scratch, climb, play and be active.
Get More Tripawd Cat Tips!
Have you seen our e-book for amputee cats? Check out Cool Tips for Tripawd Cats for more great ideas about caring for a three-legged cat.