Tripawds on slippery floors is a recipe for disaster. Sure, pretty hardwood and laminate floors make our homes look nice. But they are a three-legged dog's worst enemy. Here's why.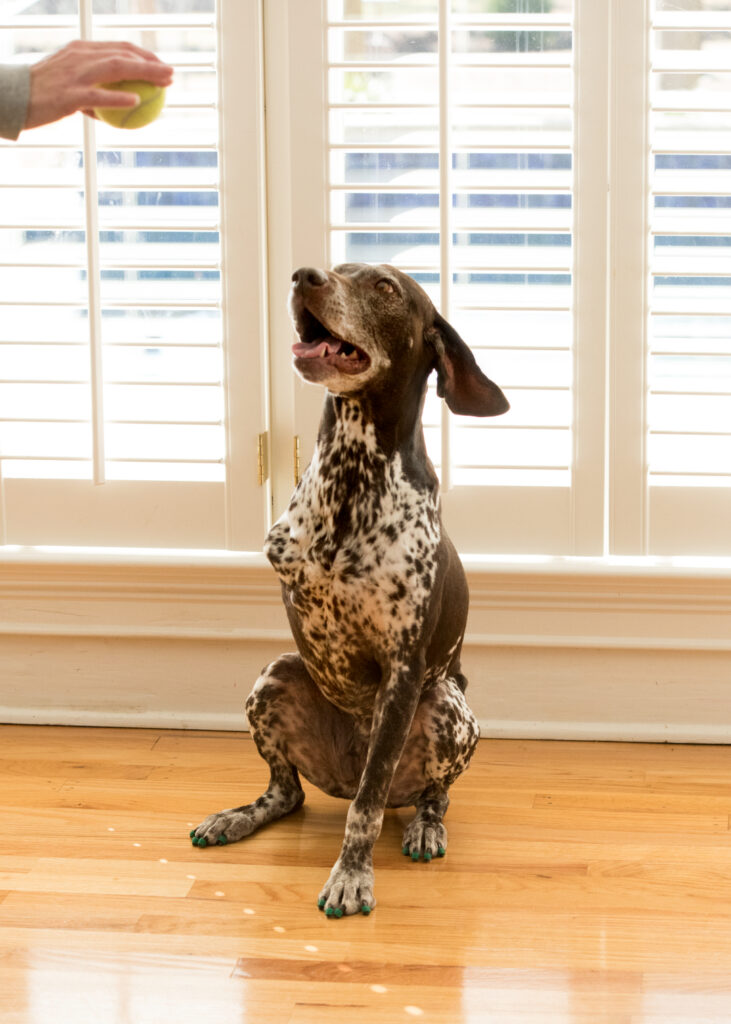 Tripawds receives a small commission from Dr. Buzby's ToeGrips®. Purchases made through our ToeGrips affiliate link help keep this community online. Thanks for your support!
Dogs use nails to grip the ground.
Your Tripawd's nails are designed to act like cleats for athletic shoes. Pretty hardwood, tile, and slick floors in our homes don't allow the claws to catch the ground. Without that grip, dogs put more effort into propelling forward.
Slippery floors scare many dogs
If your dog ever fell on a slippery floor, they won't soon forget it. Multiple falls can make a Tripawd more reluctant to walk in your home. Over time, that fear builds up. Your Tripawd may become withdrawn and avoid the family because they're afraid to join you off the carpet. That's not a good quality of life.
Walking on slick floors is like ice skating.
If you've ever gone ice skating as an adult, you know how it forces you to use muscles you forgot you had. From core strength to balance, moving on slippery surfaces takes a ton of effort. Those kids skating circles around you didn't seem to work as hard, right? Now, put yourself in your Tripawd's paws.
Imagine trying to move like an ice skater, all the time. Sure, a young Tripawd can walk on slippery floors without too much hassle. They have stronger muscles and better balance than an older three-legged dog. But the older the Tripawd, the more challenging it is to walk on hardwood floors. Over time, it takes a toll. Muscle strains and joint injuries are common in Tripawds who slip on floors.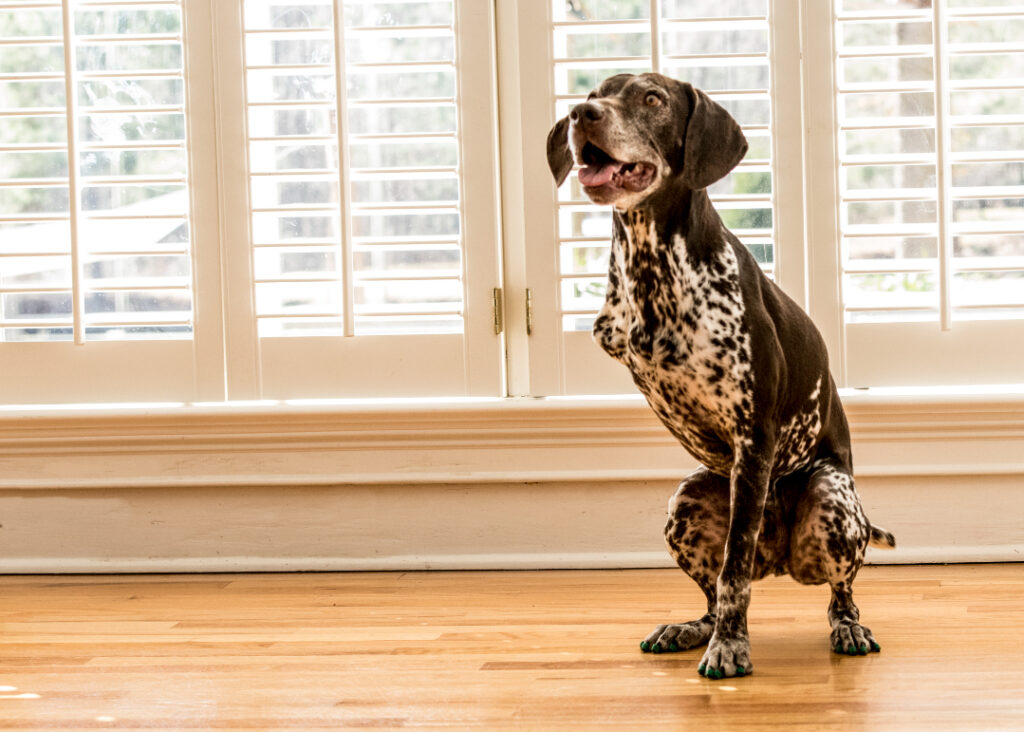 Safe and species-appropriate flooring is therefore paramount for good foot health. Dogs, like other animals, can slip and fall on uneven or slippery surfaces (Grandin, 1996; Weeks et al., 2002), and the texture of the flooring may impact gait (Flower et al., 2007) as well as foot wear and tear (Newton et al., 1980). Additionally, a surface's material, slope, texture, and finish all affect the animals' comfort and health. If the flooring is difficult to walk on, a dog may alter its gait in adaptation, and that can, in turn, cause joint and mobility problems. — Effects of Flooring on Animal Health and Well-Being, Purdue University Extension
Dog socks and booties are fine for occasional use. Booties protect dog feet outside on rough or icy terrain. But they don't allow your dog to sense where they are placing their feet. Without ground contact, a dog can feel disoriented and unbalanced. Why make life hard for your three-legged dog?
How Toe Grips Save Tripawds on Slippery Floors
We are huge fans of Dr. Buzby's ToeGrips®. In the past, Tripawds Spokesdog Wyatt Ray wore them with great success.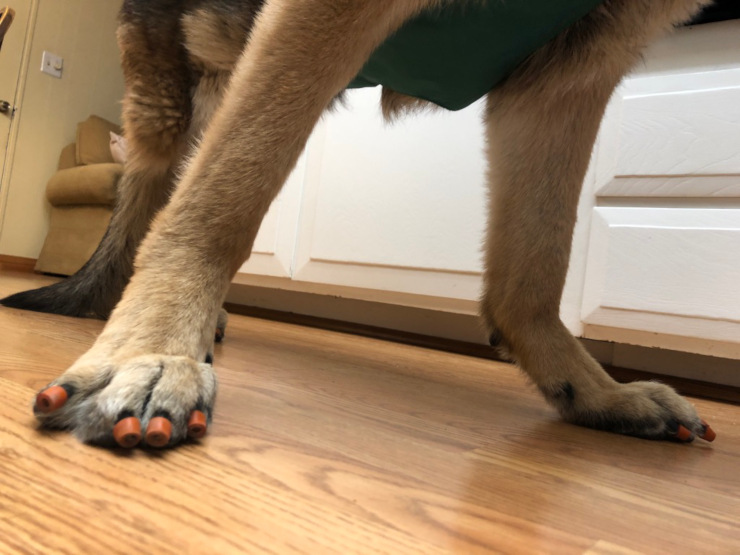 Dr. Buzby's ToeGrips wrap around the toenails and let your dog's feet grip smooth surfaces like pretty hardwood floors in your house. With every step, the "GripZone™" on Toe Grips allows your Tripawd's toenails to meet the floor and get traction.
Made for indoor/outdoor use
Can be worn constantly
Get up to three months use before replacing
ToeGrips are a three-legged dog's best friend.
The Tripawd testimonials sent to Dr. Buzby say so much about how they help amputee dogs walk on slippery floors:
A relief!

I am still my amazed that my Tripawd just pops up to a standing position from a slick floor. I don't have to worry about him slipping and falling one bit anymore. Such a relief! — Felicia F

Great for a geriatric tripawed!

In an all hard wood home, these have been a God Send for a 12 year-old Great Pyrenees!! I am so grateful we found them!! Giovanni no longer looks like a fan on the ice! Thank you!! — Trina H
About the only downside of ToeGrips is that applying them takes practice. ToeGrips easily slide onto a four-legged dog's nails and stay there. But since three-legged dogs have an odd gait that causes paws to twist and turn at crazy angles, ToeGrips can pop off if they're not glued down. To fix this, Dr. Buzby provides a free tube of super glue with every purchase. Their team is great at coaching dog parents through the process. You can also ask your vet or groomer for help too.
An Inspirational Tripawd Tale
Nobody wants to cover their home's pretty floors with slip-proof rugs. But if you have a Tripawd, investing in no-skid carpets and Dr. Buzby's Toe Grips is the best thing you can do to help your amputee dog stay strong, avoid injury and muscle strain.
Order ToeGrips Today
The first time you size your Tripawd for ToeGrips can take some effort, but it pays off. Watch Dr. Buzby's instructional videos or contact their customer support team for assistance.
If you give ToeGrips a try, let us know how you and your Tripawd liked them.