We talk a lot about rehabilitation therapy for amputee dogs and cats. But if yours is getting around great after surgery (we sure hope so!), you might wonder if all Tripawd dogs and cats even need rehab (physio) therapy. Well, we believe they do. Here's why.
Are Tripawds Really "Special Needs"?
Sort of. See, Tripawd dogs and cats can do just about anything a quadruped dog can do. Amputee pets can still have a blast in life! As you see with Meg in the video, Tripawds can jump, dig, chase, swim, go on walks, short hikes, and play at the dog park.
But we have to remember that Tripawds work harder than their four legged friends. They will overdo it, and get hurt if we don't monitor their activity closely.
In dogs, when the amount of exercise goes unchecked, remaining leg surgeries in Tripawd dogs happens all the time.
And for cats who continue roaming outside, or jumping and landing from high places, a broken leg might be in their future.
The good news is that rehabilitation therapy for amputee dogs and cats will educate us about our pet's specific needs, limitations, and risk factors.
3 Reasons Why Rehab Therapy for Amputee Dogs and Cats is a Good Idea
For almost as long as there have been veterinarians, pet parents have been told that three-legged pets get around just fine. This is true! But, over the years we've discovered they can get around better thanks to rehabilitation therapy.
Reason #1: Your Tripawd is Unique.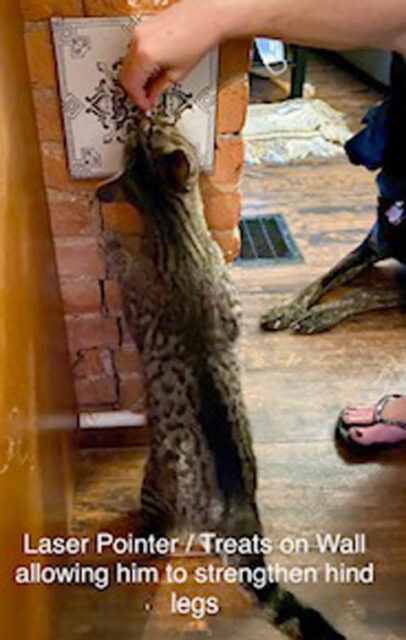 The other day, new Tripawd mom @stacid2006 asked:
Is there a summary of what Tripawds need after surgery, say 2 months out, then 4/6/8 months out, etc., so we can evaluate how we can meet her needs?
What we told her is this: every pet is so different it would be impossible to create this kind of guideline. First, you need to know what your pet's needs are. And that depends on age, size, breed type, health status, etc. Every Tripawd is so different, but a therapist has the expertise to pinpoint your Tripawd's needs.
Reason #2: Tripawds Who Go to Rehab Do Better Overall Than Those Who Do Not.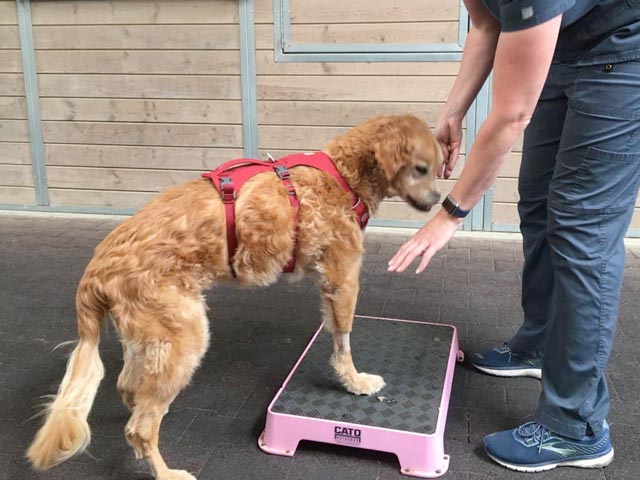 When your Tripawd looks so good after amputation recovery, rehab is the last thing you want to do. But the fact is, by taking your pet to rehab, they will do better over the long run.
"The ones that don't get therapy are more at risk for muscle strains and sprains and injury," says rehabilitation therapist Dr. Amy Kramer. In our All About Rehab Therapy for Tripawds interview, Kramer tells us:
"I have a perfect example of a dog right now that had an amputation and didn't do any rehab and went back to usual activity which was running around without any harness, without any assistance on her own and she tore her cruciate ligament in her remaining hind limb. Then she ended up coming to rehab because of that."
Reason #3: Every Tripawd Needs a Rehab Therapy Team
Three legged dogs and cats can live many years without slowing down. Until one day they do, and you have no idea why. Sometimes it's a dramatic mobility problem, like when Jake suddenly started buckling on walks. Usually it's a gradual, age-related slow down. All Tripawd dogs and cats will eventually pay the price of living life with one less limb. Sadly, it's not a matter of IF they slow down, but when.
Establish a relationship with a rehab therapist before a crisis. That way you'll always have a point-person who knows your pet's history. They can help your pet feel better sooner. And rehab therapy for amputee dogs and cats is not an all-or-nothing commitment either.
A good therapist understands clients' time and money constraints. They work with pet parents to come up with a workable, realistic plan with at-home Tripawd rehab exercises to keep a dog or cat as fit as possible. The rehabilitation therapy gear in the Tripawds Gear Shop are exactly what therapists use in the clinic.
How to Get Started in Rehab Therapy for Tripawd Dogs and Cats
Please check out the Tripawds Foundation's Maggie Moo Fund for Free Tripawd Rehab. This program pays up to $200 USD for your first consultation with a credentialed therapist.

If you think you can't find a therapist near you, contact us and we'll do our best to find one.
And for members owned by Tripawd cats, rehab therapy is still possible. Long-distance consulting is becoming more widespread with therapists. All you have to do is ask!
In rare cases, some members do live in remote areas without nearby care. For those with dogs, the Canine Rehab On Demand Program is an excellent way to go!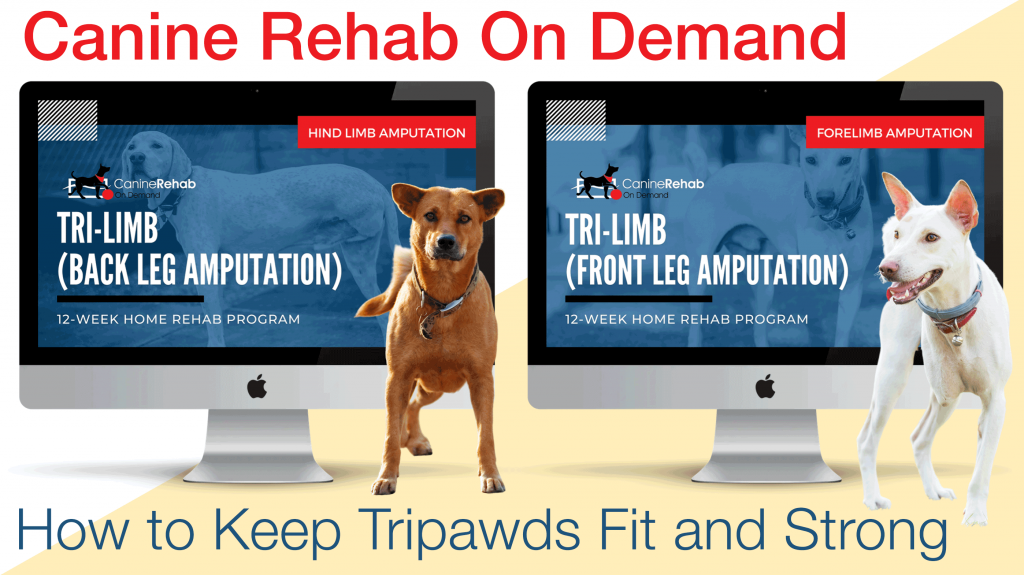 Want more convincing? Check out the Tripawds Rehab Success Stories in the Tripawds Foundation News blog!