October is Animal Protection Month, and we are spreading the word about the benefits of outdoor cat enclosures, aka "Catios."
Indoor cats lead longer, healthier lives than outdoor cats.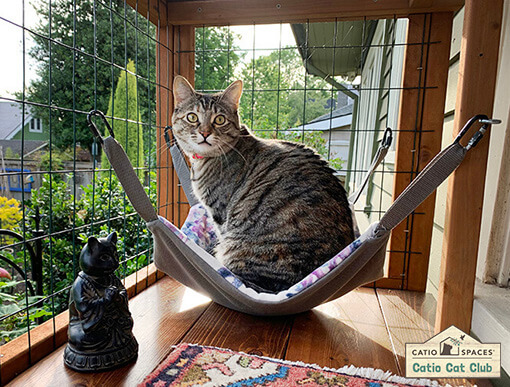 Keep your Tripawd cat inside and it can live on average 10-15 years. Allow a cat to free-roam outside, and you can only expect it to live about 2-5 years!
Outdoor Cat Enclosures Keep Tripawd Cats Safer and Happier
You don't necessarily need to keep your cat inside your home all day. There's a workaround for that! Cats can be outside, have fun, and be safe, when they're hanging out inside any of the awesome Catio Spaces DIY outdoor cat enclosures designs.
Still not convinced? Many cat lovers believe that cats are born to be outdoors. But let's look at that idea.
Risks Faced by Outdoor Cats
Free roaming cats can:
1. Get hit by vehicles
2. Become injured from other cats, or attacked by other dogs or predators
3. Contract deadly infectious diseases from other cats and parasites
4. Suffer from theft, injury, or death from people with cruel intentions
*Still want more reasons why cats are safer inside? Download the UC Davis Clinical Animal Behavior Service handout, "Indoor versus outdoor cats paper"
She's on a Mission to Keep Cats Safe Outside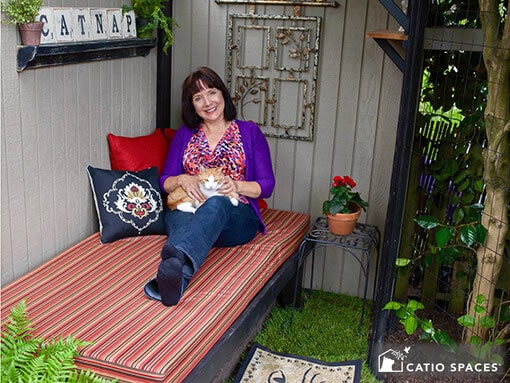 Our friend Cynthia Chomos is a genius of an architect. Her passion is keeping cats safe, and she does that by designing DIY plans for outdoor cat patios of all sizes. Her Seattle-based company, Catio Spaces, sells blueprints for cat parents who want to make cat enclosures on their own, or with the help of a carpenter.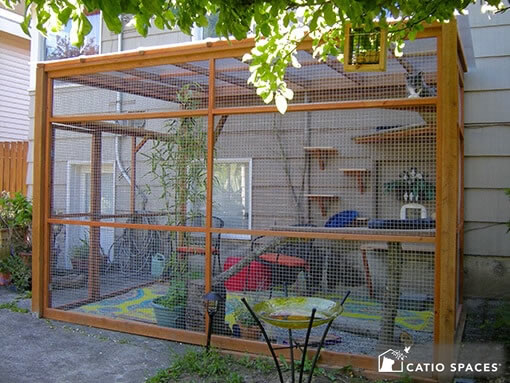 Each outdoor cat enclosure plan tells you exactly how to build a safe and beautiful catio. It doesn't matter if you have a large backyard, or a simple high-rise apartment balcony. Catio Spaces DIY outdoor cat patios give exactly what you need to protect your Tripawd cat from accidents, injuries, and other calamities.
Covered litter boxes make great additions to outdoor cat enclosures.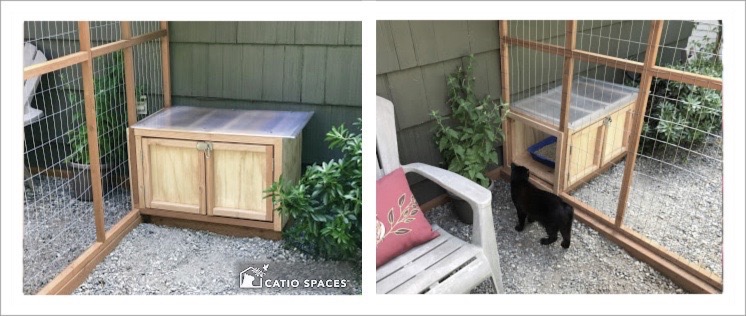 Catio Spaces has DIY catio litter box plans too. Build an extra litter box for your Tripawd cat and you can:
reduce odor-producing waste inside your house
decrease litter box competition in multi-cat households
give cats a quiet place to "go" when you have visitors
shorten bathroom trips for mobility-impaired cats
These catios have everything your cat needs to enjoy the outdoors, while being safe and having fun.
Catio Spaces also donates a portion of proceeds to Tripawds Foundation!
Build your own outdoor cat enclosure, or work with some one to do it. Your catio is a win-win for your kitty, and the entire Tripawd cat community!