Walking your Tripawd cat on leash is great exercise! If your cat loves leash walking, the new Sleepypod Martingale Cat Harness may be a good choice.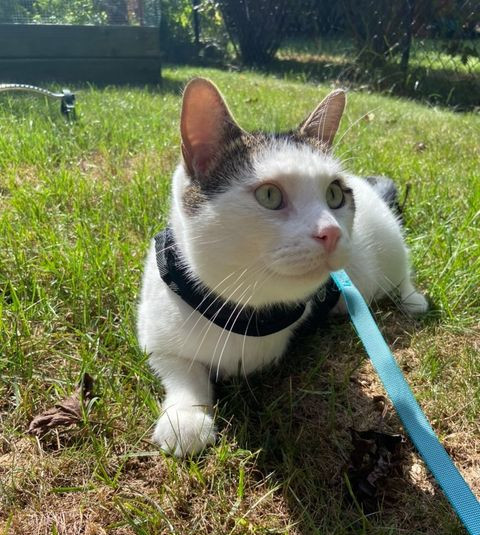 Escape Artists: Meet Your Match with the Sleepypod Martingale Cat Harness
This unique, soft and breathable mesh cat walking harness design incorporates a gentle martingale cinching feature. The design helps prevent escape and reminds cats not to pull. Laminated, triple layer mesh for better durability conforms to the body, yet is structured enough to retain its shape. Adjustable at neck and chest for added comfort and security.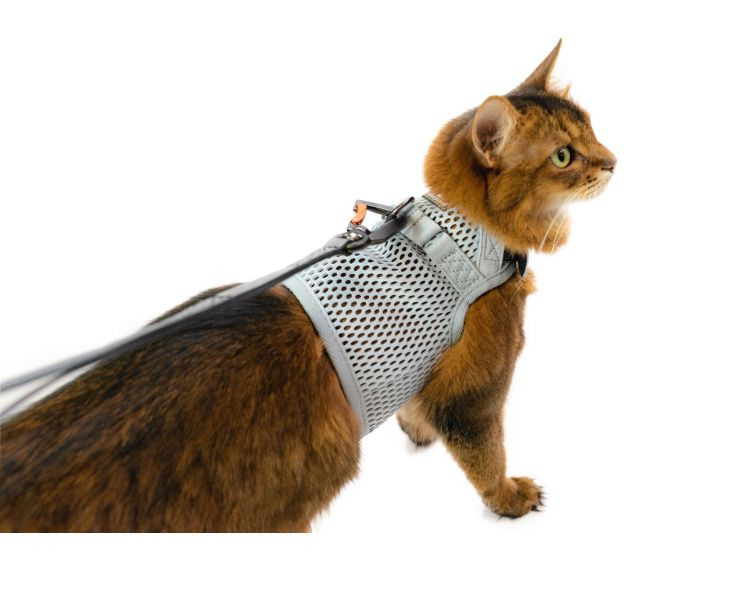 The real beauty of this cat walking harness lies in its strength. Durable yet lightweight so it won't weigh your pet down. High performance components and robust stitching withstand daily use.
A Tripawd-Tested Dog and Cat Harness
You may have seen Ari the Tripawd dog's review of this unique martingale harness for Tripawd dogs. She loved it! Her human, and her rehabilitation therapist did too. They gave it rave reviews! But as any cat parent can tell you, how cats react to walking harnesses is a whole different story.
Some cats love leash walking, some hate it. Some go either way. Like Quiggle the Trikitty from Canada. This handsome rescue kitty is 4 years old, and lost his leg at one year old. "Once he was healed we discovered he really wanted to be outside so we tried to find the perfect harness for him," says his mom. "Challenging obviously."
Quiggle Shares His Feelings About the Unique Design
It's especially tough to find an escape-proof harness for a three-legged cat. Since Quiggle is already a leash-walking Tripawd cat, we knew he was up to the challenge of testing this harness. His mom, @niftythecat and co-founder of Tripawd Cat Squad on Instagram, reported back to us after a few months of giving it a try.
"The first outing with Quiggle in the harness, while amusing to me, was not a great success. The initial reaction was to act like it was a strait jacket and flop on his side immediately each time I tried to stand him up."
At one point, Quiggle climbed down the stairs leading to the patio, all of his own accord.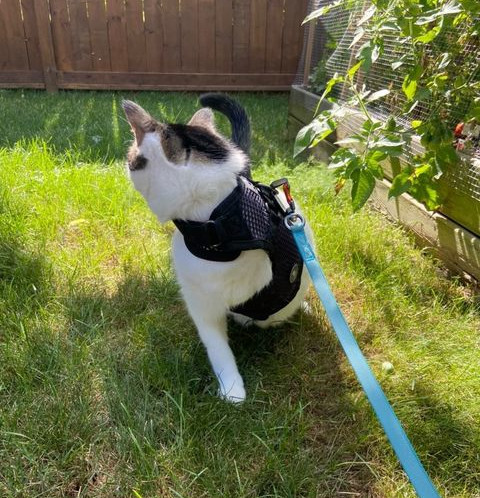 But in the end, this sweet three-legged cat was not a fan. "My best guess as to why he doesn't like it is because it fits more like a sweater than his other harnesses do. His reaction to this harness is exactly, as it was with the Christmas sweater we tried. lol Which is to flop like a beached whale and wiggle back and forth.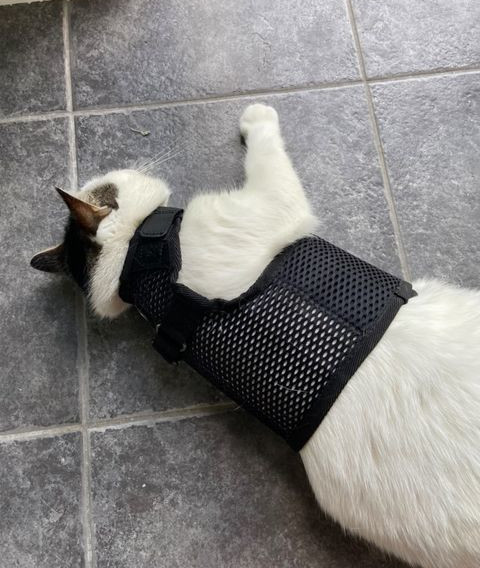 He loves going outside so much. He has been able to overcome the drama (of the harness), but he doesn't explore much, just finds a spot and eats his fill of grass."
Quiggle's Mom is Still a Fan!
"I really love it," she says. "It fits snug and secure. It's not difficult to put on, and I feel confident that he cannot slip out of it the way he has previous harnesses. It's really beautiful, such excellent quality, as well as the leash that came with it. I wish he liked it more!"
A big thanks to Sleepypod for sending this awesome Tripawd cat harness to Quiggle for testing. Learn more about Sleepypod's pet safety products, leashes, and harnesses at Sleepypod.com.