It's Amputee August and today we want to share some fun Tripawd cat exercise tips!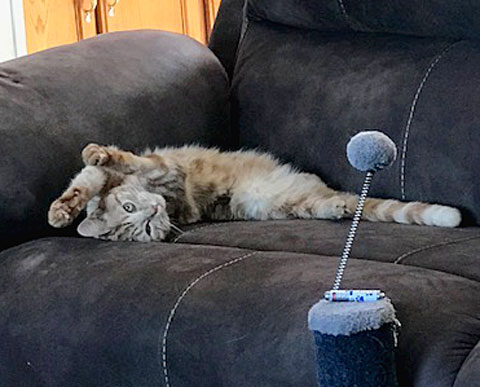 Your guide is Dr. Amber Callaway Lewis, founder of Treasure Coast Animal Rehabilitation in Vero Beach, Florida. We spoke with Dr. Lewis in a recent Tripawds Facebook Live about rehab therapy for amputee cats and dogs. Here's her two fun exercise tips for three-legged cats:
Two Fun Ways to Exercise a Three-Legged Cat
The word "cats" plus "exercise" don't seem to go together, do they? Well, according to Dr. Lewis, they do! Start by using food as a training tool, she suggests. One way or another, food gets most felines motivated enough to burn extra calories.
Fun with Cat Kibble, Part 1
Kick start an exercise session by diving up one cup of cat kibble into a few small bowls. Then place them all around the house.
"There's no reason your cat who sleeps all day can't walk to get their food!" says Dr. Lewis.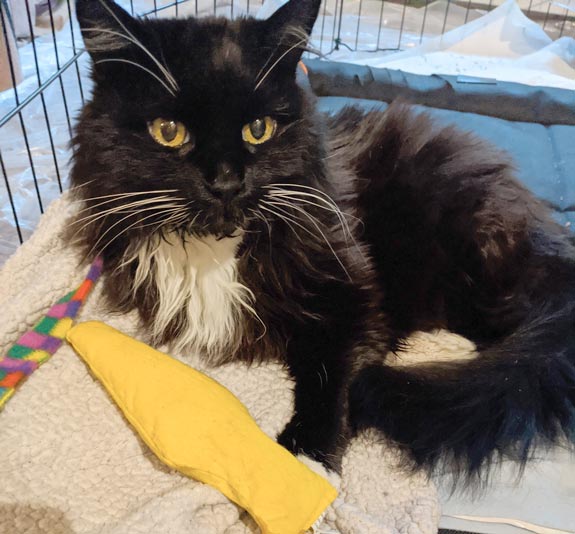 Great places to put your kitty's food include a low step, or on the couch so your Tripawd cat has to actively step or reach up to get it.
Whatever you do, don't hide your cat's food. That's not motivating at all!
Fun with Cat Kibble, Part 2
Next, Dr. Lewis suggests putting your Tripawd cat's normal amount of kibble into your pocket.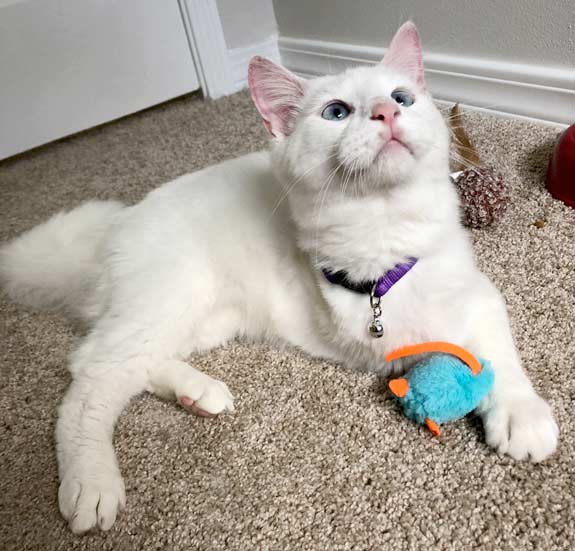 Then, drop one kibble at a time while making sure your cat sees you do it. Walk all over your home, dropping a little kibble here and a little kibble there. This should motivate your three-legged cat to walk around and burn calories.
Remember to Add Traction
These Tripawd cat exercise tips are great, but they work even better if your home has lots of traction for your kitty. Always make sure your cat has safe, slip-proof places to walk. Get carpet runners or yoga mats and place them in areas that make it easy for your amputee cat to go from one room to another.
"Once they know they're secure on three legs," says Dr. Lewis, "you can just grow together from there."
If you live near Vero Beach Florida, be sure to stop by Dr. Lewis' clinic, Treasure Coast Animal Rehab and Fitness. She's got lots of exciting Tripawd deals going on this month!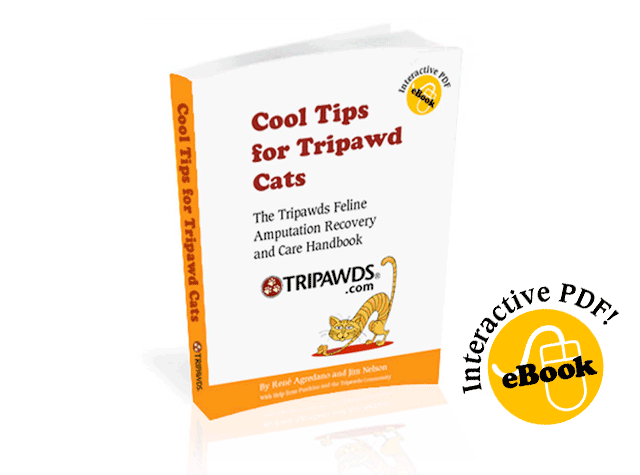 And if you're not in Florida, you can get more great Tripawd cat exercise tips in Cool Tips for Tripawd Cats, our feline amputation handbook.