Fitness is important for every cat or dog, but especially Tripawds. In Florida, one rehab veterinarian is hosting an animal "Amputee August" celebration. She wants to spotlight how to care for a three-legged dog or cat through rehabilitation therapy. Here's why.
A Tripawd Rehab Therapy Celebration!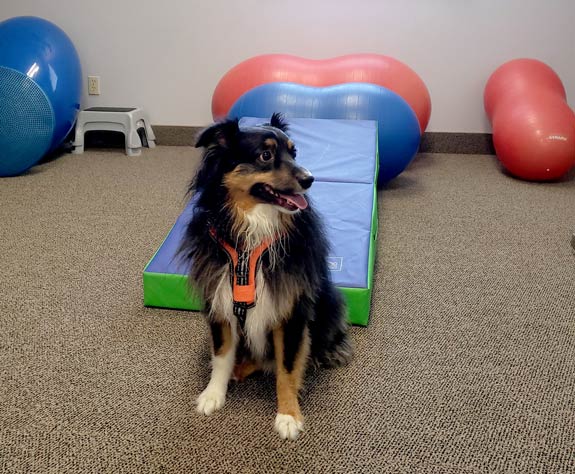 Animal rehabilitation therapy is still flying under the radar for many pet parents and even veterinarians. Lots of new amputee dogs and cats still get released from surgery without learning about Tripawd exercise and lifestyle tips.
The reality is that general practice veterinarians just don't get enough time with clients to dive into the topic. That's why Dr. Amber Callaway Lewis DVM, CCRT of Treasure Coast Animal Rehab and Fitness does what she does, and is hosting animal Amputee August at her clinic.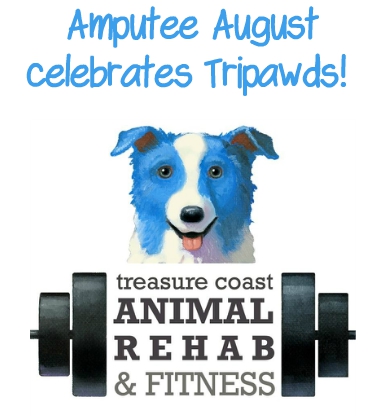 Dr. Lewis knows it's tough to squeeze in everything a new Tripawd parent needs to know during a routine office visit. She's been a general practice vet herself. After years of wanting more time to discuss mobility, pain management and lifestyle modifications with clients, she left general practice to start a rehabilitation (physio) therapy clinic in Vero Beach, Florida. Now, she can spend all the time she wants with patients who need extra help with exercise and fitness guidance, like this:
Animal Amputee August Aims to Educate Tripawd Parents
Starting in August, Dr. Lewis is holding her first animal "Amputee August" celebration. Her goal is to show Tripawd parents what they can do for their three-legged hero, before an injury or chronic arthritis happens.
"There are things we can do to help modify and make them better, before they get to that end stage arthritis," she explained in our Tripawd Tuesday Live Chat, shown below.
Learn Why Rehab Therapy is So Important for Tripawds
Treasure Coast Animal Rehab operates similarly to other outstanding providers around the country. In August, she will offer specials on Tripawd fitness rehabilitation services like a "stance analysis." This equipment helps practitioners see if a patient are proportionally distributing their weight on all legs. If they're not, Dr. Lewis can address the issue with clients, before compensatory pain issues set in.
What can you expect at a first-time evaluation
First time clients at Dr. Lewis's clinic and most others can expect an evaluation to include:
A full orthopedic and neurologic exam. "We want to make sure that the remaining limbs move properly, how they move in space, how coordinated they are," she says.
And a pain assessment. She will examine a Tripawd to look for chronic pain caused by a body that's compensating for limb loss.
Movement and muscle tone also gets examined.
Environmental lifestyle modifications get discussed too, such as adding traction to floors, raised feeder bowls, etc.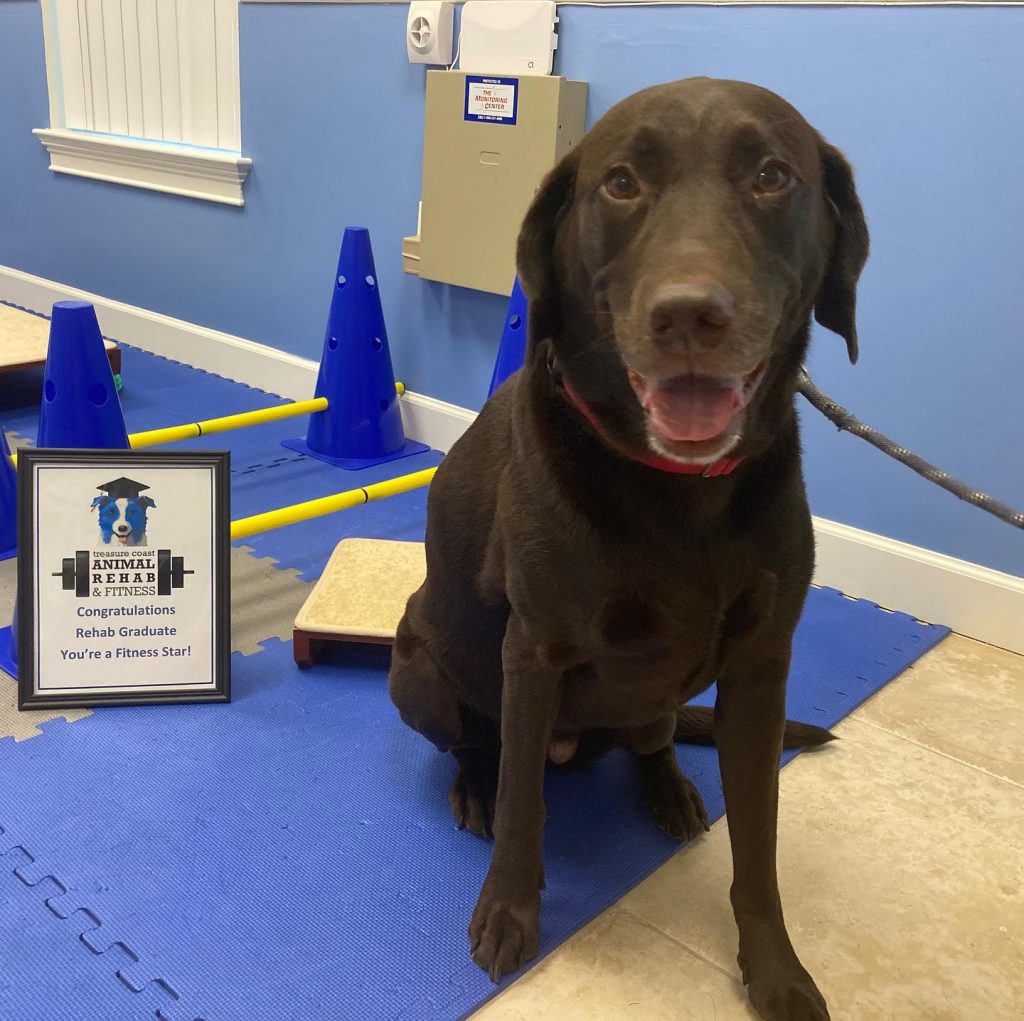 Dr. Lewis says her ultimate goal is to see patients once a month to make sure the exercises are working and fitness is on-track.
Rehab is Waiting, All Year Long
Rehabilitation therapy isn't just for animal Amputee August either. It's helpful to work with a practitioner during all seasons of a dog or cat's life. Once your animal has an established relationship with a clinic, you can follow a tailored program to help your animal maintain Tripawd fitness.
Many pet parents assume that once you take your dog or cat to rehab you'll always need to go back. But Dr. Lewis wants us to know that's not true. "We graduate people all the time!" she says. "They come back once a year and get their stance analysis and a screening to make sure they're still good."
Later at some point, even if it looks like your pet's condition has worsened beyond help, Dr. Lewis urges us to work with a therapist to find solutions. "Never give up," she says. "There are so many tips and tricks that we have, we have options!"
Get Your Tripawd Fit, Free!
The Tripawds Foundation grants up to $200 in reimbursement to Tripawds members who visit a certified animal rehabilitation therapist for a first time evaluation. Learn more about the Tripawds Rehab Reimbursement Program.
Curious why it's called "The Maggie Moo Fund"? Read about Maggie here.

Recommended Reading