With the optional Brush Guard attached, the Ruffwear Web Master harness offers better comfort, more support, and greater Stability.
The Brush Guard attaches in minutes to provide additional support when lifting and assisting dogs. For ease of use, size your harness to fit first, then attach the Brush Guard to the straps with its Velcro enclosures.

Watch this short demo video to see how easy it is to attach the Brush Guard in Seconds!
Need help sizing your harness? Don't miss this demonstration and tutorial video about how to lengthen Ruffwear harness straps.
Ruffwear Web Master Plus Brush Guard
The Brush Guard is included with every Web Master Plus harness sold in the Tripawds Gear Shop. Add the Core Cooler for additional comfort in warm weather. Read full review for complete details.
$103.00 – $133.00Select & Buy
Already Have A Web Master?
No problem! Confirm the size of your existing harness and get your Brush Guard here!
*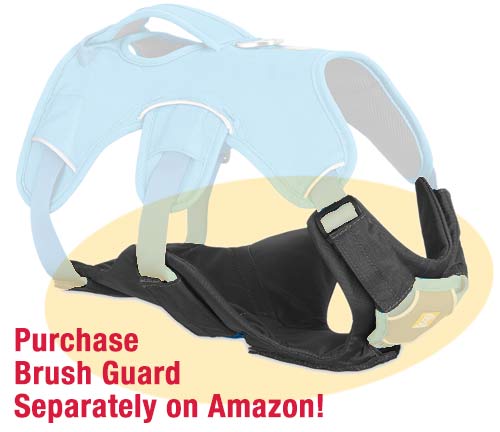 *The Web Master Plus Brush Guard attachment is available in the Tripawds Gear Shop and the price includes shipping! If you already have the harness, you will save money on the Brush Guard at Amazon.