Tripawd dogs are all unique. What works well for one may not work so well for the other. That's why we carry a selection of harnesses, because one size does not fit all. We always want to make sure customers get the product that will work best for their pet, so today we're taking a look at the best harness for a less mobile, older Tripawd dog.
Got an Older Tripawd Dog? Try the Get-a-Grip Harness.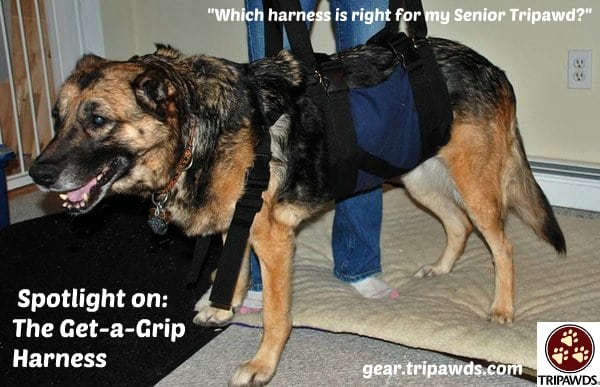 Made in Washington state, the Get-a-Grip Harness is a great choice for when you have a less mobile, older Tripawd dog. Under the right circumstances, it can even be used with a four-legged dog! Here's why:
The Get-a-Grip Harness is ideal for dogs who:
Are in the 'geriatric' phase of life
Need lots of assistance getting around after surgery
Cannot walk on their own
Have trouble standing up
Are off-balance because of neurological conditions
Experience lack of coordination while on pain medications
Are going through a longer than usual surgery recovery
We recommend the Get-a-Grip harness for Tripawds when we learn that the dog will require more assistance than the average Tripawd. Whether the dog is just out of amputation surgery or experiencing another condition that affects mobility, balance and coordination, this is the ideal harness.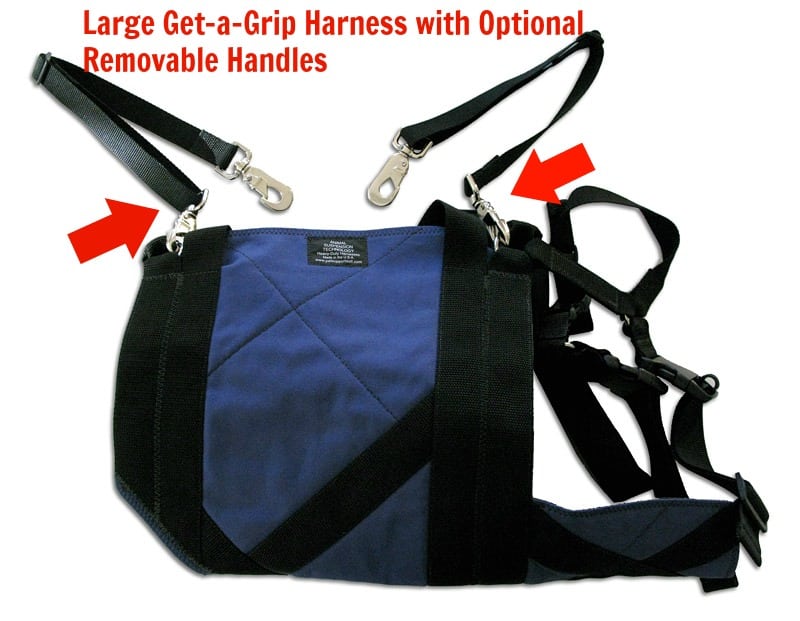 Who Doesn't Need the Get-a-Grip Harness?
If you call the Tripawds Gear Shop headquarters, we want to make sure you get the harness your dog needs. There are two instances when a Tripawd dog doesn't need the Get-a-Grip harness:
When the dog is otherwise active, strong and mobile
And when they won't need constant help beyond amputation recovery.
Think of the Get-a-Grip harness as a perfect canine medical device for long term care. It's an investment in your older, less mobile dog's comfort and mobility because it will enable you to offer the kind of support that's needed for an excellent quality of life. If your dog is young and only needs lots of help for a special surgery recovery, as in the case of a remaining rear leg surgery, then the Get-a-Grip will come in handy when they are older.
Got questions about the Get-a-Grip, or any harness? Please contact us and we will be happy to discuss the pros and cons of all the Tripawd harnesses we recommend here.