New Tripawd parents often ask, "Is there a Tripawd leg brace or wheel chair that can help my dog (or cat)?" The answer is yes and no. Here's how an orthopedic support device can help (or hurt) your three-legged hero.
The Dos and Don'ts of a Tripawd Leg Brace and Wheel Chair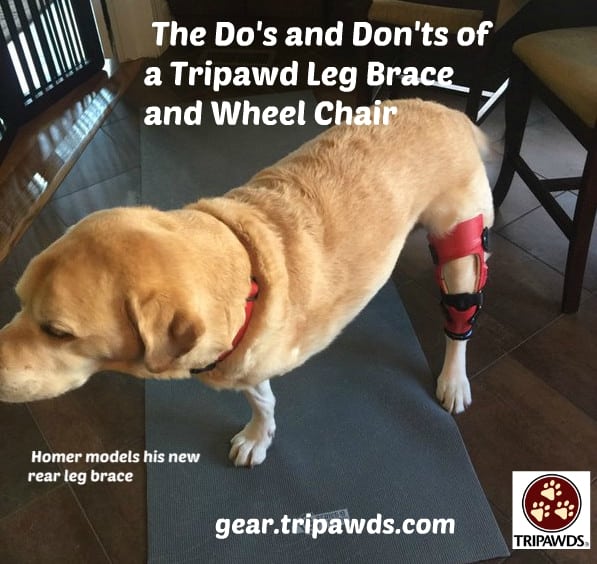 When an animal loses a leg, it's easy to imagine that a Tripawd leg brace or wheel chair is the answer. After all, humans can go to a big box store and pick up a pre-made brace for a knee, back or foot, so why can't we just do that for our new three-legged hero?
The answer is: you certainly can get a wheel chair or support brace for pets in many online specialty stores. But buying it yourself without consulting a professional is a really bad idea. Whether your animal has three legs or four, here's what you need to do before buying one.
DO Consult with Professionals Before Buying
Animal rehabilitation therapists recommend waiting to buy a wheel chair for a Tripawd until the dog or cat has been professionally evaluated by an orthopedic veterinarian and rehabilitation therapy team. The same advice holds true for other support devices like orthotics (leg braces).
An expert in animal biomechanics will look at your Tripawd's movements, weight and overall physical situation to determine how a brace or wheelchair can or cannot help. Usually they will first prescribe an exercise and pain management treatment plan.
That's not to say that support devices are never needed. In fact most times an orthotic can make a big difference in even the healthiest, strongest Tripawd. That's because according to pain relief expert Dr. Michael Petty, DVM, CVPP, CVMA, CAAPM, CCRT, the moment a Tripawd takes their first steps on three legs, it takes a huge toll on their bodies.
"Within months of a leg amputation, a breakdown begins in both soft and boney structures of the remaining limbs, which leads to pain and reduced mobility in otherwise normal limbs.

This can all be prevented with the addition of a prosthetic device for the missing limb, or sometimes with an orthotic device (essentially a brace to provide stability to protect the remaining limbs). Using this device can also prevent injury to the remaining limb." Read more in Dr. Petty's Pain Relief for Dogs.
Eventually, age will take its toll on a Tripawd and many three-legged dog or cat may need the extra help that wheels can provide. Just ask the Meg-a-Star, who has a new set of wheels.
When the time comes for a brace or wheel chair, a rehabilitation therapist can determine the exact type of support product for your Tripawd based on body type, gait and other criteria.
Check out Fallon's Rehab and Tripawd Leg Brace Story
DON'T get a brace or wheelchair without professional help!
We all know our pets behavior better than our veterinarians, but unless a pet parent has been professionally schooled in animal biomechanics, they just don't have the trained eye of a rehabilitation therapist or orthopedic veterinarian.
Sometimes the therapist may recommend a pre-made leg brace or other orthotic device, but usually a totally custom product will be a better answer to a longer lasting, pain free life as a Tripawd.
"Orthotics don't have the feel-good eye appeal of a prosthetic. But they are every bit as important as a prosthetic. Orthotics can be used both to heal and to prevent injuries." Read more in Dr. Petty's Pain Relief for Dogs.
Buying a pre-made device can do more harm than good. Poorly fitting, pre-made braces, wheel chairs and other assistive devices can cause painful pressure sores and gait problems that create an even bigger, more expensive problem later on.
To avoid harming your Tripawd, please do not buy braces or wheel chairs devices without the guidance of veterinary rehabilitation therapist and orthopedic professionals.
Recommended Reading
Dr. Petty's Pain Relief for Dogs
All About Rehab Therapy for Tripawds
Seeking Pet Prosthetic Help? Here's How the Internet Can Harm your Animal
When and How a Dog Wheelchair Can Help a Tripawd