When we discovered this indoor pet toilet we immediately thought of Bruno the Mastiff and Feta the TriKitty. Both had trouble toileting during amputation recovery. They weren't the first new Tripawds to experience this challenge, which is why we're sharing this new Piddle Place Portable Pet Toilet by PetSafe with you today.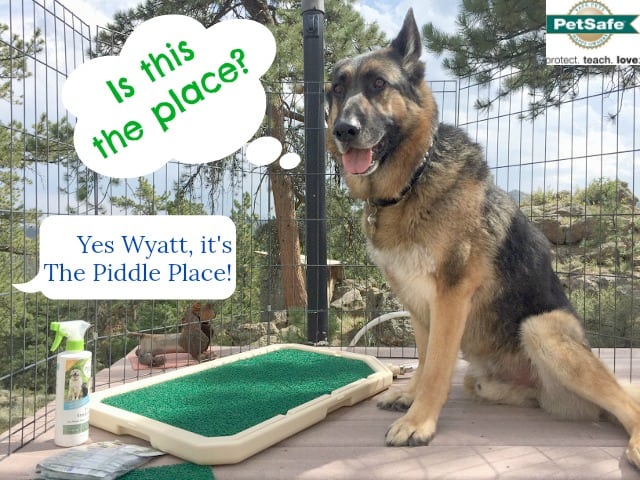 This is a brilliant solution that can make life easier for recovering house-bound Tripawds. We're so glad PetSafe® told us about it. They sent us this complimentary demo unit to try out with Wyatt Ray.
The Indoor Pet Toilet for Tripawds
Nobody ever thinks their pet won't be able to piddle in their usual spot. But sometimes it happens, like during amputation recovery. When it does, life can be tough for human and Tripawd alike. The Piddle Place indoor pet toilet is the best way to get your new amputee some relief, without using smelly pee pads. Here's how it works:
Follow PetSafe's suggestions to train your pet to use the Piddle Place. Once they get the hang of it, they can relieve themselves indoors on a porous grass mat that drains down into a reservoir. A hose attaches to the unit and once it's full, you just empty the urine into the toilet.
For solid waste, you just use a poop bag or scooper as usual!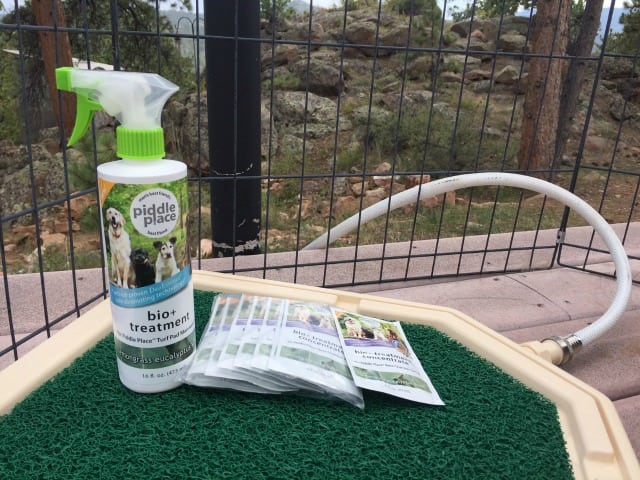 If you're concerned about smell, don't be. The unit comes with a "Bio+ Treatment" you pour into the reservoir to help eliminate odors. This non-toxic liquid smells like lemongrass and eucalyptus. It uses a bio-enzyme technology that breaks down odor-causing compounds and degrades them down into nothing.
And finally, PetPlace even has an optional splash guard to protect your floors and walls.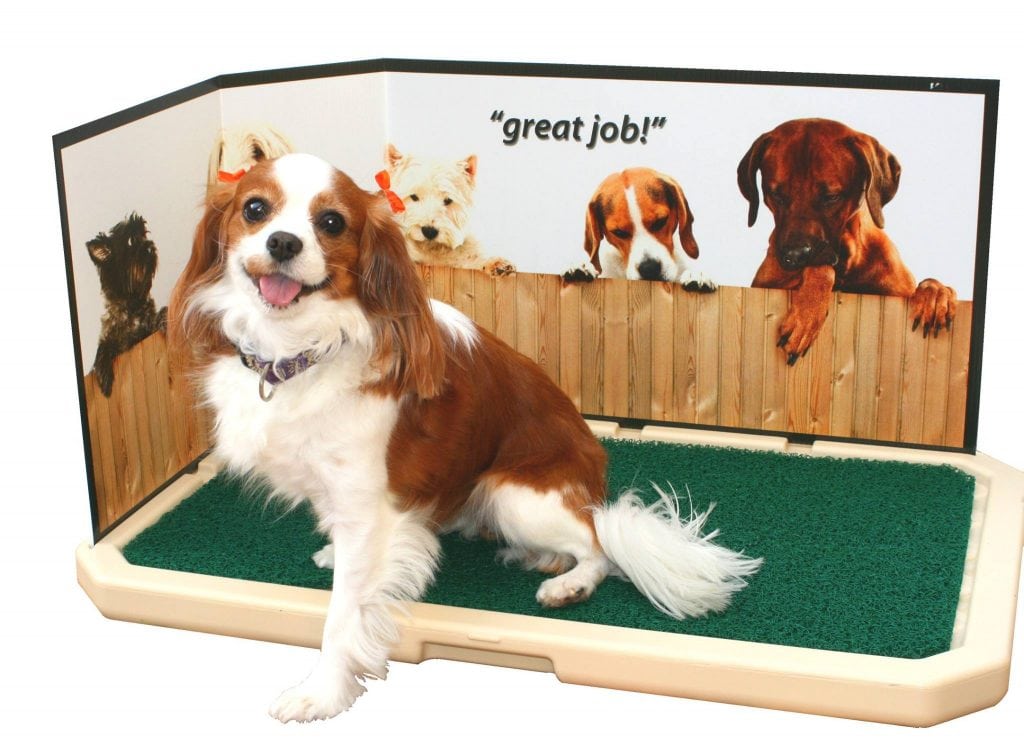 Piddle Place Features
Makes amputation recovery easier for house-bound cats and dogs
No more buying pee pads!
Convenient & easy to clean
Quick-drain spout for a mess-free disposal
Immediate drainage with porous grass mat and grooves to keep paws dry
Includes Bio+ Treatment to eliminate odors
Handles & snap-on lid for convenient travel
Imitation grass mat is machine washable
Optional splash guard (sold separately) protects floors & walls
For dogs and cats up to 100 pounds
Measures 19″ L x 30″ W x 1.75″ H
Made in the U.S.A.
Piddle Here? Yes!
The Piddle Place is an ingenious idea for many Tripawd dogs and cats. What makes it even more pawesome is that it is portable! Yes, you can take this with you on road trips. Can you imagine how much easier a hotel stay will be with your pet?
The only downside we can see about it is that this particular model is made for small to medium dogs, as Wyatt Ray shows here: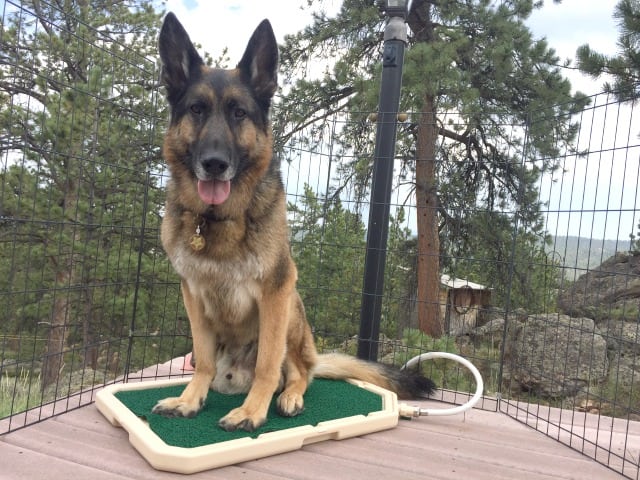 Do you have a big dog too? Don't worry, PetSafe has you covered. Their Pet Loo Portable Pet Potty seems a little less portable in our opinion but it does come in small, medium and large sizes.
The ideal scenario is training your pet to use the Piddle Place before amputation surgery. PetSafe makes it easy with lots of terrific tips included in the product. However even if you don't have time to train, we think that most pets will get the hang of using it. After all, when they gotta go, they gotta go!
Got more questions? Reach out to PetSafe on their website or on Facebook. They're always happy to help! And if you try the Piddle Place let us know in the comments below. We would love to hear your experience.
Did you know that whenever you shop through these Amazon affiliate links, you help support the Tripawds community? Whether you're buying something for people or pets, as long as you start your Amazon shopping trip here, a portion of all purchases you make helps offset the costs of maintaining the Tripawds community.
Thank you for keeping the Tripawds Nation going!