Dogs don't have thumbs but they sure make good use of their front paws. Their unique body language utilizes paws to communicate feelings like submission and dominance. But paws play an even bigger role: holding treats! So when a dog loses one front paw and becomes a Tripawd, all of those old habits must quickly change. Suddenly, grasping a chew toy or bone is a complex process that takes practice to learn. Thankfully, new gear like the West Paw Quizl is the perfect front-leg Tripawd toy for our three-legged heroes!
New Front Leg Tripawd Toy Lessens the Learning Curve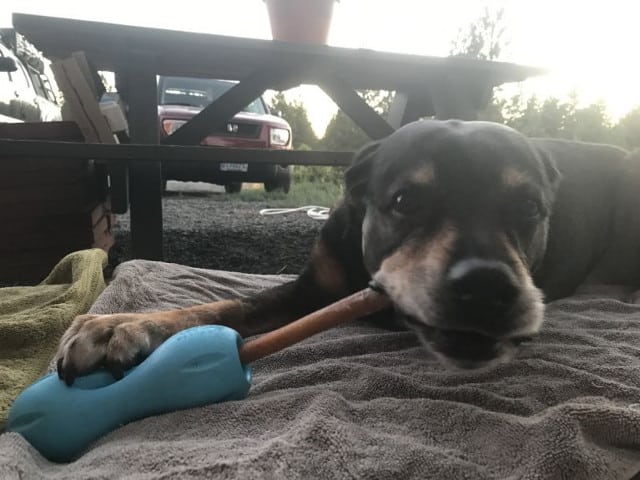 Watching Tripawds Founder Jerry chew his first bone with one front paw was thrilling. We had no idea if he could grasp objects again, but he proved it wasn't too difficult.
All Tripawd parents worry if their new amputee can hold toys with one less front leg. Skyla's mom sure did. But once she saw how Skyla took to the new WestPaw Quizl®, she didn't worry any more.
I was really excited because I knew right away it would help her chew on bully sticks, etc. with only one front paw. Sure enough, works like a charm! If you're interested, they are a fantastic US company who makes their toys right in Montana. They also have a one-time chew replacement guarantee!
Qwizl® is the newest interactive treat-dispensing and safe dog toy from West Paw Design. Qwizl is a way to keep your Tripawd canine stimulated and pleasantly puzzled. You can play fetch with it too once all the treats are gobbled up.
All of West Paw's Zogoflex® dog toys like the Quizl are made in the USA, certified-safe, and guaranteed to last. They're FDA-compliant (meaning they're safe to eat off of), and are available in bright, easy-to-spot colors making them perfect for play in snow, grass and water. All Zogoflex dog toys are available for recycling through the manufacturer's closed-loop recycling program, Join the Loop.
As Skyla's mom mentioned, West Paw Design is a small manufacturer of high-quality pet products made in Bozeman, Montana. They have strong ethics, like making the best for your pet while minimally impacting the environment and providing a living wage to employees. It's also a certified B Corporation. This means that through a rigorous assessment and review process, West Paw Design has demonstrated its commitment to transparency, accountability and a higher corporate purpose. B Corps use the power of business to solve social and environmental problems, by competing to be not only the best in the world, but the best for the world.
Who would have thought that one dog toy like the Qwizl® could make such a difference for the planet? West Paw did! We hope you'll support this great company by purchasing a Qwizl® for your Tripawd!
Did you know that whenever you shop through these Amazon affiliate links, you help support the Tripawds community? Whether you're buying something for people or pets, as long as you start your Amazon shopping trip here, a portion of all purchases you make helps offset the costs of maintaining the Tripawds community.
Thank you for keeping the Tripawds Nation going!