Want to sharpen your dog's mind and add some entertainment to your pup's world? Two new and nifty interactive dog toys by Kruuse are the way to do it. The BUSTER Dog Maze Bowl and the BUSTER Activity Mat will rock your Tripawd's world  (and any four-leggers too!).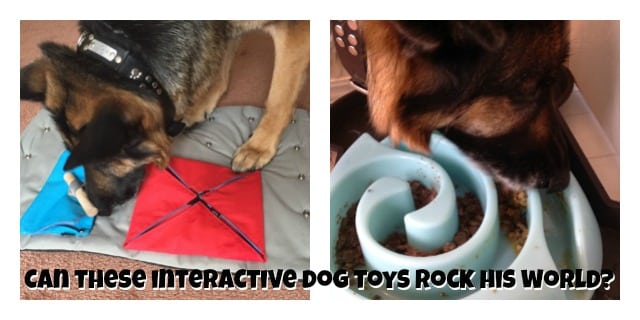 We discovered Kruuse interactive dog toys at the Western Veterinary Conference earlier this year. When we told the fine folks at the Denmark-based company about how Tripawd dogs are especially in need of tough brain games to fill their days, representatives kindly sent us these complimentary demo units to test on one of the smartest three-leggers of them all, Tripawds Spokesdog Wyatt Ray.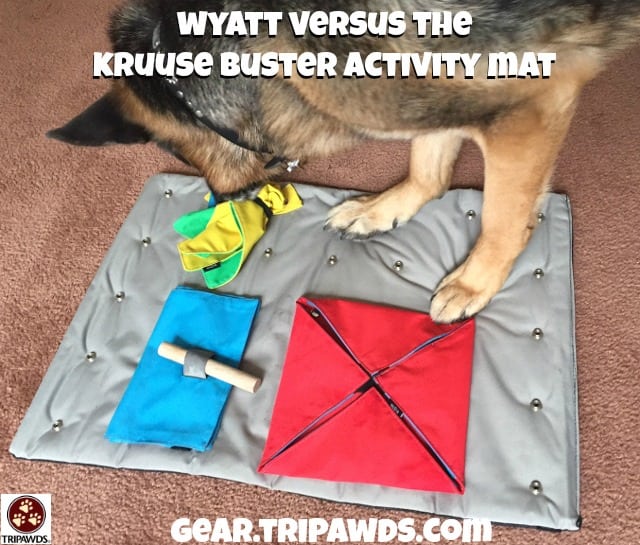 Call us biased but we think our pup is extremely intelligent. Only the most complex interactive dog toys can keep him entertained over and over again. We wanted to see if the Danes made a puzzle that could do the job of satiating his urge to be occupied. You be the judge.
Tripawd Versus Interactive Dog Toys, Part 1
Watch Wyatt tackle the Kruuse BUSTER Activity Mat for the first time. We captured his reaction on video and compressed his playtime down to one minute to give you a better idea of how much he enjoyed the game.
When it was over, he lay on the ground panting as if he just ran a marathon! We can already tell that this is a cool, practically indestructible and life-long game that meets his needs.
You can attach different "tasks" to the mat. Each has varying levels of difficulty depending on whether you fold the tasks or leave them open.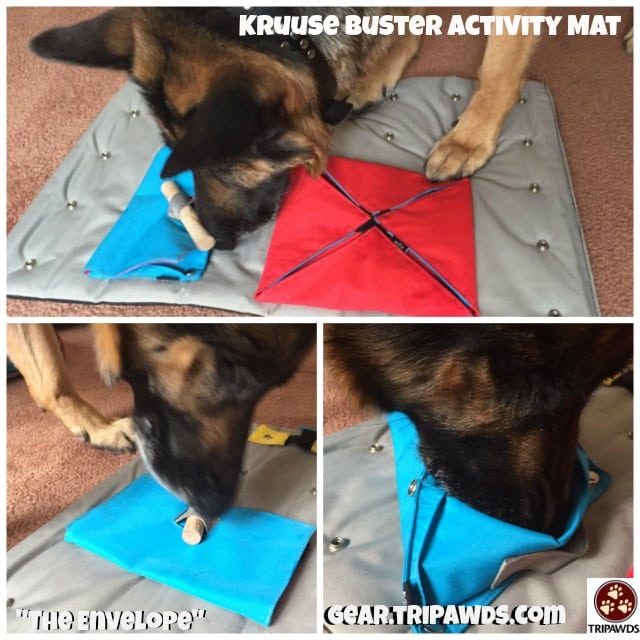 The Buster Activity Mat Starter Set includes: the mat with a carrier bag and the three activities you see Wyatt tackling: The Envelope, The Water Lily and The Cone Cloth. These 3 activities are a great start for any dog.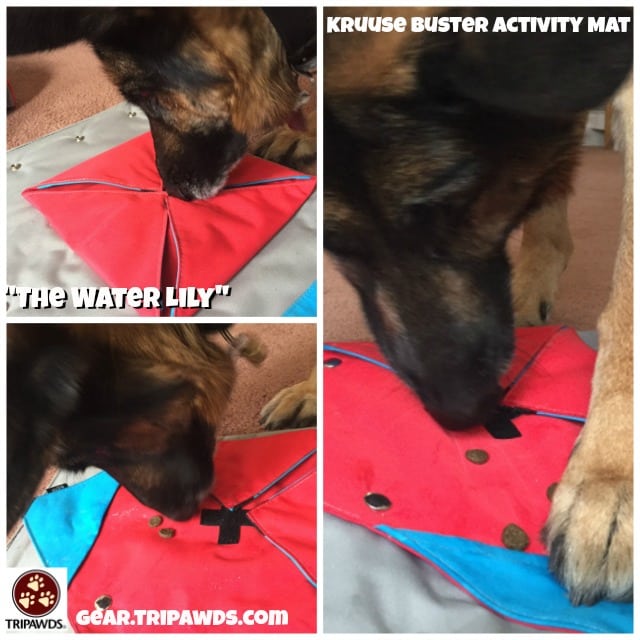 Additional, more complicated activities can be bought separately.

This game stands the test of Wyatt's German Shepherd jaws. Each task is made of extremely durable nylon. The mat has a non-slip texture on the bottom to help keep it in place as your dog tries to solve the task. The game does get quite slobbery but it dries quickly. When you're ready to give it a wash, just use warm soapy water and line dry.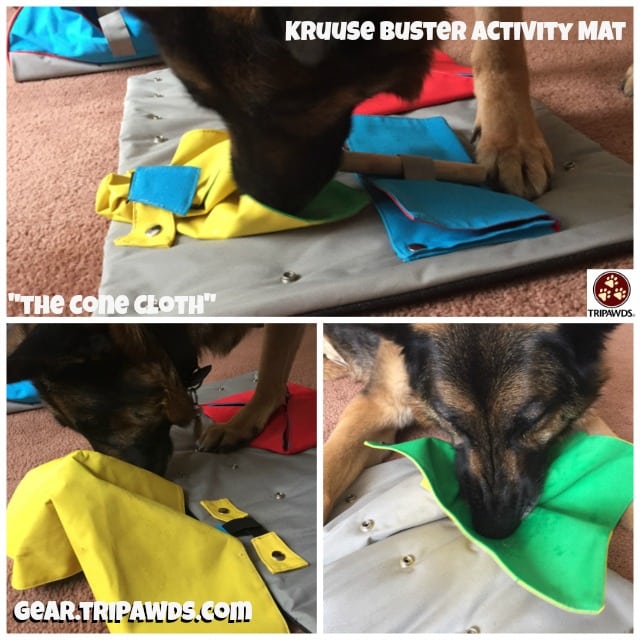 The fine people at Kruuse got interactive dog toys right with this game! Designed in Denmark by Marianne Haller Vesterholt to play and interact with her miniature schnauzer Ludwig when he got too smart for traditional toys. Renowned Swedish dog psychologist Anders Hallgren recommends it too. We know you'll love this game for your Tripawd.


Tripawd Versus Interactive Dog Toys, Part 2
Next up on our interactive dog toys showcase: the Kruuse BUSTER Dog Maze Bowl!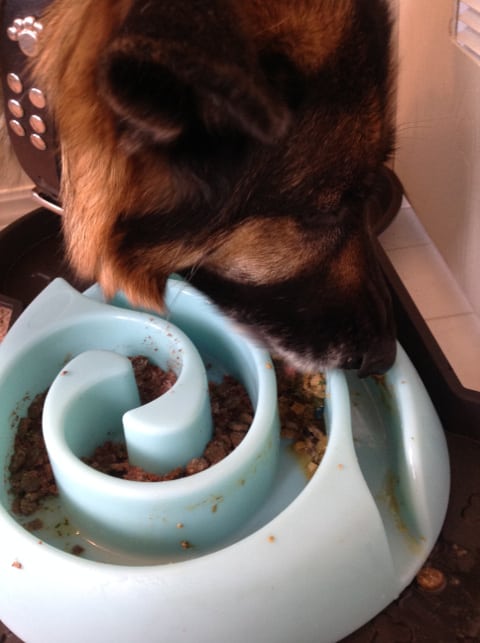 The routine task of putting food in a bowl may look exciting to you when you see your dog's reaction, but did you know that all animals are happiest when they work for their daily meals? This animal behavior concept is called "Contrafreeloading" which simply means working for food. Now you can put the wild hunting instinct back in your dog's life with the Kruuse BUSTER Dog Maze Bowl.
Here's what Wyatt's daily mealtimes look like now that he has one of these nifty games. We alternate this bowl with his Brake-Fast Slow Feed Bowl so there's never a dull feeding time for him.
Just put food or treats in the curved maze and your dog will instinctively know how to use his nose, tongue, and paws to chase the food down the channels to the exit points. Of course it helps if your dog has a longer snout so short-nosed breeds may have difficulty with this game.
By being able to both see and smell the food, your dog will be motivated to keep trying until has has totally emptied the BUSTER Dog Maze. It's available in two sizes: Dog Maze for dogs over 22 pounds and DogMaze Mini for dogs below 22 pounds. The beautifully designed feeder made of heavy-duty, non-toxic plastic is suitable for indoor and outdoor feeding. The plastic is approved for foods and does not contain phthalates. You can even wash it in the dishwasher!

Did you know that whenever you shop through these Amazon affiliate links, you can help support the Tripawds community? Whether you're buying something for people or pets, as long as you start your Amazon shopping trip here, a portion of all purchases you make helps offset the costs of maintaining the Tripawds community.
Thank you for keeping the Tripawds Nation going!