Veterinarians Recommend Komfy K9 Dog Beds
We learned about the Komfy K9 dog bed when spokesdog Wyatt Ray received one at the 2017 Western Veterinary Conference. With summer in full swing, the kind folks at Komfy K9 sent him a Therapy Cover to try out and he loves it!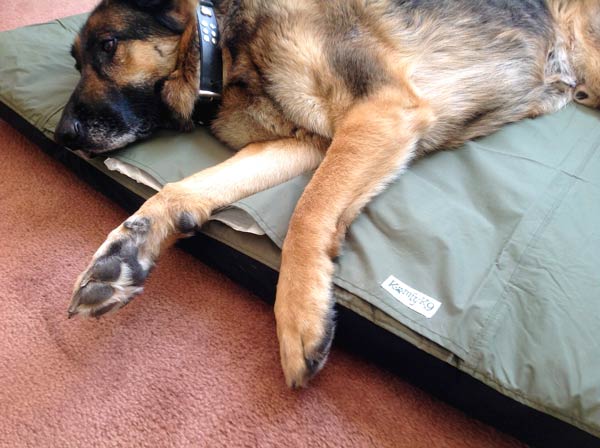 The professional bedding cover is used by veterinarians because it is very durable, easy to keep clean, and it includes a pocket that can be used for hot/cold therapy treatment on dogs recovering from surgery. A cool compress, or cool sleeping surface can help reduce swelling during post-operative care.
Many new Tripawds prefer a cool surface to lay on. Insert a pet cooling mat into the Therapy Pocket, and your dog will enjoy the cooling sensation during recovery or hot summer months.
"The Komfy K9 beds are high-quality and durable, but also very comfortable. We use them in our emergency vet clinic, where all of these things are important. Plus, they are easy to clean when 'accidents' happen."
—North Peninsula Veterinary Emergency Clinic
A warm compress can help increase circulation and keep core temperatures elevated during recovery. A self warming crate pad can be also inserted into the Therapy Pocket to provide additional comfort while recuperating, or during cold winter months.
"We love Komfy K9 beds and so do our patients! The therapy pocket helps to keep the post surgery patient core temperature elevated, and allows them to wake up on a comfortable warm surface."
—Utah Animal Care Center Bountiful, UT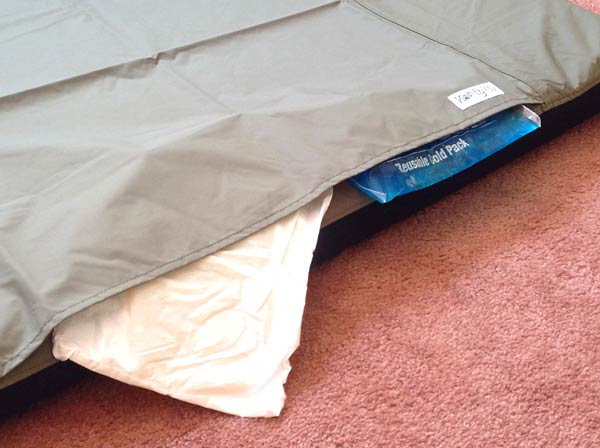 All Komfy K9 orthopedic dog beds use premium quality foam, plus air that can be inflated or deflated to adjust the firmness of the bed. They are waterproof and provide enhanced comfort with an easy to clean quilted cover, or optional Therapy Pocket cover. they roll up for easy travel, and include a convenient carrying bag.
The large Komfy K9 Dog bed with a Therapy cover will hold a warming or cooling pad up to 24″ x 24″ providing comfort any time of year. Find more information, customer testimonials, and the Therapy Pocket cover at komfyk9.com.
Shop Amazon and save on Komfy K9 dog beds to help support your Tripawds Community!