Want to help your fit Tripawd dog get even stronger? You've come to the right place! We have two freeFitPAWS gear items ready to give away at no cost. First come, first served so read on.
How to Get Your Free FitPAWS Gear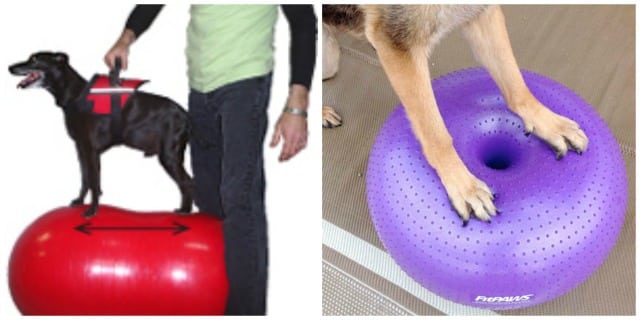 To score one piece of free FitPAWS gear for advanced Tripawd dogs, you just need to:
Show that you have or are going to visit a licensed canine rehabilitation therapist
and get the therapists' approval for use of this equipment.
The two free FitPaws Gear items we are gifting were gently used by Tripawds Spokesdog Wyatt Ray. We can no longer fit these items our tiny RV home base and want to see them put to good use. We will even pay for ground shipping! But please only request one if your Tripawd is already in good shape and you are under the guidance of a licensed rehab therapist. The two items are:
FitPAWS® 70cm Peanut (for dogs with a stance of up to 41″ high)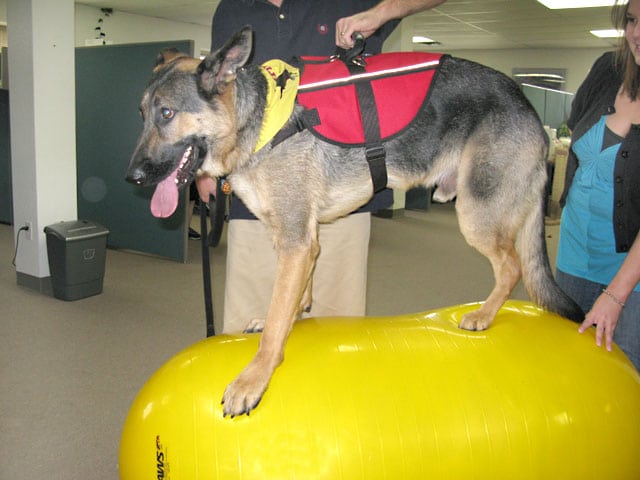 This peanut-shaped stability ball is for advanced canine core conditioning and balance exercises. It helps already fit Tripawd dogs develop better:
Core strengthening
Increased range of motion and flexibility
Neuromuscular facilitation and sensory/perceptual stimulation (proproioception,)
Joint alignment, and balance control.
The FitPAWS® Trax Donut (for dogs of all sizes)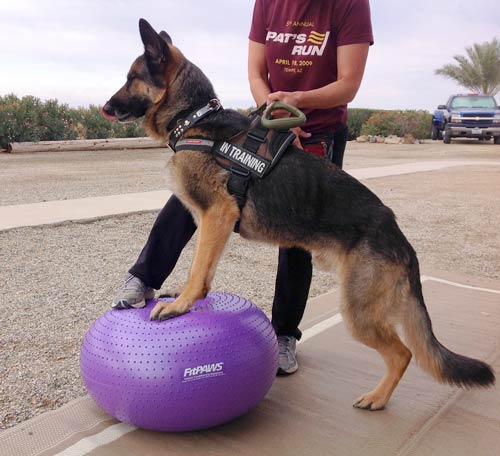 This intermediate level equipment is more challenging than the beginner-level FitPAWS Balance Pad, but not as tough as the more advanced FitPAWS Peanut. Its flattened base offers more stability than other inflatables but we recommend purchasing a Donut Holder to go along with it. With your assistance, your dog can learn to stand, sit, lay, side step and perform other beneficial exercises.
Remember, these are NOT beginner level pieces of equipment. For your Tripawd's safety and health, please do not request one unless your Tripawd is under the care of a rehabilitation therapist who gives the green light on this gear.
To get your free FitPAWS demo units, please
contact us with
proof of  your therapy visit (a receipt).
One per person please. First come, first served.
Recommended Reading
Get Your Tripawd Fit, on Us! Receive up to $200 toward your first veterinary rehab consultation!