Have you heard about PawFriction? It's an ingenious new paw traction product to help pets get around better on slippery floors. If your Tripawd has trouble on your floors, give it a try with a PawFriction discount for Tripawds only!
Save 10% with PawFriction Discount for Tripawds
Helping Tripawds get around on floors is challenging. Hardwood or slick tile surfaces are not friendly to pets with mobility issues, especially three-legged dogs and cats. Carpet runners are the fastest way to help avoid Tripawd accidents but they can't cover every surface in your home. And you can't exactly carry them around with you at the vet's clinic or when visiting friends.
Most people think that boots will be the answer. The only problem is not all dogs will wear shoes. And we don't know of any cats that will put up with cat boooties. When we discovered PawFriction earlier this year we knew it was something special. It's a paw pad coating system especially made for senior dogs and those with orthopedic and neurologic conditions.
Our Tripawds Gear review "Floor Traction for Tripawds?" shares our PawFriction experience in detail. In short, what we discovered is:
The non-toxic granules do keep your dog from sliding on slippery surfaces.
Learning how to apply the granule glue takes practice but the learning curve is short.
The granules didn't affect Wyatt's paw sensitivity. He never tried to lick the product.
It works great on slippery indoor surfaces. But it's not designed for wet, muddy surfaces.
Overall the product lives up to it's claims. If you have a mostly indoor, older dog or cat who lives on slippery floors, you may want to give this a try.
PawFriction is a great company started by Dr. Stacey Bone, DVM. Not only is Dr. Bone's goal to improve quality of life for pets with mobility issues, but also to help the Tripawds Nation!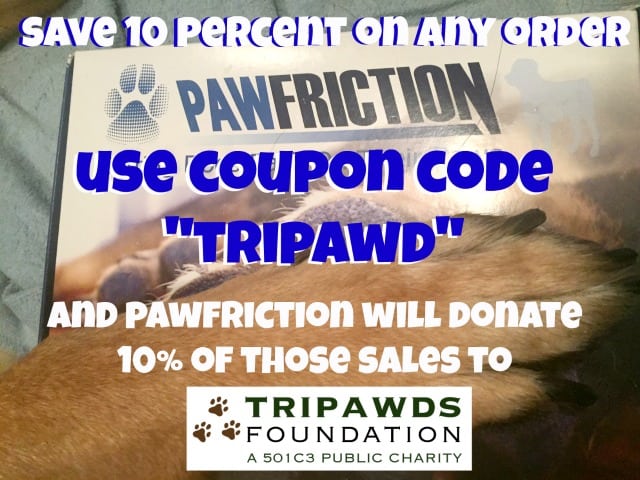 For more details see our Tripawds PawFriction review. If you give it a try, let us know what you think.