We search the planet for Tripawd dog harnesses but have never found a good one for TriKitties — until now! The Kitty Holster appears to be the best harness for three legged cats whether they are missing a front or rear leg.
If anyone knows something about what Tripawd cats need, it's Purrkins and his mom Holly. When they told us about the Kitty Holster cat harness we knew it was going to be good. You see Purrkins is a front-leg cat amputee. And cats or dogs missing a front leg tend to have more challenges finding a good harness that works for their body type.
Purrkins convinced us it was a good one when we saw this video of him walking with the Kitty Holster. He loves getting outside with it on, can you tell?
Right away we knew that if this device works well on Purrkins, it can work on most cats whether they're missing a front or rear leg. Based on its Amazon reviews, we can see why so many cat parents love it.
Why the Kitty Holster is the Best Harness for Three-Legged Cats
Ultra-lightweight 100% breathable, washable cotton. Includes un-dyed cotton lining that's gentle on cat fur. Also inhibits irritation on delicate skin.
Easy for cats to wear. Less stressful to your cat and easy for you to put on/take off your cat
Zero nylon, thin straps or plastic clips which can cause uncomfortable pressure points and skin abrasion
Many attractive seasonal colors and patterns.
We saw the Kitty Holster in action once. This kitty isn't a Tripawd, but he went on walks twice a day with his mom. He never looked uncomfortable wearing it.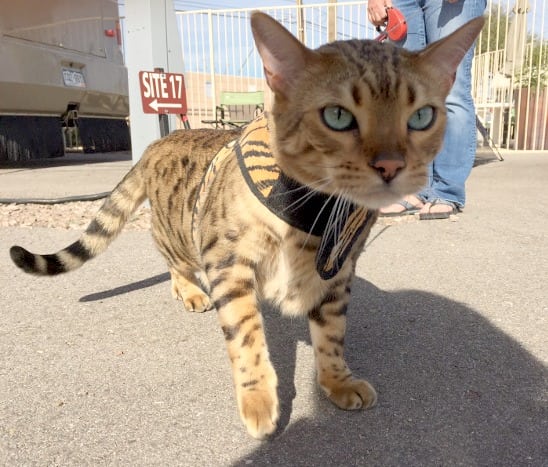 The Amazon reviews for the harness are outstanding. Most people say it works great for their cat.

What this Tripawd Cat Harness Will and Won't Do
In many ways this cat harness is just like the Tripawd dog harnesses we recommend. It won't "support" legs or torso the way humans are used to using something like an Ace bandage. Since it doesn't have a handle on it, it won't help you lift your Tripawd cat either. But it is like Tripawd dog harnesses because it acts as a safety tool. What the Kitty Holster will do is:
Get your Tripawd cat outside into fresh air again. Safely!
If you decide to buy a Kitty Holster on Amazon for your Tripawd, let us know how it works for your three-legged feline hero.