Getting a Ruffwear Webmaster harness on front-leg Tripawds is a little more tricky than dressing a rear-leg Tripawd. The dog must step through one front leg loop in order to put the harness on. But how do you do it without tipping over your three-legged dog?
How to Get a Webmaster Harness on Front Leg Tripawds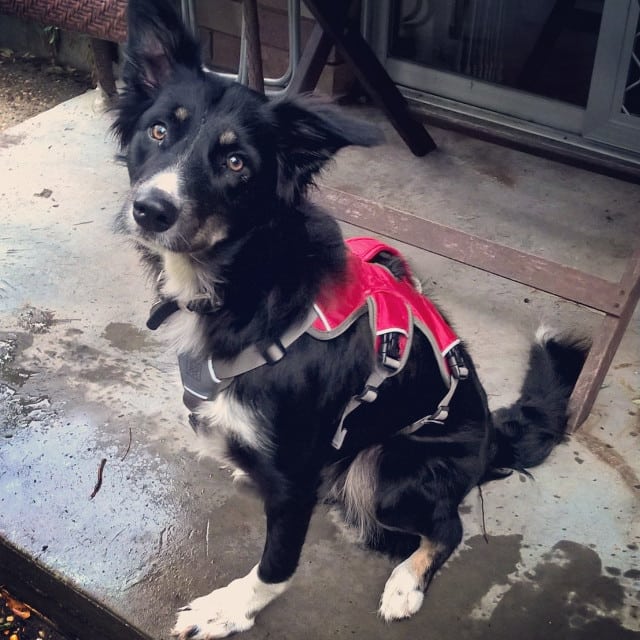 Basically you have three choices:
Put the harness on your front-leg Tripawd while he's laying down. Slide the front right leg loop through one leg, slip the harness over the head and then have your dog stand up so you buckle him up.
Have your dog step into the loop. Lay the harness flat on the floor, inside facing up. Direct your dog to walk forward and into the front right leg loop (bribing with a treat helps!) then pull the harness up and slip it over the head.
Or, do it while your Tripawd is standing. Stand on the amputated side of your dog. Hold the harness in one hand. Place your other arm underneath his chest. Gently lift his torso and that front power paw, slip the harness up and over and it's done!
Spirit Jerry taught us that method number three is the fastest, most gentle way to put a Webmaster harness on a front-leg Tripawd. Check it out:
Why Use a Harness on a Tripawd?
We learned right away that keeping a Webmaster on Spirit Jerry and Wyatt Ray is so important. You'll always be prepared to help your dog in an instant, should assistance be needed. Soon, your Tripawd will feel naked without a harness!
Plus, as your dog ages and needs more help getting around, wearing a harness will be second nature. You'll eliminate the stress of introducing a harness to an older dog with mobility challenges.
All of our Tripawd harness selections in our Gear Shop are Tripawd-tested and approved. The harnesses we carry are all there because they've been more proven to assist a three-legged animal than other brands available. Each harness has different benefits and some are easier to put on a dog, some a little more challenging. None are made specifically for Tripawds but they are the best we've found. And every harness is super helpful to your three-legged hero and you.
Save
Save