When your Tripawd is hurting, it's critical to act fast. Work with your vet to pinpoint the cause and create action steps for immediate relief. Many times, Tripawds need a combination of western and eastern pet pain relief modalities. For many pet parents, the Assisi Loop is also part of the plan.
The Assisi Loop Works for Pet Pain Relief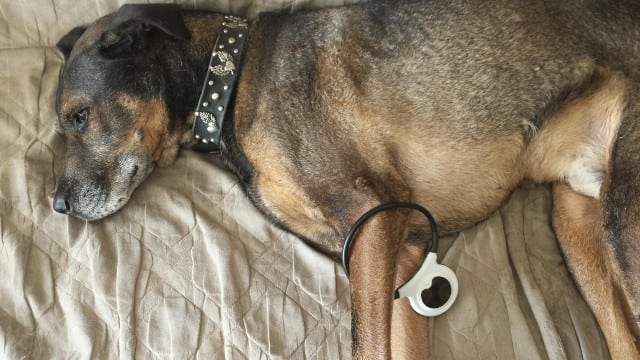 The Assisi Loop is a clinically-proven device that uses targeted pulsed electromagnetic fields to help speed healing and give pain relief to animals and humans alike. For more than a year we've been hearing lots of great things about it from pet parents and veterinarians alike. Even the renowned veterinary pain management expert Dr. Mike Petty uses the Assisi Loop in his practice and recommends it to rehab therapists everywhere.
The Assisi Loop provides pain relief for:
Wounds
Post-Surgical Pain & Swelling
Orthopedic Injuries
Neurological Issues
Inflammatory Conditions
Degenerative Disorders
Earlier this year while exhibiting at AAHA, we asked Assisi Animal Products reps to tell us more about how this pet pain relief product works. Kaysie Danneimiller from Assisi took a minute to explain:
Assisi Loop Facts
Prescribed by veterinarians and animal rehab therapists.
Alleviate pain and inflammation in animals without drugs.
Treats directly through wraps, dressings, and casts.
Easy to administer at home or in a clinical setting.
Uses targeted pulsed electromagnetic field technologies to improve health and healing.
Start with three to four 15-minute treatments per day for acute and chronic or degenerative conditions.
We haven't tried the Assisi Loop ourselves (and we are not being compensated to write about it), but we're curious about its results. Thankfully, longtime Tripawds members the Oaktown Pack are currently putting the loop into practice to alleviate arthritis. Their packmate Smokey B is pictured above. The Oaktown Pack promises to report back soon on how it worked for him, so watch this blog for an update.
Meanwhile, if you're interested in trying the Loop for your Tripawd, be sure to check out the Assisi Loop website. They have tons of great information ready for review in the Pet Owners section of their website, including what you need to know to get the Assisi Loop for your animal.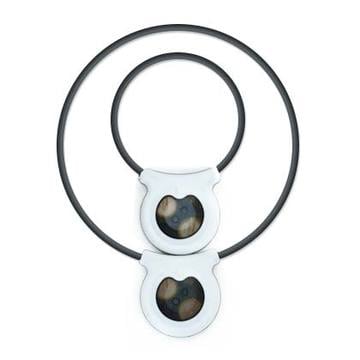 Have you tried the Loop?
If so we'd love to hear your experience below!
More Holistic Pet Pain Relief Ideas
Post-Surgery Pain in Tripawd Dogs and Cats, Part 1
Natural Remedies for Amputation Recovery
Farabloc Gives Drug-Free Phantom Leg Pain Help for Amputees
Save
Save
Save
Save
Save