Tripawd dog harnesses come in all sorts of flavors. The special selection of harnesses you see in our Gear Shop are there because they've been tested by us and members of the community. All work great for three-legged dogs, but only one custom Tripawd harness can be tailored to your dog: the Custom Pet Support Suit.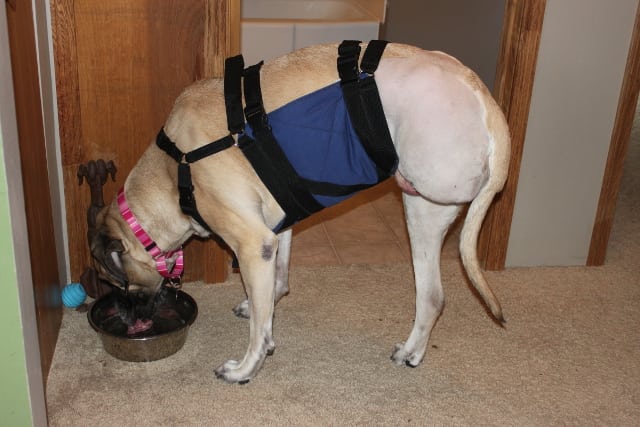 Why this Custom Harness is Best for Tripawds
Long ago we knew the Custom Pet Support Suit was the best Tripawd harness on earth. Why? Because when our fearless leader Jerry put his on, we could see what a difference a tailored dog harness makes! When you order and send proper measurements, you get back a harness that:
Is comfortable enough to wear all day
Won't slide to one side
Provides full under-belly support
Fits every curve on your dog's unique body type.
Whether a dog has three our four legs, the Custom Pet Support Suit fits like a glove and enables you to help your dog exactly as you need to. Here's what others have to say about this Made in the USA harness:
"We just got Sweetie's suit today, and it is wonderful!  Such great quality!  It only took a few minutes to adjust the straps.  It fits her perfectly!  She seems pretty comfortable in it also.  It made it so much easier to get her up when she had this on.  I actually put it on her as she laid on the floor and it was a breeze.  I can't thank you enough for doing such a good job making it and shipping it so fast.  You guys truly are awesome!"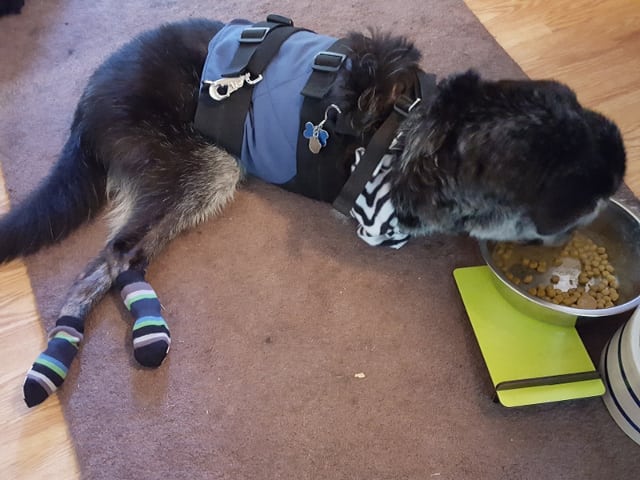 "I got it to have it be a comfier and snugger harness, but it really helped me in more ways than that. Tucker needs a lot more support standing up to pee and poop and to walk. I now can do a much better job and if I clip the handles across his shoulder and hips, I can easily lift him straight up in the air and place him where he needs to be."

"Your product has been a godsend!  It looks great and functions even better.  Definitely will recommend this to anyone."
And last but not least, no words are needed to show how well it worked on Fiona.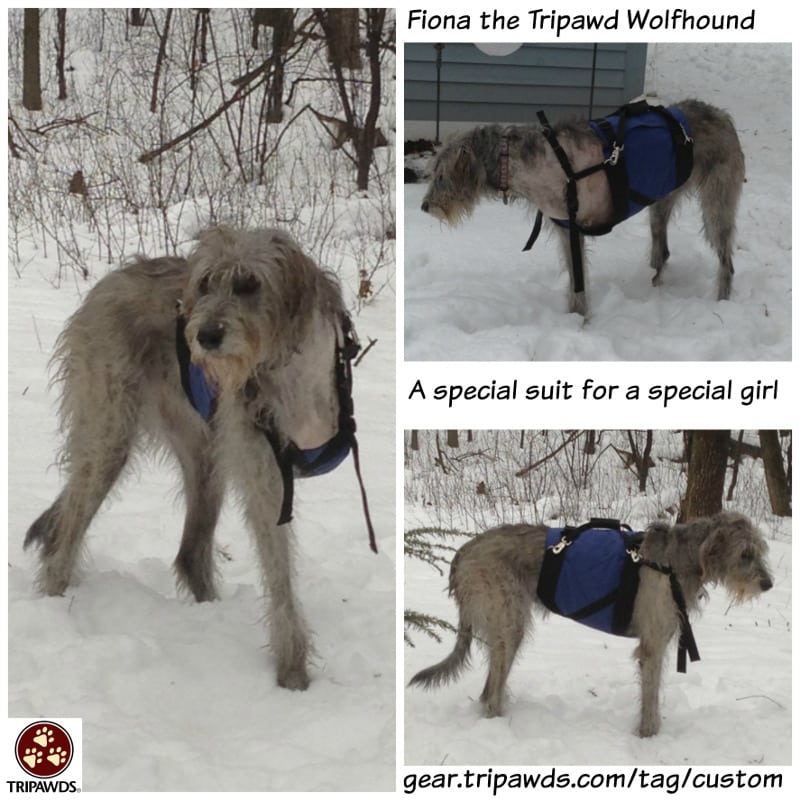 "Thought you might be interested in these pics. Thanks for all your help!"
Learn More About the Custom Pet Support Harness
Custom Mobility Harness Helps Tripawds Get Up and Around
Which harness is right for my dog?
Save
Save