Tripawds are so strong! Every day our three-legged heroes defy our expectations and show the world they are pawesome. And just like the Ruffwear Webmaster harness, they are tougher than we think. Here's a good example: Tripawd Spokespup Wyatt Ray's old black Webmaster Tripawd harness.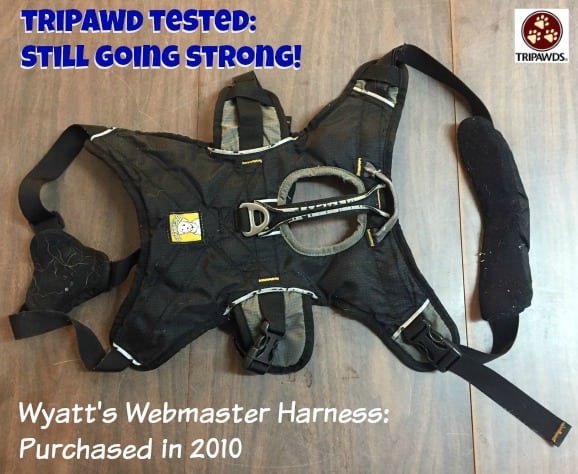 We bought this for him back in 2010. That makes it seven years old. He still wears it today because it does its job. We call it his "camping harness" because it's a little beat up. His newer Webmasters we save for public outings. But when we're just around our doghouse on wheels, his old black Webmaster is good enough.
Ruffwear products like the Webmaster Tripawd harness come with a one year warranty against manufacturing defects. In nearly 10 years of partnering with this pawesome manufacturer, there's only been one time when we had to deal with a manufacturing defect. One.
In our experience, the only time something goes wrong is when a dog who isn't used to wearing a harness is allowed to wear it unsupervised. The dog chews the straps and they break. Oops! In case you're wondering, here are some great tips to introduce your dog to the Webmaster harness.
Webmaster Tripawd Harness Improvements
The Webmaster has improved since we bought this first harness. It offers better comfort, more support and greater stability. For example:
Ruffwear is making the Brush Guard attachment for all their harnesses! We call it the "Webmaster Plus" and its the best EVER.
There's more padding between your dog's body and the harness (see the difference between the old Web Master on the left, and the new one on the right?).
Paws down, Ruffwear products are built to last. Like Tripawds themselves, Ruffwear dog gear is the best there is!
Save