Finding the perfect harness for Tripawd dogs is a challenge. Finding a harness for Tripawd dogs with hip and leg weakness is even tougher. That's because existing "hip lift" harnesses with leg loops will only work well if a dog has two rear legs. If a dog is missing a rear leg, the harness loops won't stay in place.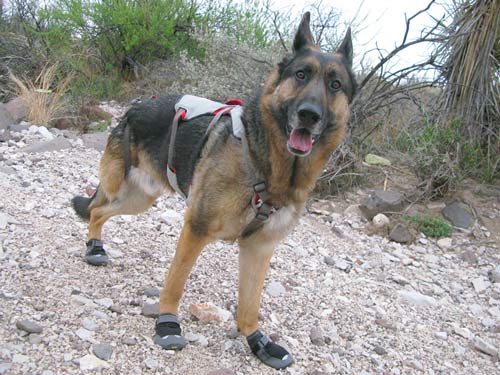 However, the Ruffwear Doubleback™ harness is our favorite that comes close to meeting the needs of all Tripawd dogs with hip weakness. Here's why:
The Doubleback™ Harness for Tripawd Dogs with Weak Hips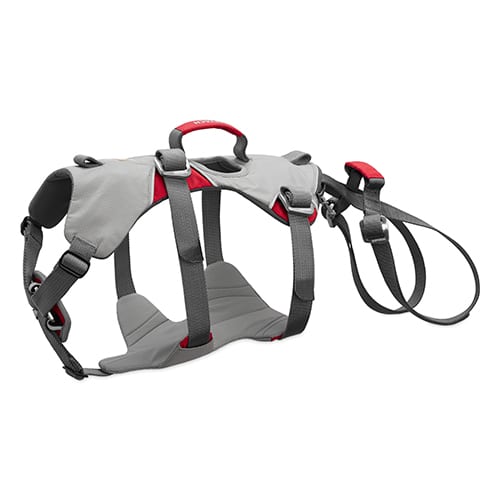 The Ruffwear Doubleback Harness has leg loops that can help you lift your Tripawd's rear end. As you see in our original Doubleback review, it works for all Tripawds who need extra rear end support, but works especially well for front-leg Tripawds with both back legs.
We've always said that the Doubleback harness only works well on front-leg amputees, but recently Tripawds member Amanda shared this Doubleback harness mod for rear-legged Tripawds with some stump remaining.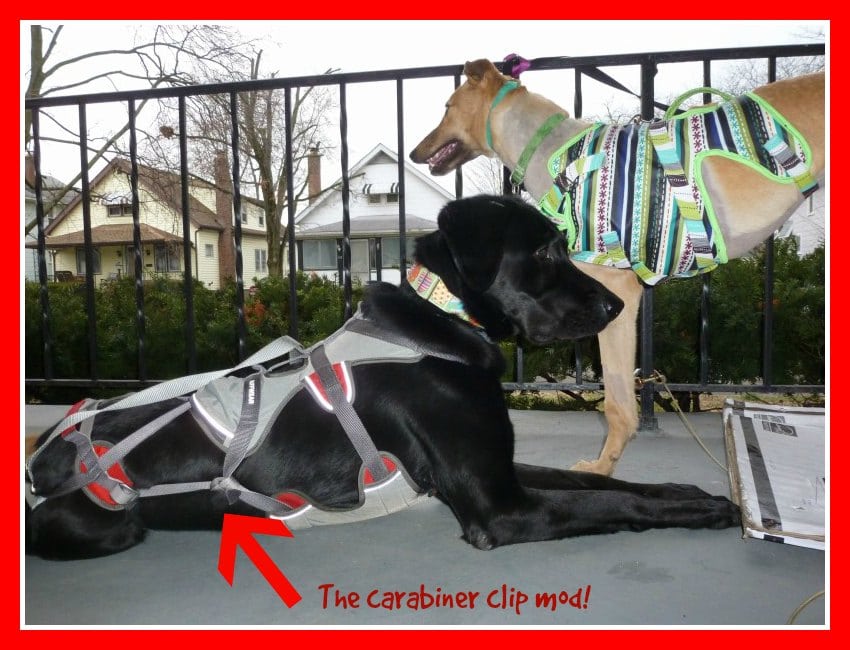 Now we know that Ruffwear's Doubleback harness can definitely work for rear legged Tripawds. The harness still works especially well for front-leg amputees who need help with their rear end.
All Tripawds can wear it with or without leg loops, as Wyatt is demonstrating below.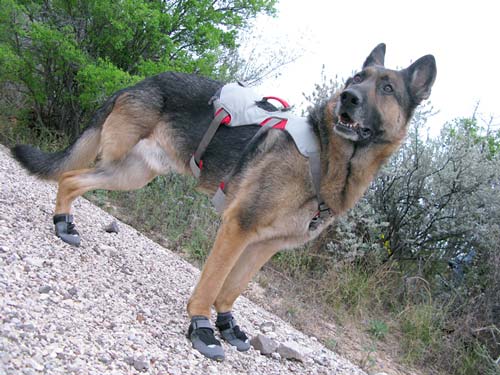 Although the Doubleback was created for rock-climbers and their dogs, many folks find it useful as a harness for dogs with weak hips.
We like how the newest Doubleback design fits better and is less bulky than the original.
The handles are larger and more comfortable for bigger hands. This makes it easy to assist your dog in and out of vehicles, off slippery floors, etc.
You'll notice that the buckles are not the quick release type found on the Ruffwear Webmaster Plus. That's because the "doubleback" design is a safety feature for dogs being hoisted up a mountain. If you're not climbing with your Tripawd (is anyone?!), the buckles are time-consuming to use.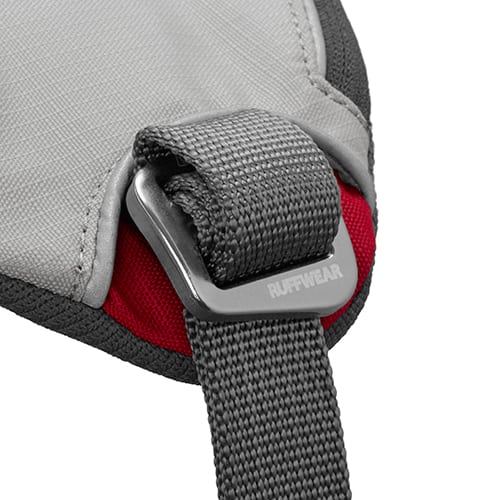 This is definitely the kind of harness for Tripawd dogs that you leave on all day. For a quick-release, all-purpose harness for Tripawds, see the Ruffwear Webmaster Plus.
Doubleback Harness Wags:
Great for front-leg Tripawds
Full padded belly support
Rear leg loops enable hip-lift and even weight dispersion
Stow away leg loops
Allows multi-point adjustments for a custom fit
Rugged, durable design
Strength-rated to 2,000lbf (8.9kN)
Two handles, one providing direct hip support
Doubleback Harness Whimpers:
Not ideal for rear-leg Tripawds with small or no stump
No quick release buckles
Weighs more than the Ruffwear Webmaster Plus harness
Sizing the Doubleback Harness
Please measure carefully! Girth measurements that determine proper fit for the DoubleBack are different than those for the Web Master Plus. For dogs in between sizes, Ruff wear recommends selecting the smaller harness.

Purchase Information: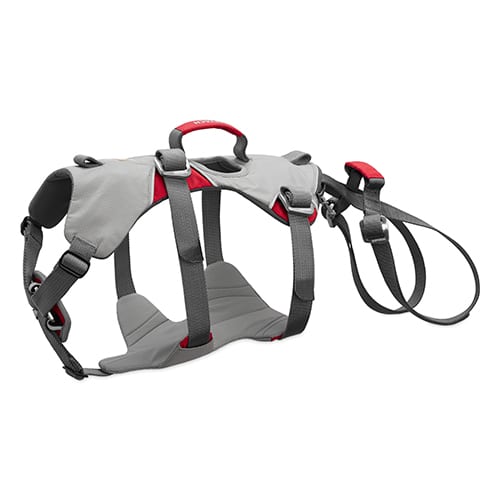 Strength rated belay harness designed for technical climbing with dogs provides direct hip support using padded leg loops that stow in convenient zippered pocket when not being used.
Your cost includes shipping to anywhere in the continental U.S. via ground delivery (5-7 business days). Texas residents pay applicable sales tax. ONLY AVAILABLE TO U.S. CUSTOMERS. Find international dealers here.
$124.95Select & Buy