Dog paw injuries are tough to manage. Thankfully this DIY dog paw protector made with an IV bag makes life a little easier for you both. Read on to learn more:
DIY Dog Paw Protector Helps Healing
Paw pads are made of tissue that's completely different than anything else on a dog's body. When paws are injured with a cut, abrasion or burn, life can get tricky for the dog and the human. According to the experts at DVM360,
"The canine footpad is a highly specialized tissue with specific and distinctive functions, and therefore, cannot be replaced by skin from the body. Wound management of these injuries is directed toward preserving as much of the pad tissue as possible and keeping pressure off of the affected paw to encourage wound healing, re-epithelialization and epithelial keratinization."
Dogs with paw wounds may come home with vet wrap over the foot. The problems happen when trying to keep the vet wrap and underlying bandage free of moisture and dirt when going outside. Rain, snow, and puddles all put healing at risk.
Sometimes you can use a bootie to keep the bandage try. PAWZ dog boots are lightweight and easy for many dogs to wear. Cassie is wearing one in the photo below. But if your dog isn't used to wearing shoes, putting booties on their feet every time you go outside may turn into a stressful struggle.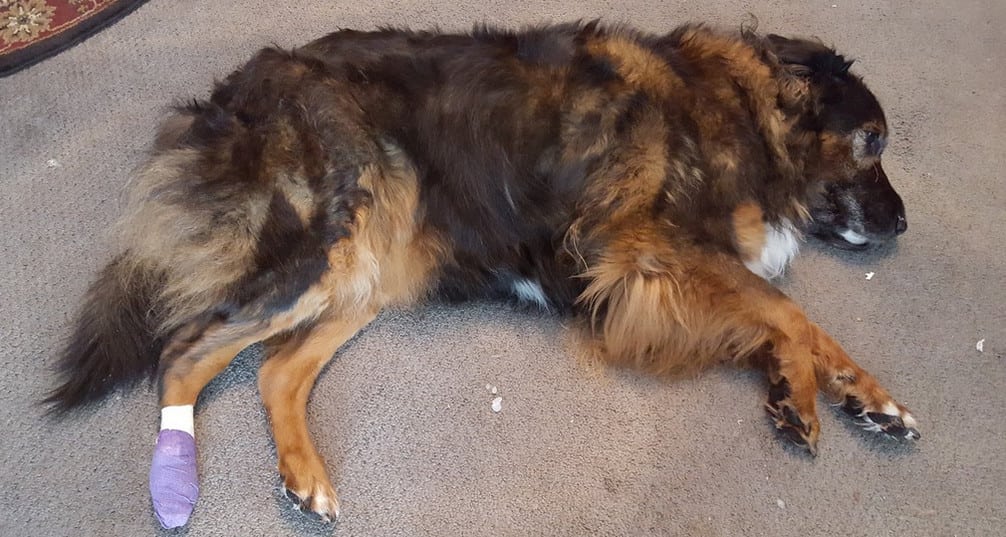 Since most times you only need to protect the paw bandage when going outside for potty breaks, this easy DIY dog paw protector made from a IV bag could be the answer.
We learned about these homemade paw protectors in this Forum topic "What Does MCT Look Like?" In this discussion, Tripawd Murphy's sister Cassie needed a biopsy on her foot when a suspicious lump appeared. After surgery, Cassie's Mom Donna wrote:
She came home with a purple bandage she has to keep on for 2 days, which we have to try to keep dry…of course it snowed for the first time a couple days ago lol  We put one of Murphy's Pawz boots on it the couple of times she's gone out & it's covered the dressing well, but it seems to bother her.  We're going to try just a baggie next time in case it's putting too much pressure on the incision.
Thankfully Angel Sassy's Mom, Michelle came to the rescue. She says here:
If the baggy thing doesn't work ask for an empty iv bag from your vet.  cut open one end and put holes in the side.  String some gauze string through it and tie it shut.  It works perfect.  My vet did that when we had to wrap Bosch's foot and keep it dry.
That sounded so cool we just had to see photos. Michelle was kind enough to post some. Here's a good one. She wrote:
I guess Dr Boyer cut the bottom off and left the top by which you hang it.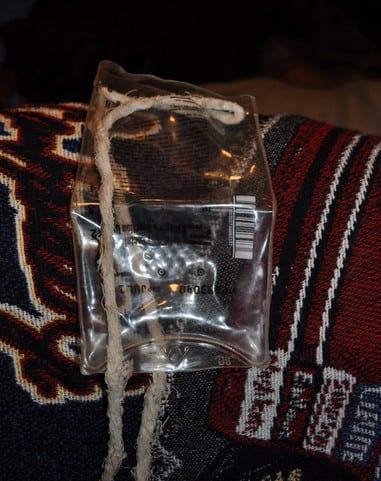 Isn't this a great idea? We hope you never have to try it but if you do, ask your vet for some IV bags to make your own. Let us know how it goes and send some photos.
Oh and on a happy note, Cassie's suspicious lump was benign. Yay!