Strollers are such a great way to help Tripawd dogs and cats get out into the world. They're a perfect tool to get you and your three-legged hero traveling to more places, whether that means a longer walk around the neighborhood or out onto a vacation adventure.
Sandy Sees the World on Wheels
Sandy really loves her dog stroller, which can be pushed like a carriage or towed behind a bicycle.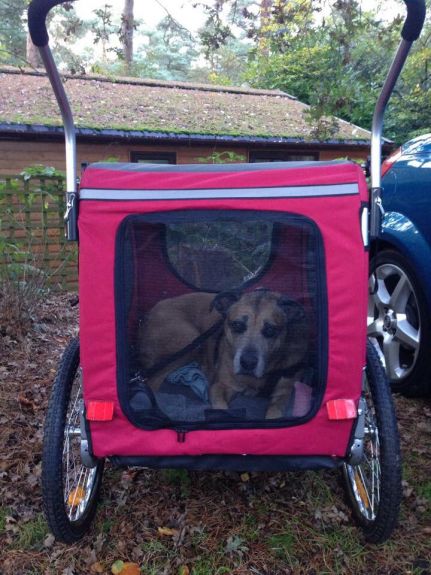 Her mom Dawn shared how much it's help Sandy get around in her blog:
Since amputation, this has been our blessed wheels that has provided us with the continuation of our walks to our favourite places to meet our friends to sniff, play & socialise, but being able to rest when tiredness kicks in.

This has been our saviour as some days we only make our walks to the green next to the house. Sandy can hop in, stroll along & hop out again when we see friends or wants to sniff.
Strollers are so great when your dog isn't ready for a wheelchair, but just needs an extra boost getting around. Most pets will adapt well with these dog stroller training tips.
Check out our best Tripawds Gear Blog post about strollers for three-legged dogs and cats. One of them just might work for yours.
NEW: Tripawds Recommends the Burley Bark Ranger Dog Stroller!
Recommended Reading