Have you tried a Tripawd harness or other products we recommend? If so, your first-paw product feedback is wanted. Whether you love something in the Tripawds Gear Shop or don't like it at all, we want to know. Your Tripawds product experience is very important to us, because we only recommend products that are Tripawd tested and approved.
Why Tripawd Eva Loves Her Convert Harness
Eva recently shared her experience with the Tripawd Convert Harness by EzyDog, which we have available in the Tripawds Gear Shop.
IMPORTANT UPDATE about Front-leg amputee dogs: As of 2019, the Flagline Harness is now our best harness for front-leg amputee dogs. The Convert is still a great walking harness for many Tripawds, but no harness is 100% perfect on an amputee. Many have a tendency to rotate because there is no second front leg to keep it in place. Proper sizing and fitting is important with any harness but especially the Convert. Always measure carefully before ordering. Contact us with any questions.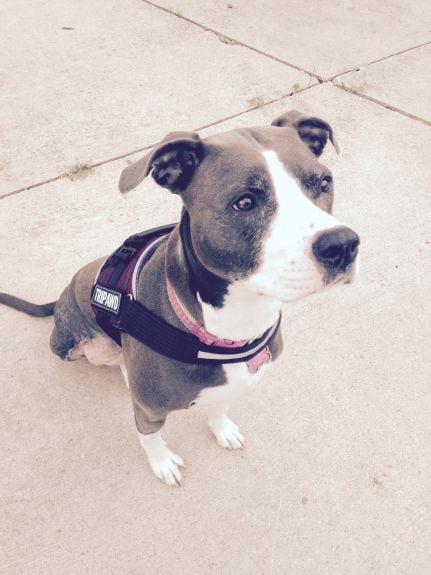 Here's what she had to say:
So, we got Eva's harness, and I love it. I am pretty sure it fits perfect and as someone who has always used no pull harnesses I can say I am surprised with it's ability to keep Eva at an appropriate pace. This is good cos I was fairly nervous about the entire front strap being velcro. Boy- was I nervous!

But it held her in great! We've used it a considerable amount because Eva loves going on walks, and since it's been over two weeks since her operation I'm slowly reintroducing her to the back door steps that are slightly steeper than the front yard steps, and made out of tile. They have grip strips on them but the handle assist on this harness is SO helpful in making sure that I can help ensure she doesn't slip and fall.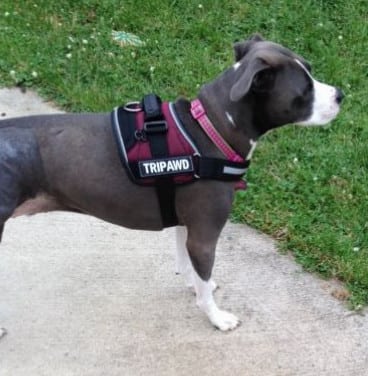 Thanks for letting us know it works for you Eva! While all dogs are different and there is no "perfect" Tripawd dog harness, we're always so glad when our recommended products work well for one of our community members.
Learn More About Harnesses for Tripawd Dogs
Tripawds Gear Blog: Which Harness is Right for My Dog?