Mark Your Calendars!
The first ever canine conditioning and fitness course designed specifically for three legged dogs starts soon!
Sessions Begin: April 1, 2015
Registration starts: March 22, 2015
This online course is presented by renowned canine rehab practitioner Debbie Gross, CCRP. A minimum of six students must register for the course for classes to proceed!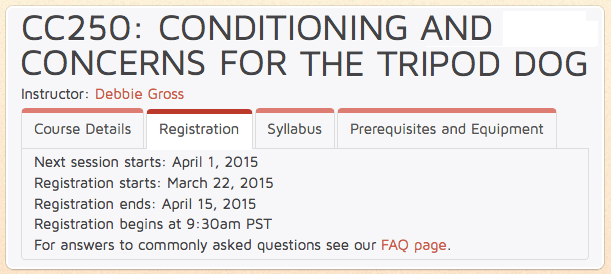 Participants will learn and understand special considerations for exercise with three legged dogs.  Gold Level Students will have the opportunity to share updates about their dogs, follow a comprehensive strengthening program, receive personal feedback from the instructor, and design their own program.
This class is not only applicable to those with a beloved Tripod, but also for those practitioners that work with Tripods. Read the full Tripod Dog Conditioning Course Syllabus for more information, and register as soon as possible to ensure participation in the class.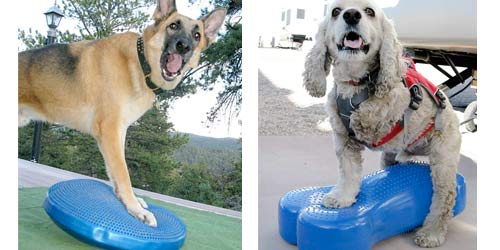 FitPAWS Balance Disc and FitBONE
Be Prepared!
While no specific equipment is required for the course, to make the most of exercises and conditioning tips provided, students should consider having certain items on hand before classes begin.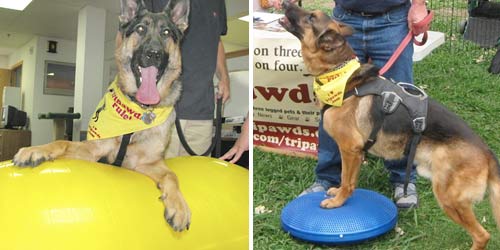 FitPAWS Peanut and Balance Disc
So what should you get to be prepared? Debbie says…
"I usually recommend the Disc, a Peanut of appropriate size, maybe a FitBone, and a few other small discs."
By all means, you do not need all of this fitness gear to benefit from the course! But having some basic tools, and adapting exercises, will make the most of your time. Couch cushions or a homemade wobble board may come in handy for exercises that use multiple discs.
Compare these recommended canine conditioning products or check out all our FitPAWS product reviews and demonstration videos. Select the item(s) you think will be best for your dog, or leave a comment below with any questions. Then get your gear in time to review the included DVD with introductory videos before the course begins.
Recommended Reading
First Online Tripawd Fitness Course Starts Soon!
Conditioning and Concerns for the Tripod Dog
The Tripawd Conditioning School Supply List