Pawrents often ask us, "What's the difference between the Get-a-Grip harness and the Custom Pet Support Suit?"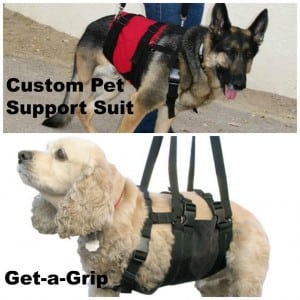 They're both made by the same company, and they both look similar. Handmade in America with superior materials, these harnesses are fantastic when your dog needs help getting around after amputation surgery, or for general mobility assistance during the senior years. But that's where the similarities end; the two harnesses are as different as buying a department store suit or having one tailored to your measurements. They  look alike but feel and fit dramatically different.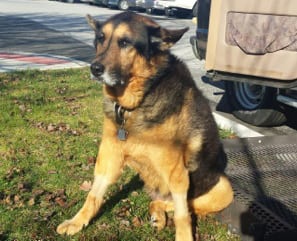 Recently a customer named Paul wrestled with which harness to buy. His senior German Shepherd, Scarlet, is having mobility challenges and needs a lot of support right now until her strength returns. Because Paul wanted to leave the harness on her all day long, he went with a Custom Pet Support Suit.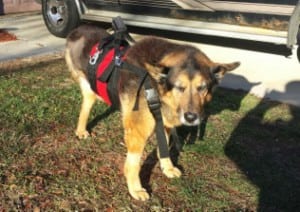 Here's what Paul said about the Custom Suit via text messages to us:
Scarlet was out for a walk with me yesterday.

I was using the harness w her for abt 45min!
It was SO FANTASTIC… to see her getting around again. Seeing people, smelling everywhere she went, and barking at peeps etc…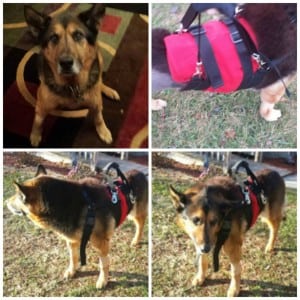 I am So Happy that this is WORKING SO WELL Renee…
It is a GODSEND….

This harness HAS been Great for Scarlet and just as GREAT for her owner!

She was wagging her tail at times while we were out on the walk…which was real cool to see.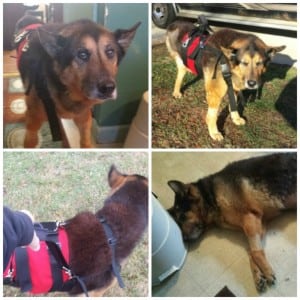 I took a few minutes for her to want to take any steps forward w it on…
But what helped A LOT I found out was to loosen any tension from Ur hands at the handles when she was reluctant to move forward..

That way see didn't feel much upward pull…
and after she took a step(s)
Go ahead and pull up to a normal support up ward grip w handles.

And to just repeat this sequence again…every time she was hesitant to go forward.
We are so hoppy that Scarlet and Paul are out lovin' life again! To learn more about the Custom Pet Support Suit, see:
How to Measure Your Dog for the Custom Pet Support Suit Harness
Tripawds Custom Pet Support Suit Harness Review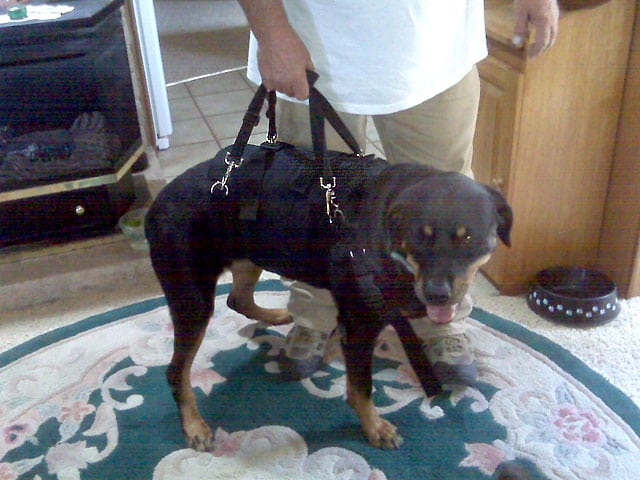 Save