Snow will be here before any of us would like it, so if you live in a snowy climate, now's the time to prepare your #Tripawd for wearing boots and safely living with the white stuff.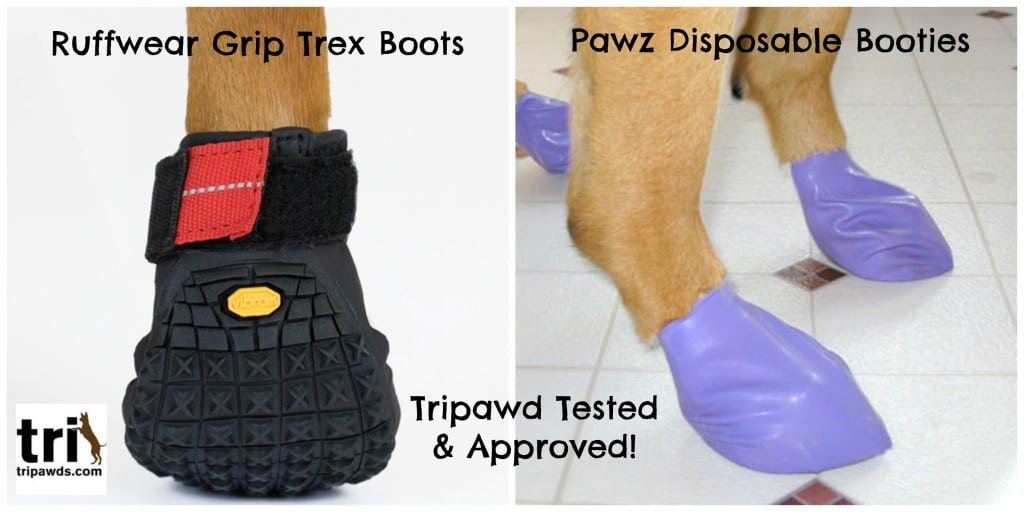 This is how Mulligan and his Momma Cheryl  started dog boots training, with Izzy and Angel Ted getting a good chuckle!
 Izzy writes:
Mom took Mulligan for a run in the snow without me. I knew they would be back, Mom wanted to take a video or 2 of Mulligan in his new boots.

He is such a smarty pants. She put one on him as soon as she got the boots in the mail, he did great. Then while out in the snow she put another one on. Well that one didn't stay on very well. I think it was because she was in the snow and it the wind was blowing up a gale.

After a bit we went inside to warm up. The she put all four boots on him, as usual he did just what she wanted him to do. He kept the boots on the whole time and the two of them played ball while I wandered around in the backyard happy as can be.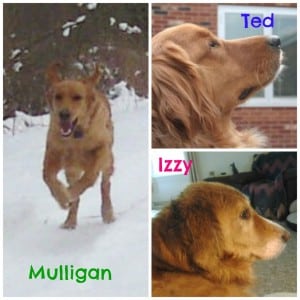 Cheryl says that  "Now every time he sees I have them in my hand, he knows what is going to happen and he patiently waits for me to put them on him."
As you can see, Mulligan is a four-legged dog but the principles for getting a dog used to boots are the same. To learn more about dog boots, hop on over to these Tripawds Gear Blog posts. and follow these tips from Ruffwear and you can't go wrong:
Here are a few tips to keep your dog from doing the moonwalk in their Ruffwear boots (or at least keep the moonwalking to a minimum!).
Work them. When you first get the boots, work them in your hands so the sole becomes more pliable.  Because of their weight, small dogs have a particularly hard time softening the outsole, so breaking them in with your hands can really help them become more comfortable, quickly.
Don't laugh. This may be difficult, but laughing is likely to cause your dog further anxiety.
Engage your dog. Immediately engage your dog in their favorite activity to distract them from the boots. For example, a walk, a trick, or fetch with their favorite toy. Eventually, if you are consistent, they will associate the boots with this activity and will have a positive reaction when the boots come out.
Break in the boots. Dogs will need to build up a tolerance to the boots just like human shoes. Take your dog for short walks prior to your first long adventure with the boots.
Make sure the boots fit. Measure your dog's paw width (front and back) carefully prior to purchasing the boots. A good fit maximizes comfort and will ensure the boots stay on the paws through rigorous exercise. Many of our customers are surprised to find out that a 100 pound dog can actually fit any size from X-Small to Large, so don't assume you know your dogs foot size. Overall dog size doesn't translate to paw and boot size. Click here for more sizing instruction.
Use boot liners. Boot liners will not only enhance the fit of the boots, they will help keep your dog comfortable by softening any potential abrasion spots, insulating the boot, and wicking moisture away from the paw.
Take it slow. Start by putting the boots on in the house for a couple minutes, then try short adventures outside; gradually increasing the time spent in the boots.
Stop and check. Each time you use the boots during the break-in period, stop and check for rubbing and hot spots.  This is also a great time to check the strap tension and fit, so the boots stay secure.