Look no further for the best Tripawds pre and post amputation recovery gear, Dieter's List has you covered!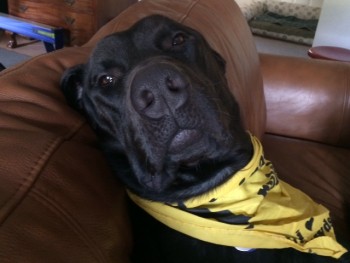 A while back, Dieter's pack shared their favorite "Must Have" items for amputation surgery recovery, which we'd like to pass along to you today:
The Big Barker (7″ of American-made support for your big 4-legged friend – yeah!)
The Webmaster Harness – I've been using Ruffwear stuff for years and this product is outstanding, as are all their other things.
A soft towel to act as a sling for getting in and out of the car until he can wear the Webmaster
Random "dog towels" – for whatever spills, accidents, oozing, and/or drooling may be going on
Grip Trex booties – these I bought for Otto many years ago and he HATED them.  I've been easing them onto Dieter's feet for familiarity in case they'd be helpful at the vet's office down the line
Inflatable cone – somehow this just seems a teeny bit more dignified than the "cone of shame"
I'm going to buy Bella's hot/cold pack for pain management
The BF showed up on Friday night with 500 sq ft of commercial-grade carpeting in his truck.  The whole house, which has stained concrete floors, is now carpeted.  I doubt you have as amazing a BF as I do, but now you know the secret.
A baby gate with a swinging door to cordon off his recovery area (aka the bedroom)
New toys to destroy as he recovers (Goodwill and Costco are cheap sources of soft toys that destruct gratifyingly easily).
Elevated Food Bowls – really tall ones since he's such a tall boy.  His current 12″ ones will not be good for his posture on three legs.  I can't remember the brand name, but these are 16″ tall and I ordered them from amazon.com
Soups, canned fruits, cereal, yogurt, Clif bars and other easy-to-prepare and reasonably healthy foods (oh, ok, except for the 15-pack of mac and cheese) so that I would not have to think about what I was going to eat while I was paying attention to his recovery
The Dog Cancer Survival Guide.  I haven't started reading it yet, but I'll review it when I do.
A good book to read for when I can't concentrate on work or just want to hang out with him while he's less mobile.
Do you have other "Must Have" gear for Tripawds that should be on this list? Share your tips with us in the Comments field below!