The following Pet Gear Expedition Pet Stroller review was generously provided by Tripawds Mom Katrina. If you have a Tripawds Gear experience you'd like to share, drop us a line!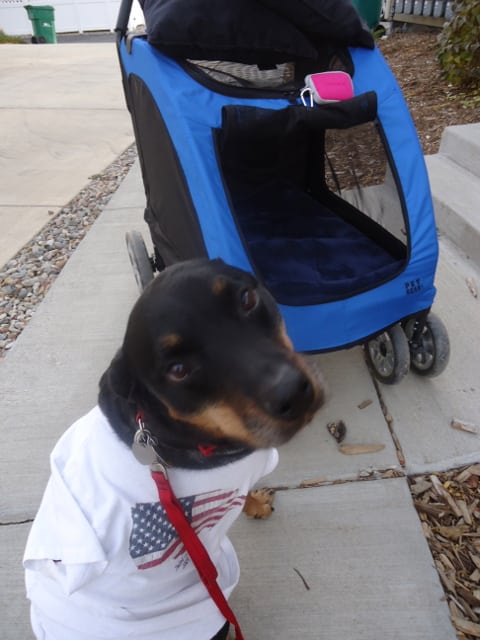 I was blessed with this Pet Gear Expedition Pet Stroller stroller by an Angel in Washington; both Dymond and I are incredibly thankful to have received such a wonderful gift. As we continue to adjust to life on three legs, this Pet Stroller has definitely made the transition much easier.
Some facts about this product, the Pet Gear Expedition Pet Stroller:
It has two zippers accompanied by mesh covers, which provides ventilation and some freedom (there is also velcro that can keep the cover open).
There are a couple of pockets on the rear of the Pet Strolled which can be used to store a leash or treats.
Easy assembly.
Wheels lock for assistance with jogging.
Initially, it was extremely difficult to get Dymond in the stroller as she is a front leg amputee. The first few times I had to pick her up and once she was in she had to turn herself around (because her head was facing the rear).
After Dymond became more familiar with the stroller it wasn't long until she started standing in front and with a little boost she was ready to go. As she continues to adjust she is learning how to position herself and I am learning how to assist her in the most comfortable way possible.

As with most products there are a couple of drawbacks:
 It can be difficult to steer if all of the dog's body weight is concentrated to one side (so keeping your dog in the middle is ideal).
 It takes time for the dog to get accustomed to getting in and out (in the beginning it is probably very scary for them).
 The bottom is hard, so I suggest comfortable cushion.
Although there are a couple of things to watch for, I would definitely recommend this product. This Pet Stroller has enabled Dymond and I to spend time outside without having to worry about exhaustion or her keeping up.
Additionally make use of this product when, traveling (especially to places with a lot of people), when going for long walks, when jogging, or any outdoor adventures. The positives outweigh the negatives by far. Dymond has adjusted well and she LOVES her pet stroller.
Recommended Reading
Big Dog Strollers from Pet Gear Help Tripawds Get Out, Around
Affordable Dog Stroller Bike Trailer for Big Dogs
Dog Stroller Section Updated