Looking for the perfect gifts to keep your tripawd fit, comfortable, safe and entertained all year round?
Consider this short list of favorites from the Tripawds Gear Shop!
Tripawds Gear Gifts for Hoppy Holidays
The Ruff Wear Webmaster harness is an all-time favorite, perfect for providing support when your dog needs it. Help prevent injury by assisting your tripawd in and out of vehicles, up and down stairs, or on slippery surfaces.
Ruff Wear Bark'n Boots provide traction on slick floors at the vet's office or on hardwood and tile floors around the home. Help prevent pressure sores caused by the compensation of extra weight on remaining limbs, or see all our recommended tripawd traction solutions.
Help your dog swim farther, longer, and much safer with the K9 Float Coat from Ruff Wear. Swimming is great low impact exercise for triapwds, and a life jacket is essential for use during hydrotherapy sessions.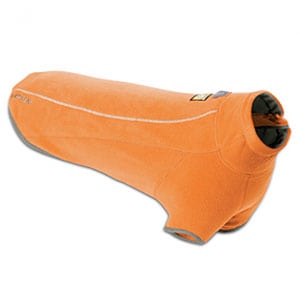 Fleece Dog Sweaters
Keep tripawds cozy, warm and stylish with the Ruff Wear Climate Changer! Provides warmth and insulation without added weight. the soft fleece is made from recycled materials, it is durable and machine washable.
Visit the Tripawds Fitness page for a wide selection of canine conditioning equipment for keeping tripawds fit while having fun. Consider the popular Balance Disc or Paw Pods for weight bearing exercises and unstable surface work, a must for core strengthening and balance.
Veterinarians recommend the even, supportive comfort of an orthopedic bed. This is especially true for tripawds, senior dogs or any physically challenged pups. A firm bed or thermoregulating bed can be best for new tripawds.
Sport bottles for dogs like the Water Rover dog sport bottle are a must-have for keeping tripawds hydrated on walks. Remember to take more frequent shorter walks with three legged dogs, rest often and always take along plenty of water!
Confinement is key to safe recovery, but it can drive dogs crazy when they can't run around to expend their energy. Work out your dog's most important muscle, her brain! Keep dogs entertained for hours with long lasting treats and interactive dog toys like the Dog Twister game!