The following guest blog post was submitted by Dr. Julie Buzby, Holistic Veterinarian and Founder of Dr. Buzby's ToeGrips for dogs. We have personally used Toe Grips on our rear leg Tripawd GSD Wyatt Ray, and recommend them to help prevent falls on slippery floors.

"Will my dog still be able to enjoy a full life?"
"What can I do to protect the other three legs?"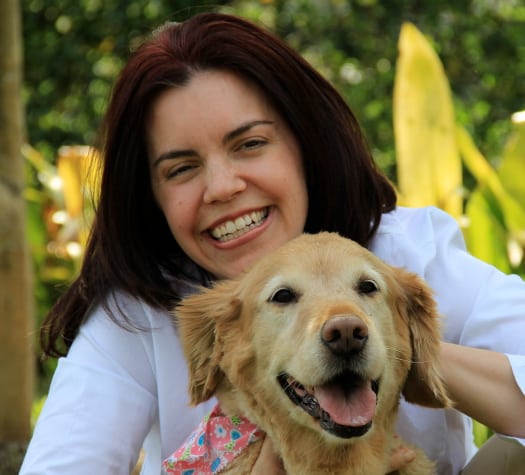 These are two common questions that owners ask when their veterinarian recommends amputation. I know I'm preaching to the choir here, so you realize that the first question is a non-issue! Dogs recover and move on (literally!) without looking back. This is part of the reason why Tripawds are so inspiring!
The second question, however, deserves attention. Although dogs can be highly functional with three legs, they weren't designed to be tripods. Thus, a three-legged dog is constantly compensating.
Keeping Tripawds structurally sound requires a proactive approach. From maintaining a healthy lean body weight to keeping toenails short, there are many practical helps for dogs maneuvering through life on three legs.
Allow me to introduce you to Dr. Buzby's ToeGrips–a revolutionary tool for Tripawds!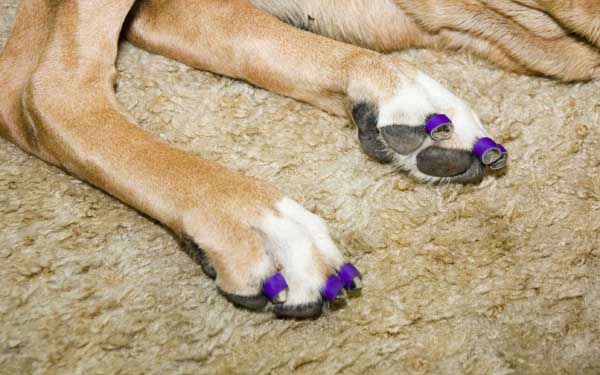 ToeGrips are natural rubber rings that slide onto dogs' toenails and adhere by friction. Their nonslip material grips the floor in a way that a dog's hard toenails cannot, providing instant traction on hardwood/tile/linoleum floors and stairs.
Though many senior and disabled dogs struggle with slick flooring, it is especially detrimental to my tripod patients. One of the most painful dogs I ever adjusted (veterinary chiropractic) was a Tripawd who lived on hardwood floors. His neck was chronically sore, I'm convinced, from maintaining his balance on one front leg, which was constantly slipping out from under him. This placed a tremendous strain on the muscles, tendons and ligaments of his front end. I wish I had ToeGrips in my arsenal at that time. I did not.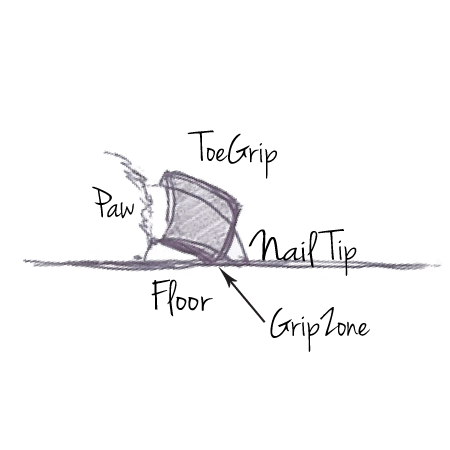 About a year ago one of my clients invented ToeGrips for his 16-year old four-legged arthritic dog. The moment I saw ToeGrips, I saw hope and help for my patients who struggled with slipping and sliding on hard-surface floors.
A biomechanical solution to a biomechanical problem, ToeGrips also reduce the risk of slip-and-fall injury, key to protecting a Tripawd's three remaining legs.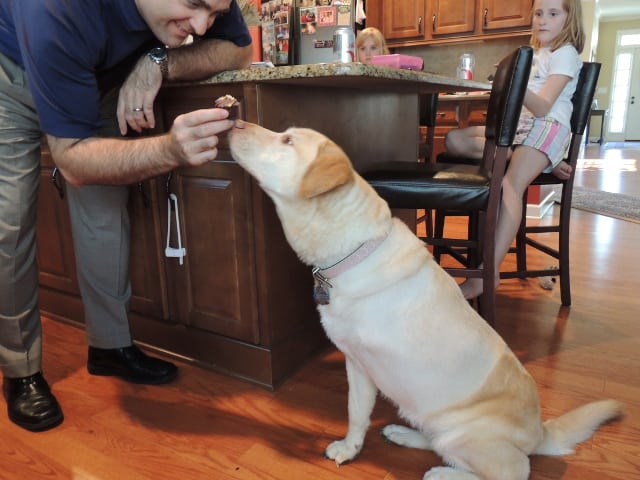 Maggie was an "at risk" Tripawd. In the words of her owner:
"Even with 4 legs, Maggie was beginning to struggle walking on the wood floors, but after her life saving amputation, the situation was much worse.

Maggie could not get up without her 3 legs coming out from under her. She looked like a deer on ice and would fall down every time she tried to get up on the hardwoods. Once she managed her balance, and was able to get up, walking was a labored process to keep her legs under her frame."

With the help of ToeGrips, Maggie's story has a happy ending! Her owner concludes: "They are simply amazing and life altering for an older dog, but especially this older, 3-legged dog. She now gets around happily and confidently."
Read Maggie's full gripping story here: http://tripawds.com/forums/tips-and-resources/toegrips-great-for-any-dog-with-traction-issues-especially-our-tripawds/
While there is no such thing as the magic bullet, ToeGrips can be a simple, affordable, and effective part of the multimodal approach to protecting your Tripawd's three crucial legs!
Julie Buzby Snyder, DVM
www.toegrips.com
www.facebook.com/toegrips
Twitter- @DrBuzby