Fall is falling and so is the temperature in most of the country. That's when a durable dog jacket like the Ruff Wear Climate Changer Coat comes in handy.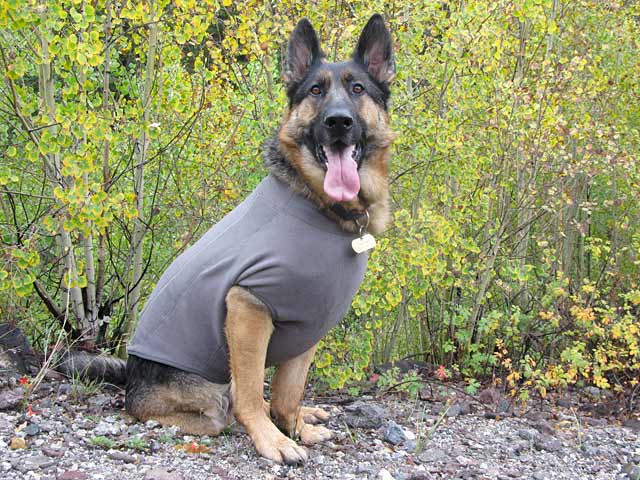 Adding the Climate Changer's extra layer of insulation to your dog's natural coat is helpful whether your dog is a new amputee just recovering from surgery, or has already adjusted to life on three legs and wants to play outdoors in colder temperatures.
Climate Changer Features
75% recycled/ recyclable polyester fleece is lightweight and breathable
Zippered closure for easy on/off
Light loop for night-time safety
Reflective trim sewn into seams for low-light visibility
Whenever a Ruff Wear product goes through a re-design, the company pays extra careful attention to things that can improve their already pawesome products. The new Climate Changer seems to fit Tripawds Spokespup Wyatt Ray Dawg even better than the previous model. Compare these current photos to our video review of the first Climate Changer sweater and you'll see what we mean.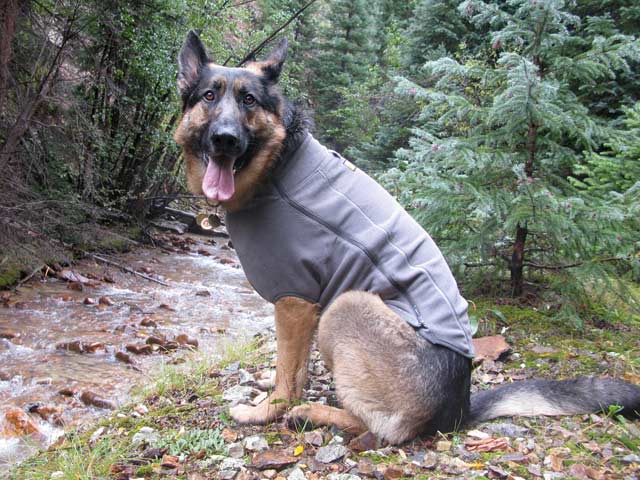 Another aspect we love about the Climate Changer is that this new form-fitting design presents no problems for front-leg tripod dogs; simply sew up the extra arm hole and your front-leg Tripawd has protection from the elements, even right after surgery.
To dress your dog with this coat, simply have him do a sit, then gently lift the front leg(s) into the sweater holes. A new side-zipper is easy to open and close and presented no problems for us with Wyatt, who is a naturally squirelly dog when it comes to handling his legs.
You can see how the coat is snug and form- fitting on Wyatt's deep-chested, thin-waisted torso type.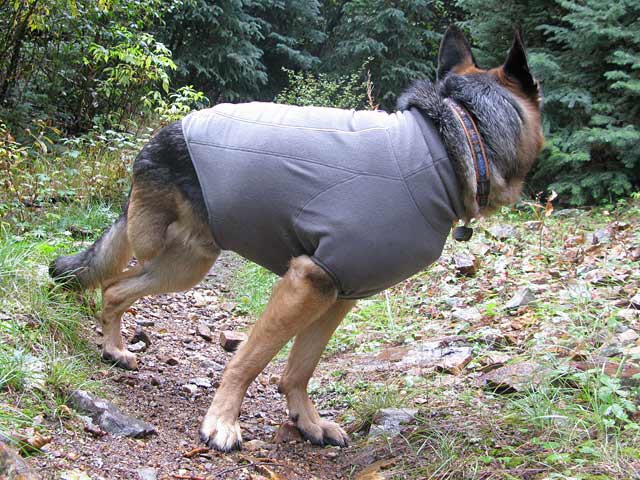 The Climate Changer isn't too tight, and fits him just right without getting in the way of natural activities like eliminating and exercising!
Although the Climate Changer is form-fitting, it also has a lot of give when Wyatt turns and twists his body around. The sweater fabric flows with his movements and doesn't bind into his fur.
Wags
Available in Granite Grey, Purple Dusk or Burnt Orange
Same great durable, water and dirt-resistant fabric
Great for front-leg Tripawds; covers stitches
Interior stays dry even when playing in snow
Even better form-fitting shape
Machine Washable
Made from recycled material!
Whimpers
Won't cover stitches for rear leg amputees.
Like all Ruff Wear products, the Ruff Wear Climate Changer is durable and long-lasting, perfect for even the rowdiest pup at the dog park, or snoozing on the couch.
We can't say enough great things about it, so if you're looking for a good investment in your dog's comfort, this is one of the most versatile, wallet-friendly canine gear buys around. 
Thanks for shopping in the Tripawds Gear Shop. All purchases made with us help keep the Tripawds community online.