When it comes to finding the best fitness and strengthening exercises for three-legged dogs, we have a lot of helpful information here at our Tripawds Gear Blog. For your convenience, here are the best blog posts to help you get started with a fitness program for your amputee dog.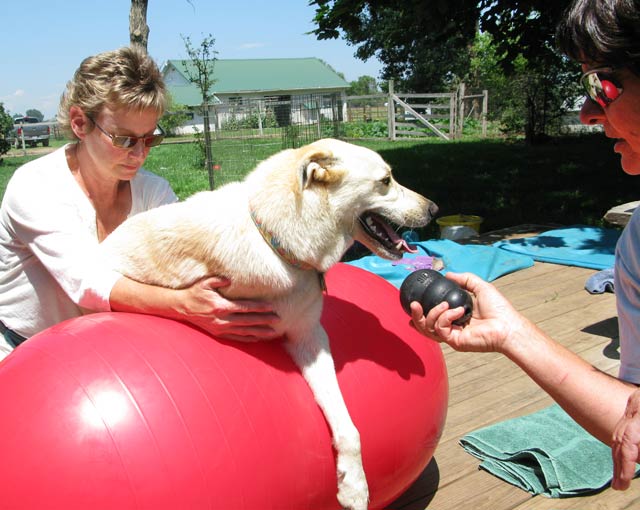 Where Do I Begin with Doggie Physical Therapy?
Canine rehabilitation therapy has come a long way over the last few years and more physical therapy options are available all the time. With so many options to choose from, how does a Tripawd pawrent know where to begin?
Why Longer Walks Won't Strengthen a Tripawd's Leg Muscles
After amputation surgery, a three legged dog needs time to build up muscles in remaining limbs. But walking won't do the trick. According to canine fitness experts, only core strengthening activities will increase muscle toneand keep your Tripawd steady on his paws.
Stay Strong with Maggie's FitPAWS Workout
One of the best examples of a Tripawd who has achieved the ideal canine amputee fitness level is Maggie the Agile Cow Dog. See how she utilizes our highly-recommended FitPAWS Gear to stay fit at age 12.
Three Legged Fun on the Buja Board
See how walking on an unstable surface can help your Tripawd gain strength and flexibility.
More Recommended Reading
 Tripawds News Blog: Rear Leg Workouts for Lucy
Free three legged dog rehabilitation exercise tips, videos and demonstrations with California Animal Rehabilitation in Los Angeles.
Tripawds News Blog: Canine Acupuncture and Rehabilitation Therapy Tips for Tripawds
Learn about Lobo's acupuncture sessions, how canine rehab therapy can benefit Tripawds and how to find a qualified practitioner.
Tripawds News Blog: Canine Rehabilitation Exercises and Stretches
Canine rehabilitation experts at California Animal Rehabilitation share exercise and mobility tips for three legged dogs.