Summer is here and it's time to take your Tripawd swimming! But before you hit the water, take a good look at the all new Ruff Wear K-9 Float Coat, which can help your amputee dogs swim safer and longer than ever.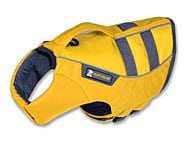 Ruff Wear's new flotation jacket for dogs has new features such as:
Telescoping, permanently attached neck closure that's easier to adjust, and stays put securely.
Low-profile handle for easier assistance when getting into and out of water
Form-fitting profile with strategically-placed foam panels that keep your dog safely afloat in a natural swimming position
Sheltered buckles that don't create drag in the water, and stay put
Reflective trim for enhanced visibility in or out of the water
Not all Tripawds need a float coat to swim and many will do fine without one. But we encourage folks to try a life vest, because if there's one thing we love about the Ruff Wear K-9 Float Coat is that it inspires confidence in both you and your Tripawd.
Once your pup is wearing it, you won't worry about your Tripawd tiring out halfway while returning to shore, or ingesting too much water. A life vest helps Tripawds stay in the water much longer than without wearing one.
As you can see in this first float coat review and video we created of Tripawds Founder Jerry, the Ruff Wear Float Coat helped him be the best swimmer he could be on three legs.
The Five-Star customer reviews on Ruff Wear's website confirm our suspicions: the K-9 Float Coat is Ruff Wear's best life vest ever!
My Englishbulldog is 60 pounds and stout. Bulldogs do not naturally swim, they sink so getting this for him was a must in Florida. We tested it out and it not only floats him but he can even swim in it and loves it. Great product
Stay tuned for a full review from Tripawds Spokespup Wyatt Ray Dawg. Meanwhile, try the Ruff Wear K-9 Float Coat and see the difference in how well your Tripawd can swim while wearing one!