If you haven't gone through a major dog surgery like amputation before, you  might be surprised at the amount of post-surgery stink that clings to your pup when he comes home from the hospital.
Things like bodily fluids and surgical residue might be stuck on your dog's fur, and they don't smell nice. And as Whiskey's Mum just learned, you can't give your dog a bath for about 10 days until the staples or stitches are removed.
The post-surgery smell can drive you and your pup crazy, but thankfully you can give your dog a "bath" without getting wet!
Fresh Dog Dry Bath Waterless Shampoo to the Post-Op Rescue
When assembling your post-surgery gear, like carpet runners and clean towels, add Fresh Dog Dry Shampoo Powder or Bath Foam Waterless Shampoo to your post-amputation toolkit.
Fresh Dog dry bath shampoos are made in the U.S. They're free of dyes, parabens, chemical preservatives, synthetic fragrances, surfactants, and detergents.
Their natural formula made with essential oils like lavender is safe enough to use on puppies as young as six weeks old.
Fresh Dog Dry Shampoo Powder Ingredients are: Sodium Bicarbonate (Baking Soda), Zea Mays (Corn Starch), Silica, Essential Oils (Lavender & Rosemary)
Fresh Dog Waterless Bath Foam Shampoo Ingredients are: Purified Water, Coconut Based Surfactants, Glycerine, Ethanol, Hydrolyzed Silk Protein, Chamomile Extract, Sea Kelp Extract, Xanthan Gum, Fragrance, DMDM-Hydantoin, Tetrasodium EDTA, Titanimum Dioxide and Mica, FD&C Blue #1.
 We tried the dry shampoo powder after the company sent us a sample, and found it easy to use on Tripawds Spokespup Wyatt Ray Dawg.
His fur is dark so we had to rub vigorously to blend the powder into his coat, but once we did he looked and smelled nice.
You can even use it on your dog's bedding or carpeted areas for an extra nice smell around the house.
Win a Bottle, Get a Fresh Dog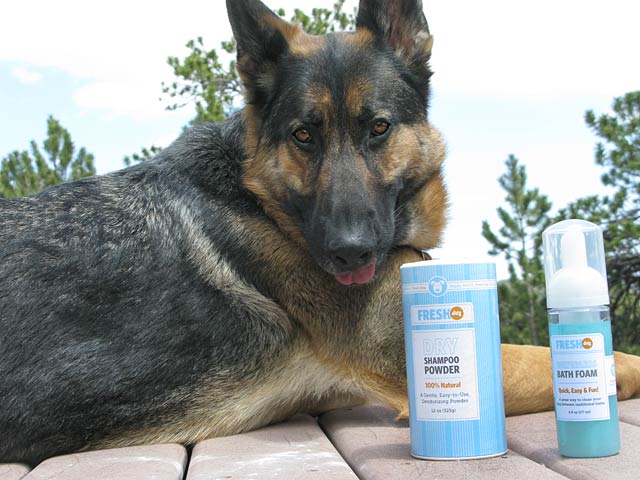 We have one bottle of Fresh Dog Waterless Bath Foam to give away to one lucky Tripawd.
If you'd like a chance at winning, please tell us below in the comments section about your Tripawd's post-amputation experience when s/he couldn't take a bath.
Answers must be received no later than Monday, May 21 at 11:59 pm Pacific. A winner will be drawn at random.